Price: $77,900.00
VIN: 1ZVHT82H385179724
Vehicle Title: Clear
Year: 2008
Make: Ford
Model: Mustang
Sub Model: Saleen S302 Extreme
Body Type: Coupe
Number of Cylinders: 8
Engine: 5.0L 302 Cu. In. V8 Supercharged
Fuel Type: Gasoline
Transmission: Manual
Exterior Color: Vapor
Interior Color: Charcoal
Mileage: 1,600
For Sale By: Hardee Auto Sales
eBay #: 192928041567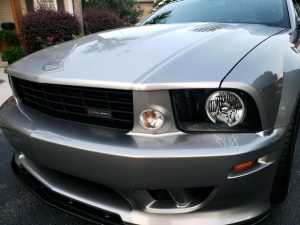 I'm helping to liquidate one of the largest Saleen collections on the East coast. With only 1600 miles, this is the newest 2008 that you will find. This was one of the first American made cars that had an MSRP over $100k. Most dealers sold them for $10k+ over MSRP at the time. Sterling Silver with two tone leather and suede charcoal interior with 25th Anniversary emblems. This is one of the highest horsepower and most expensive Mustangs ever built by Steve Saleen with an MSRP of $100,000 and rated at 620hp. A rare opportunity to acquire such an exquisite car.
"According To Steve Saleen – Of The 25 Built, 6 Have Been Destroyed, 9 Were Sent Overseas (mostly to the middle east), and 2 Are Now In The Mustang Museum. That Leaves Only 8 Of These Beauties Roaming The American Classic Muscle Car Landscape. once in a lifetime opportunity. This American muscle car has never spent a night in the elements. With only 1600 miles, it still smells like a brand new car. There are no scratches, dents, or blemishes of any kind. The paint looks like it did the day it rolled off the assembly line. Bid with confidence. If you are not 100% satisfied with this car, you don't own it! Call with any questions. Craig 8434578989"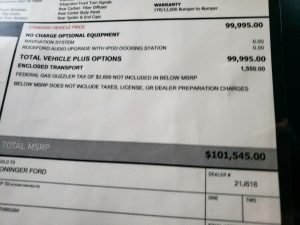 From Classic Car Studio:
In the automotive world, there are a select number of small batch manufacturers that start off with a good vehicle, obsessively massage it, and manage to improve it greatly. The idea is not to completely redesign, but rather to rebuild it in a manner that says, "this is the way they should have build this car."
25 years ago Steve Saleen took this path with the Ford Mustang and since then, he has been successfully tweaking Mustangs into serious, limited production performance cars. Since the founding of the company in the early 1980s, Saleen has won the Manufacturers GT Championship nine times and has produced over 12,000 EPA certified vehicles. In addition to these cars, it has equipped over 600,000 additional vehicles worldwide. Impressive.
To commemorate its 25th Anniversary, Saleen produced just 25 Saleen Automotive SA-25 Sterling Edition Mustangs – hand painted, loaded with performance options and as exclusive as it gets, these Sterling Edition cars are as rare as the S7, but based on one of America's Muscle car staples, the Ford Mustang.
The power plant in the Saleen is a quick revving 302 Modular V8 with 620 HP and 600 lb-ft TQ. As a power adder, the engine uses a port matched Twin Screw Supercharger with Dual Stage Water-to-Air Intercooler system connected to one of Saleen's Cold Air Induction systems. At the front of this unit is a Hi -Flow mass air flow sensor and K&N style filter. Engine internals include forged aluminum pistons, forged connecting rods, forged crankshaft and performance camshaft. The aluminum cylinder heads have been ported on a 5-axis CNC machine. This nasty powerplant exhales through a stainless exhaust with a really race sounding note. Gone is the 5-speed transmission, and in its place is a new 6-speed unit. The rear is a trick Speed-Sensitive LSD and the car utilizes a performance clutch with a lightweight flywheel.
The handling on the Saleen is lightening quick courtesy of the Racecraft suspension. The car rides on tuned coilovers, beefed up sway bars and has a Watts linkage rear suspension. The brake system features massive 15″ rotors up front with 6 piston calipers and 11.8 inch rotors in the rear. The wheels are custom forged 20″ one piece wheels that really set set off the stance of the vehicle.
The Saleen is practical enough for everyday driving, fast enough for the track, and extremely collectable. No matter what your needs are, this car has it all.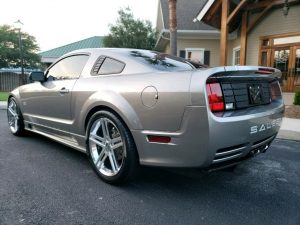 Vehicle Specs
Engine
302 CID (5.0L) Modular, 3-Value SOHC V8
620 HP @ 6300 RPM
600 lb-ft TQ @ 4400 RPM
39 lb/hr Fuel Injectors
3.554″ x 3.800″ Bore & Stroke
Port Matched Series VI Integrated Twin-Screw Supercharger
Heavy Duty Upgraded, Dual-Stage Water-to-Air Intercooler System
Saleen Cold Air Induction with Hi-Flow MAF, & Conical Filter
Forged Aluminum Pistons
Forged Steel Connecting Rods
Forged Steel Crankshaft
5-Axis CNC Ported Aluminum Cylinder Heads
Performance Camshaft
Aluminum Dual-Core Radiator & High-Flow Cooling System
PowerFlash Performance Calibration
2.5″ Stainless Steel Center Exhaust System
Drivetrain
Close-Ratio 6-Speed Manual Transmission
High Performance Clutch
3.73:1 MaxGrip Speed-Sensitive LSD
Racecraft Suspension
Sport-Tuned Coil Springs
(F/R) Sway Bars, 1.38″ with HD Bushings (F), 0.79″ Front Struts (N2), Rear Shocks (N2)
Watts Linkage Rear Suspension
Braking System
Power Assisted 4-Wheel Disc Brakes with ABS
15″ Slotted & Vented Front Disc Brake System with 6-Piston Calipers
11.8″ Slotted & Vented Rear Disc Brake System
Wheels & Tires
Custom, Forged 5-Spoke One-Piece Wheels 20″ x 9″ (F), 20″ x 10″
Ultra High Performance Pirelli P-Zero Tires Tire Pressure Monitoring System
Interior
Push-Button Electronic Start
Leather Performance Driving Seats with Alcantara Inserts, Contrast Stitching, 6-Way Power Adjustable Driver's Seat & Power Lumbar
6-Gauge Instrument Cluster with 200 MPH Speedometer & MyColor Feature Twin-Gauge Pod with Boost & Air Temperature
Chrome Dash Vent Bezels
Sterling Silver Serialized Plaque
Leather-Wrapped Steering Wheel with Badge
Leather-Wrapped Billet Shift Knob & Short-Throw Shifter Performance Driving Pedals with Driver Foot Brace
Saleen Floor Mats & Aluminum Door Sill Plates
Saleen Key Fob
One-Touch Up/Down Power Windows
Rockford Fosgate "Punch" Sound System
Navigation System
iPod Docking Station
Two Power Outlets
Variable-Speed Windshield Wipers
Rear Window Defroster
Air Conditioning
Dual Power Side-View Mirrors
Saleen/Eagle One Detail Kit
Owner's Document Portfolio & Warranty Guide
Body
Exterior Aluminum Hood with Heat Ventilation Bullet
Sterling Anniversary Fender Badges
Injection Molded Thermoplastic Olefin (TPO) Front & Rear Fascias
Front Carbon Fiber Splitter
Front Grille High Intensity Discharge (HID) Headlights
Injection Molded TPO Side Skirts & Door Cladding
Integrated Front Turn Signals
Rear Carbon Fiber Diffuser
Rear Center Body Panel Rear Spoiler & End Caps
Rear Wing Quarter Window Trim Saleen
Windshield Graphic Serialized
Engine Bay Plaque Serialized
Front Bumper Championship Wreath Graphic
Below are some links with info on these cars: