During the third generation Mustang era, which saw the first production wave of Saleen Mustangs; US Ford dealers from coast-to-coast were analyzing and researching their ability to standout in the marketplace. From 1985 through 1993 a new Saleen Mustang could be ordered through any Ford dealer willing to submit the paperwork, but there were a select number of dealers who took on the role of becoming an "Authorized Retailer" for Saleen vehicles and product.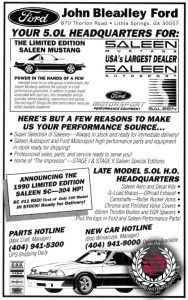 Across the country, Saleen dealers sprout to life offering this blue oval "halo car" to a re-energized high-performance hungry audience. A few prolific Saleen Authorized Dealers would go beyond stocking the minimum units, becoming a regional (if not national) hub for Saleen vehicle sales. These large Saleen dealers would be the genesis for a number of 'special order' and oddly equipped vehicles built for an enthusiastic customer base seeking Fox-era super Mustangs from Saleen.
One such dealer is John Bleakley Ford of Lithia Springs, Georgia. From 1987 through 1993 it is estimated Bleakley Ford ordered 100 Saleen Mustangs for both dealer stock and customer orders. A few highlights were: Receiving six 1989 SSC models, seven 1990-93 SC Editions, three 1992-93 Supercharged cars and delivering three SA-10 models.
To the best of our knowledge, the Bleakley Ford "Impressor" dealer package began during the 1989 model year and was offered as a possible option for new Saleen Mustangs orders/sales through Bleakley. This equipment package presented a number of engine and chassis modifications not unlike what Saleen Autosport had created with their new SSC model. The main difference with the Bleakley Impressor, it allowed for buyers to customize their equipment while costing less than the $36,500.00 retail price for an SSC. The basics of this dealer package continued through the 1990 model year.
As of this writing, we do not know of a 1991 or 1992 model year Bleakley Impressor equipped Saleen Mustang. We cannot help to think the lessons learned with the Impressor project lead to the 1993 Mustang GX model by Bleakley Ford. -DB
Click here to participate in the discussion.
Continue below for 90-0030 sales details and photos.
---
Vehicle Specifications
Price: $25,000.00
Year: 1990
Mileage: 97,000
VIN:
Condition: Excellent
Exterior Color: Black
Interior Color: Grey
Transmission: 5 Speed HD T5
Final Drive: 4:10 with LSD
Engine: 5.0L
Drivetrain: RWD
From my personal collection comes this very special, and very menacing, 1990 Saleen Mustang. It is Saleen serial #30, and 1 of just 173 Hatchbacks built for the 1990 model year. It is also one of just a few original black cars.
But beyond all of that #30 is also one of just a few documented original Bleakley Ford "Track Impressors", also known simply as "Impressor" cars. For a little background on all of this in the Fox Body years John Bleakley Ford of Lithia Springs, Georgia was the #1 Saleen Mustang dealer in the USA, and also an epicenter of Fox Body Ford Motorsport and JBA performance upgrades. Bleakley Ford was to Mustangs in the 80s and 90s what the original "Supercar" dealers like Yenko Chevrolet and Mr. Norm's Dodge were to their respective makes in the 1960s. Most telling is the fact that Bleakley helped develop the 1989 Saleen SSC in house. The following "Impressor Stage 1″ and "Impressor Stage 2″ packages incorporated much of the SSC upgrades but also gave the ability for owners to go one (or more!) steps beyond SSC spec with "off-road use only" equipment from the JBA and Ford Motorsport catalogs.
And such is how #30 came to be one of the baddest 1990 Saleens to ever roll out of Bleakley Ford. It's original owner, Rob Boetger II, went all-in with the Impressor options list when he spec'd it out in early 1990. #30 would be fitted with the full Stage 2 package that consisted of:
-Deleted intake silencer
-K&N air filter
-JBA long tube "big bore" headers"
-Full Dynomax exhaust
-Polished valve covers
-160 degree thermostat
-Computer reset and timing re-curved
-65MM Throttle body
-Ported EGR spacer
-1.72 ratio SVO roller rocker arms
-Champion plugs and wires
-P245 rear tires
-SSC-style Roll Bar
This package cost $2,595 on top of the base price of $25,440 of the car from Saleen.
#30 was also equipped from new with the following additions to the Stage 2 package:
-Chrome aluminum valve covers
-Subframe connectors
-Ford Motorsport "Z303″ camshaft
-HD "World Class" Tremec T5 transmission replacing the standard duty one from Ford
-4.10:1 ring and pinion
-Auburn HD limited slip differential
Out the door, after negotiating, #30 cost a staggering $30,021, or roughly twice the cost of a new 1990 5.0L LX Hatchback.
The original paperwork, much of it pictured here, documents all of this and is quite extensive. It includes the original Saleen window sticker, a copy of the original Ford MSO, an original Impressor brochure and price sheet, Saleen owner's kit, warranty card, purchase contracts, application for title, letters from Bleakley Ford and more.
Today #30 is in excellent condition with 97,000 miles. During my ownership #30 has been thoroughly serviced including all new fluids, a full tune, new BF Goodrich G-Force tires in the correct staggered 225/245 sizes, restoration of the original Saleen wheels, a full wheel alignment, new brake rotors and pads front and rear, a new Ford Racing aluminum drive shaft, new Eibach progressive rate front coil springs to improve ride quality (the original Racecraft springs are included), and more.
Cosmetically the car has been repainted at some point in the past and the paint is exceptionally nice. There is one piece of the plastic body side molding on the left quarter panel where the black paint has flaked off of an edge. The body and chassis are clean with zero rust noted anywhere, however the JBA headers and exhaust have surface rust, as well as some of the suspension components that started life as bare metal from Ford. I have a clean CarFax in hand showing no damage history. The plastic lever from the recline lever on the driver's original Flofit seat is missing, a common issue. The car also has no catalytic converters or smog pump just as it has been since the conversion to an Impressor Stage 2 + car in 1990.
As you can see from the video the car gets up and goes and makes a sound that is out of this world! I've driven it frequently during my ownership and it is very strong and a blast to drive. The A/C blows cold, all of the power accessories work as they should, and it needs nothing to hop in and enjoy. It is also the perfect car to show up with at any Cars & Coffee, SOEC meeting, or even be the star of any Radwood show! No matter the venue people love it when this car comes rumbling in.
The similarities between 1965-1967 Shelby Mustangs and these early Saleen Mustangs are many, and with good reason. But the one similarity that stands out is that in the future people will also say "why didn't I buy a Fox Body Saleen when I could?" And of the Fox Body Saleens it would be really hard to go wrong with #30, or beat it in the "bang for the buck" category.
[Source: Colin's Classic Auto]