Make: Ford
Model: Mustang Saleen
Registration number: PBB506
Year of manufacture: 1990
Meter indication (km): 72000 Km
Gearbox: Manual
Fuel: Gasoline
Maintenance: Full dokumentation
Vecicle status: Avställd (2017-09-30)
Road worthiness test: 2017-06-01
Inspection period: 2018-08-31 OBS: Bilen kommer att vara besiktad innan försäljning
https://psauction.com/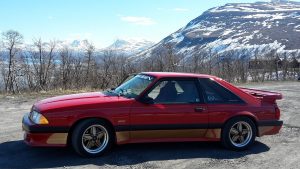 Have any questions about the item?
Pelle Holmström
per.holmstrom@ps.se
+46771101100
Ford Mustang Saleen
Current meter position 72000 Km
engine type: approx. engine 302 HO
Horsepower: 220
Body type hatchback
Number of doors: 2
The car will be inspected before the sale / auction ends.
The Ford Mustang Foxbody was manufactured between 1987 and 1993.
This is a Genuine Ford Mustang GT Saleen, 1990 a total of 256 pieces were made of 171 Hatchback, all are numbered with id tag and this is car no. 203, info at eg. https://soec.org/vehicle/mustang/
Original radio missing.
Elasticated top of door pockets a little soft.
Some parts are exchanged, for example. air filters, exhaust systems and light inserts, however, all original parts are still in good condition and included with the car.
The car is in un-renovated and in very good condition, full documentation from day 1, bought new by a Swedish who later took the car home as moving goods. Original manuals and sales brochure etc (it comes with a whole cover with various info and receipts).
More info in the files included.
Saleen spec 1
Saleen spec 2
All bids are binding and the service fee is charged on all items. The item is sold as is, with basic description, and NOT TESTED by the auction firm unless otherwise specified in the object description. The object description is done with the best of our knowledge but not binding in detail.
PLEASE NOTE! Any pallet and pallet accessories seen in the picture are not included unless otherwise stated in the description.
Click here to participate in the discussion.