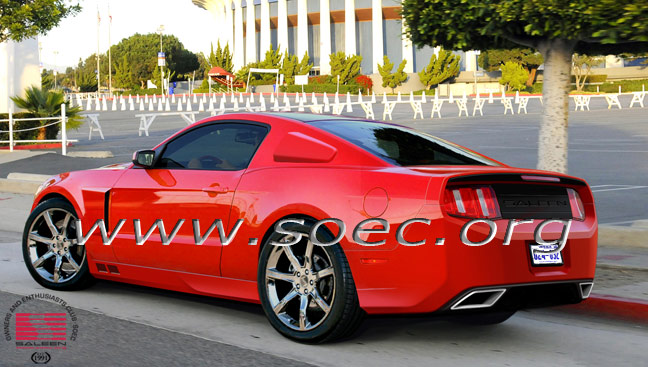 2010 Saleen S-Series "Working Image" Leaked
By SOEC/Saleen Forums News — May 8, 2009 — Irvine, California
Earlier this week there were several sightings of a "2010 Saleen" image circulating the Internet and it has since been confirmed by more than one source at Saleen as being a working image of a 2010 Saleen and leaked by "one of our temps," said a Saleen insider.
The image, displayed above, is said to have several characteristics of the final vehicle design, though it was an early working image and was not supposed to become public. While clearly a "Photoshop" depicting a sculpted Saleen with the Fabulous Forum arena of Los Angeles in the background, it is said to give good insight on the new model.
Conversations with Saleen insiders indicate the 2010 S-series will include an S281 model, though a 302 model has not yet been divulged. Initially it was thought it might be until 2011 for the next S-series, but it seems they are moving forward ahead of schedule.
The leaked image is putting to rest rumors that the Saleen brand would die after Hancock Park Associates sold the majority of Saleen assets to MJ Acquisitions earlier this year. But Mike Shields of MJ/Saleen has told SOEC that he and his partner and brother Joe Shields grew interested in keeping the brand alive as they enjoyed driving their Saleen Mustangs.
Shields, who drives a Lizstick red S281 Supercharged Mustang, also told SOEC that they will now be utilizing the resources of their sister companies Cyltec, Power-Tec Engineering, Arrow Racing Engines and Control-Tec. One example is to bring Saleen's supercharger manufacturing in-house. Previously Saleen outsourced key components, such as the screws, from Europe.
In a related story, a proposed "Racecraft" model has been visually presented to Saleen and Ford dealers earlier this year with mixed reviews. While revisions are being made to its appearance package, a new name is also rumored to be assigned to the brand.
About Saleen: Hancock Park Associates, having been controlling stakeholder in Saleen since 2003, sold certain assets (most everything but the S7 program and the paint facility) to MJ Acquistions earlier in 2009. MJ Acquisitions is run by partners Mike and Joe Shields, who have also considered purchasing the Viper brand from Chrysler, which seems a natural as Arrow Racing Engines has provided services for the Viper program in the past. The Hancock Park Associates-owned remainder of Saleen has since changed its name to Plex. MJ Acquisitions is now doing business as Saleen.
About SOEC: The Saleen Owners and Enthusiasts Club was founded in 1991 and is the premiere organization of Saleen owners with more than 3,000 members worldwide. As the officially-recognized organization for the brand, each new Saleen owner receives a complimentary 1-year membership in SOEC. SOEC's website, https://www.soec.org, gets nearly 40,000 visits a month by owners and enthusiasts alike, enjoying the world's largest historical archive of Saleen-related literature and other resources. SOEC's Saleen Forums has over 1,500 registered users, and is the largest and most active Saleen community online.
— Saleen Owners and Enthusiasts Club