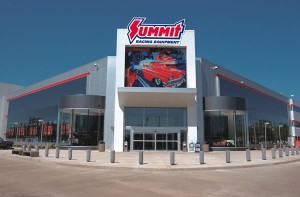 2016 Saleen Club of America Nationals
* Featuring the Saleen Four-eyed Foxbody from 1984-1986.
* The 2016 Saleen Club of America Nationals will be held at Summit Racing Equipment in Tallmadge, Ohio July 28-31, 2016.
* Host hotel information here.
* Win a 1997 Saleen Mustang: Sponsored by HESCO
* Meet Steve Saleen
THE SCHEDULE
THURSDAY will be a visit to the Packard Museum over in Warren, Ohio, birthplace of the Packard Automobile.
THURSDAY EVENING will be our Early Bird meet & greet.
FRIDAY will be a cruise over to High Voltage Karting for some spirited racing.
FRIDAY EVENING is our Welcome Bash – This event will be held at the host hotel.
SATURDAY is the National Show held at Summit Racing Equipment. Want your car signed by Steve Saleen? He'll be there, along with Liz and Molly!
SATURDAY EVENING we'll be off to dinner at the Pro Football Hall of Fame. Be sure to register for this event as Steve Saleen will be the guest speaker and you don't want to miss that. Plus we'll be awarding the Gary Alsobrooks Award to the 2016 recipient as well as drawing the winner of the 1997 Saleen giveaway car.
SUNDAY will be the annual "See Ya" Breakfast.
Summit Racing Equipment
1200 Southeast Ave
Tallmadge Ohio 44278
Map
Hosted By
Saleen Club of America
PO Box 274
Odenville AL 35120
Event Website
www.saleenclubofamerica.com
Click here to participate in the discussion.
[Source: Saleen Club of America]