By: ANDREW NABORS on August 20, 2019
Original Article: DUPONTREGISTRY.COM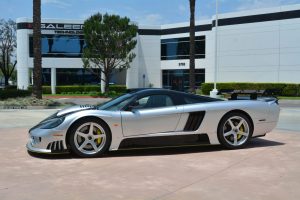 Our friend Steve Saleen is calling on all S7 owners. He wants to see his creations gathered together in Monterey next year for the Saleen S7 20th Anniversary Celebration. The iconic American supercar debuted at the Monterey Historic Races back in 2000, and they have proven themselves on tracks around the world.
He said, "The S7 was immediately competitive in motorsports from day one, winning over 100 professional races at the world's top racetracks including Daytona, Nürburgring, Silverstone, Imola, Spa-Francorchamps and the 24 Hours of Le Mans – and that was just in the first ten years of its existence". The S7 LeMans Edition was recently introduced, and all 7 were sold before completion. The Ford V8 and twin turbos offered 1,500 horsepower with a price of $1 Million each. Thankfully, our dealers always have a few pristine examples for sale, so click the link below and make plans to join the festivities next year. We will have all the details at a later date, so stay with us for all your Saleen news.
Click here to participate in the discussion.
[Source: duPont Registry Daily]