Fabulous Fords Forever at Knott's Weekend 2018
* Registration for the 2018 show will open in January 2018.
* Bring your Saleen — no matter its condition — to the largest non-judged show of its kind in the world!
* Pre-Register — you can do so online or download a form at fabulousfordsforever.org
SATURDAY, APRIL 14:
Club Members: Join us for a members-only dinner event — RSVP Required for each person in your party — Send an email to jimd@soec.org or call 714-369-8621 for more info. Casual attire, pay-your-own meal and expect to pay $12-20-plus for your meal per person. Space is limited, and spouses (or significant others) and family are welcome. We expect a group of about 50 people. More info to be announced.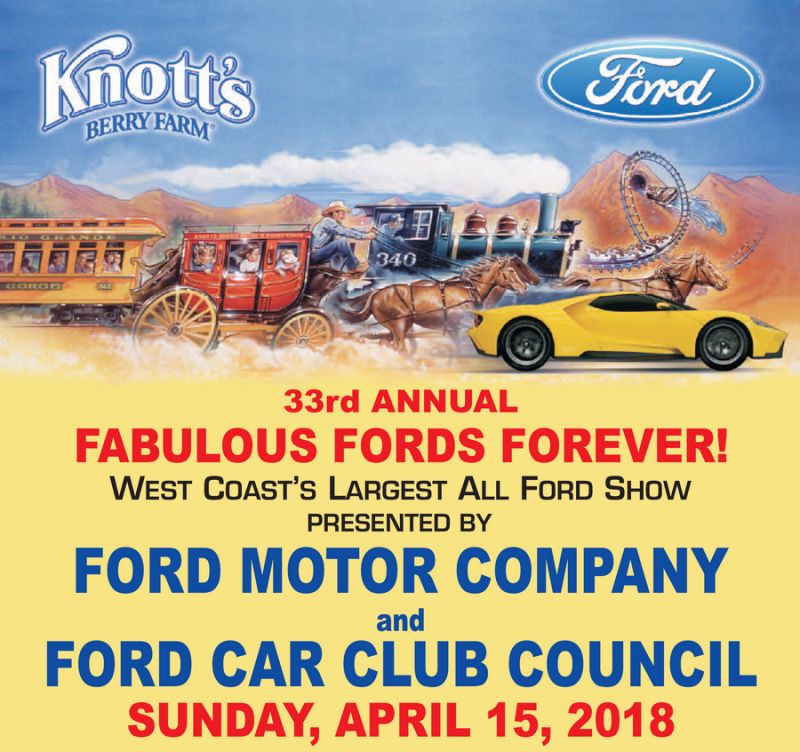 SUNDAY, APRIL 15:
We'll do an early morning cruise to Knott's (see lower map below) — Steve and Molly are expected to attend — unsure if they'll do the cruise, but if you want to cruise to Knott's, meet at Saleen at 7:45 a.m.; planned departure by 8:00 a.m. Everyone's invited. You must be pre-registered for the show and have your confirmation card hanging from your rear view mirror as you enter the Knott's gate.
We will need some volunteers to help parking from 5:30 – 10:00 a.m. and you get a free VIP lunch with journalists and celebrities plus preferential parking, but we need a commitment by April 4. You must also have your car registered for the show, or get a ride with someone (let Jim D. know if you need a ride).
We might need additional helpers starting at 7:00 a.m., so if you arrive early, please let Jim D. know you can help and we'll give you a vest or a task to help with.
Cruise to Knott's from Saleen Sunday morning…
More information on Sunday's event itself and Facebook links at:
* http://fabulousfordsforever.org
* https://www.facebook.com/FabulousFordsForever