Driving The Saleen S302 White Label: The Exterior
By: ALEX LUFT on SEPTEMBER 6, 2019
Original Article: FORDAUTHORITY.COM
One look. That's all it takes to realize that the 2019 Saleen S302 White Label is no ordinary Mustang. And that's because it is anything but ordinary. We spent the past two weeks with this beauty, and enjoyed every minute of it. First things first, let's get a good gander at this breathtaking exterior.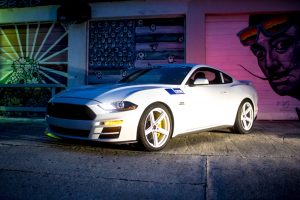 The S302 White Label serves as the entry-level model in the Saleen model hierarchy. It starts out as the Mustang GT with Ford's naturally-breathing 5.0L V8 Coyote engine, which receives a 15 horsepower bump at the hands of Saleen. From there, California-based firm makes a host of very tasteful and appropriate improvements and customizations to deliver a very unique package. Our tester was coated in Oxford White in the base (non-Premium) trim level and had black cloth seats.
2019 Saleen S302 White Label Vitals
Exterior
Interior
Mechanical
Saleen front fascia
Saleen white face gauges
5.0L Coyote V8 tuned to 475 HP
Saleen rear wing
Saleen billeft shift knob
6-speed manual transmission
Saleen 20-inch white wheels
Saleen embroidered floor mats
Saleen performance exhaust
Saleen white B-pillar trim
Saleen signature steering wheel
Saleen RaceCraft suspension & strut tower brace
Serialized limited production
Now, about that exterior: the Saleen Mustang White Label is one great-looking machine. The front end features a unique front fascia with a unique black billet-style grille with a red accent, along with an aggressive lower fascia. The modifications fix the sad and frumpy appearance introduced by the facelifted 2018 Mustang, giving the pony the more aggressive look it deserves.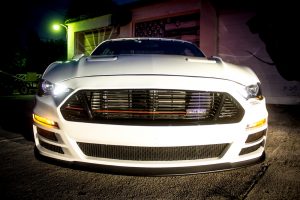 The 001 ahead of the driver's-side headlight denotes that this is the first Saleen S302 White Label for the 2019 model year. That number also appears on the serialized plaque inside the pony as well as under the hood.
A neat-looking 302 decal on the front fender denotes the engine size in cubic inches, tactfully letting others know that this is no ordinary Mustang. Slightly below that signage sit two more badges – one denoting the Four Valve configuration of the 5.0 Coyote engine and another denoting Saleen tuning. The B-pillar features white trim with Saleen script.
But the arguable piece de resistance of the Saleen S302 White Label are the wheels: a set of white-painted 20-inch wheels (9.5 inch in the front, 10.5 in the rear) make the coupe truly stand out on the road. Yellow brake calipers in the front make things pop.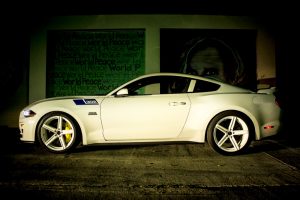 Out back, a large rear wing complements the Mustang's fastback proportions, while also providing functional downforce at higher speeds. Saleen script on the black decklid insert and Saleen dual exhaust with a diffuser round out the package.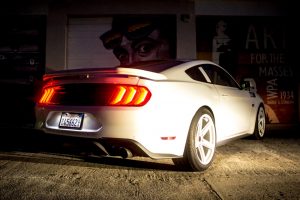 During our two full weeks with this pony, not a day went by that someone did not come up to us to ask or talk about it, or give us a thumbs up. Observing fellow motorists in traffic was also fun, as Saleen's pony turned heads when rolling up to a stop light or passing other vehicles. But none of that can truly describe how this car looks, and it looks absolutely stunning.
Walking up to the Saleen S302 put a smile on my face. Every. Single. Time. And I often caught myself looking out the window of my office on purpose just to catch a glimpse of this white knight. Having caught that glimpse, in turn, made me want to go out and drive it.
Anecdotally, a guy pulled up next to me in downtown Miami to ask what spacers the car was running, at which point I explained that there are no spacers, just really wide wheels. He was impressed. But the icing on the cake was walking out to the car after a gym session and seeing a group of teenagers taking selfies with the pony. It commands attention at every turn – it's just that kind of car.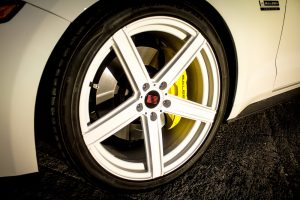 Indeed, the Saleen S032 White Label is no ordinary Mustang, and it shows. The entire package is very well thought-out and tastefully done. After two weeks with the car, I did not look forward to giving it back.
We'll have much more about this gorgeous steed, including driving impressions, in the days ahead, so be sure to stay tuned and subscribe to Ford Authority for more Ford Mustang news and around-the-clock Ford news coverage.
[Source: Ford Authority]