Bigger is Better, The Baer Brakes Story
Before there was a Baer Brakes there was Baer Racing
By: JOHN DRUMMOND on October 26, 2017
Original Article: FUELCURVE.COM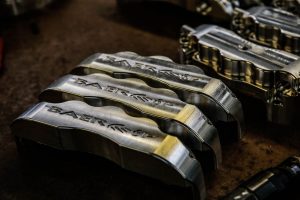 Like others before him, Hal Baer (Pictured below at right) wasn't born making high-performance brakes. Ed Iskenderian didn't invent the camshaft, nor did Vic Edelbrock invent the aluminum intake manifold, but all brought innovation, dedication, and most importantly high quality, race-leading, affordable products that dramatically changed the high-performance aftermarket. Baer was recognized by Hot Rod Magazine as one of ten companies that changed hot rodding in 2007.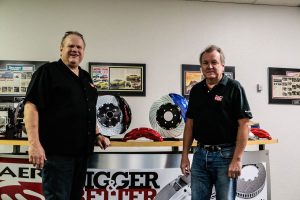 The Baer Brakes story is decades in the making. Hal was one of the millions of kids growing up in the late 60s and early 70s right along with the American Muscle car boom. He dove deeper than most, buying parts, learning on his own, and working on a series of Mustangs all while earning a living painting houses and modifying the occasional car in his native Arizona.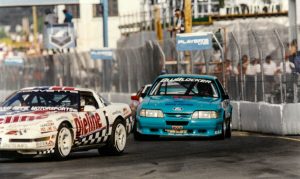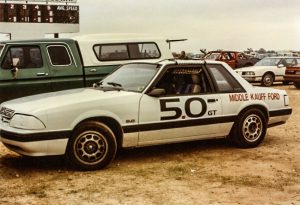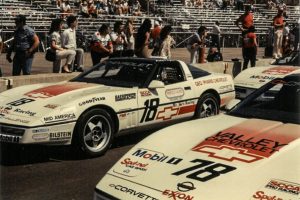 Baer informally drag raced the Mustangs right out of high school becoming an early adopter of nitrous oxide garnering a reputation for building cars that ran way better than they looked. Within a few years, he decided to try road racing with his '69 Mustang building something that hadn't been seen before. It was an unusual mix for the time, a car that went quick in a straight line, but also could now turn and stop better.
In 1986, Baer made a life-changing decision to move to Dallas, Texas where he had a core group of friends. To pay the bills, Hal and his small team installed parts, worked on muscle car restorations and helped their small customer base with suspension set-ups; roll bar/cage installations, and increasingly complex fabrication. Whatever the business that came through the doors, the goal remained the same, go racing. And that meant IMSA Firehawk, Escort Endurance Challenge, Corvette Challenge and World Challenge. That is how this smallish new business became Baer Racing.
Brake Through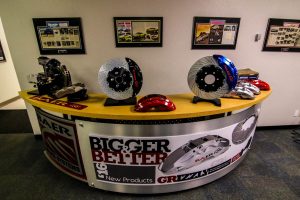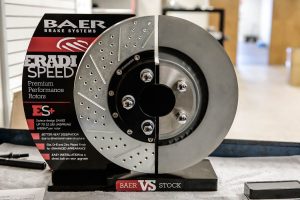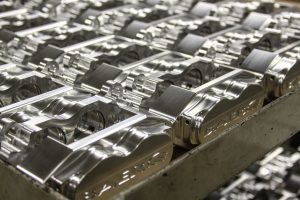 Through a series of relationships, breakthrough's and lady luck, Hal was hired by Ford to do developmental mule work on a series of Ford-supplied vehicles including an early production version of the 1987 Mustang. More breakthroughs and more road racing began to unfold ultimately winding up with an entry (a 1987 Mustang) in SCCA's World Challenge in 1992. The driver? Boris Said III – the king of carving up twisty tracks. At the time, Corvettes (and their new large front brakes) were major players in the class. When it became evident the Baer Racing Fox Body Mustang's cast iron calipers and rotors were insufficient in slowing at race speeds, Hal, ever the hot rodder, put the Corvette C4 brakes (manufactured by Australia's PBR at the time) on his Fox Body car. With Said driving and sponsorship from Blue Blocker sunglasses, the car began to dominate. The brakes made all the difference. Baer Brakes was born.
A calculated move back to Phoenix, AZ in 1993 accelerated the company's success as it moved into full production on brake systems, not 'kits', as the complete systems approach allows the customer to easily replicate Baer's track and street success. Baer also phased out managing race teams and schedules and focused on manufacturers including GM, Ford & Volvo, along with skunkworks operations like Gulstrand, Metalcrafters, and the Archer Bros. With their convenient Arizona proving ground operations along with producing specialized vehicles like the Bondurant School cars, Shelby Mustangs and Chip Foose customs – things got real busy real fast for Hal and his wife Gabi.
Bigger is Better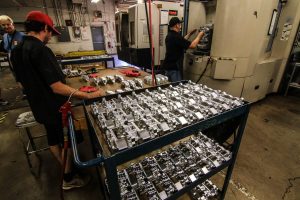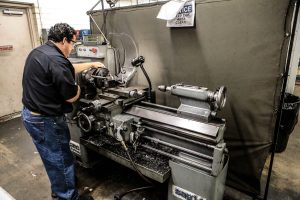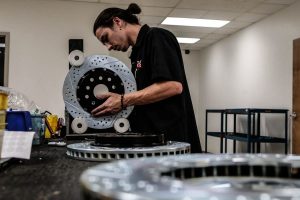 As American auto manufacturers began implementing low profile tires and bigger wheels in the 1990s (as did hot rodders), the need for larger calipers and rotors also increased. Those puny cast calipers so common on American production cars looked downright awful behind the larger rolling stock. Hal and Baer Brakes had the solution. Baer was at the forefront of the movement and were the first manufacturer to offer high quality, handsome looking big brake kits for the Detroit's latest offerings as well as the hot rod and muscle car market. It didn't matter what the make was, Baer offered a kit for it. Through rapid growth, extensive R & D and their American based manufacturing, Baer Brakes began to clearly emerge as the industry leader.
The aftermarket industry then adopted the term big brake kit (BBK) as the standard for a brake upgrade package that included larger diameter rotors, and improved calipers along with some of the associated parts needed for the conversions. Then came the new millennium and the beginning of the Pro-Touring explosion.
Stopping the Supercars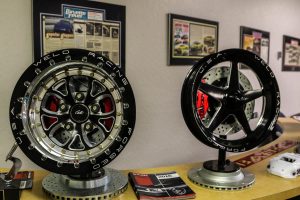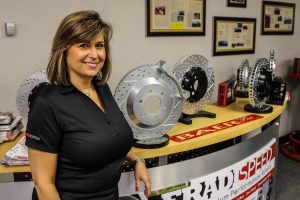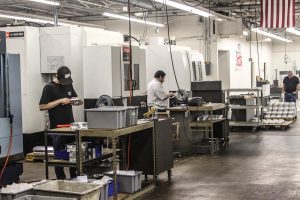 When Mark Stielow developed a road race-worthy Camaro for the One-Lap of America then coined the phrase "Pro-Touring", Baer Brakes market share was about to explode. In addressing a better-handling, better performing American muscle car to cast aside the Pro Street beasts of the 19th century, the new Pro-Touring movement gathered so much steam it eventually became the new landscape of hot rodding. Baer's proven methods of bigger, better brakes and superior craftsmanship put them on the minds of younger as well as established builders seeking show awards but more importantly, performance and handling. Baer had the supply necessary to meet the new demand.
Baer Brakes, Baer Racing, Fuel CurveFrom day one, R.J. Gottlieb's Big Red Camaro has been equipped with Baer 6 Piston brakes and no wonder as only Baer has offered forged mono-block calipers, the kind used for NASCAR, LeMans and Sebring, for American muscle cars. Made from 2618 the same alloy used in high-end racing pistons, Baer's mono-block calipers are one piece, not two halves bolted together for far greater stiffness and strength at temperatures where 6061 and 7075 can't go.
The now-standard red caliper was introduced by Baer as were drilled, slotted and zinc-washed rotors with lightweight aluminum hats. Baer's Custom Shop was the first to offer an endless variety of custom colors and specialized coatings like electroless nickel as well as custom milled logo's like those used by The Roadster Shop, Ringbrothers, Rad Rides, and dozens more. Through the 90s and into the new millennium Baer has developed a full line of brake systems from affordable four piston S4's through the king of the hill mono-block XTR as well as the massive GR6 Grizzly which fits a large range of domestic cars and trucks with factory 15" wheels through 22's and beyond.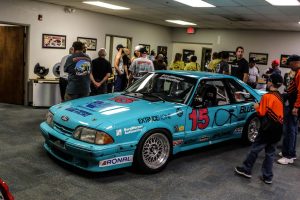 You will find Baer Brakes on nearly every prominent car in hot rodding, Pro-Touring and of course on the racetrack where this entire Baer Brakes story began. If stopping safely while looking good is your end game, Baer Brakes can make the difference.

---
John Drummond
Senior Editor, Digital Media
With three decades of automotive journalism under his belt, John Drummond serves as Senior Editor – Digital Media for Fuel Curve and Goodguys Rod & Custom Association where he has worked since 1990. Drummond got his start in motorsports reporting by making a fake press pass to gain starting line access. The ruse worked and he began covering auto races as far back as 1986 in Northern California, eventually getting his stories published worldwide. He has owned and driven everything from a 1957 Plymouth Belvedere to a ridiculously modded Subaru WRX as well as a string of Mercedes AMG's, most of which had the warranties voided the day after leaving the dealership.
[Source: Fuel Curve]