Molly Saleen
Racer, Retail, Designer Molly Pop Pink!
Original Article: HERHIGHWAY.COM on May 2012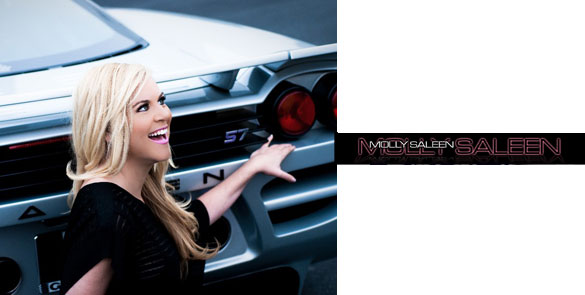 Molly Anne-Kelsea Saleen was born in Sacramento, Ca and soon relocated with her family to Southern California during the early stages of her fathers legacy company Saleen, Inc. Along with her older brothers, Clint and Sean; she grew up in an automotive and racing environment which proved to be a unique and valuable experience for Molly. When she was old enough, she spent a lot of summers at the racetracks around North America and Europe attending her fathers races and learning from the "ground up" about motorsports and marketing.
From cleaning wheels, checking tire pressures and handing out posters, she developed her racing spirit. By the age of 15 she had the opportunity to experience everything from kart racing schools to Bob Bondurant's School of High Performance Driving. The first car she learned to drive was a 510 HP Saleen S351, in which she took her test for her drivers license. Molly knew she wanted to be part of her fathers life as an automotive pioneer.
Who have you mentored with; did someone mentor you in this industry to help you get started?
My Father (Steve Saleen) is a continuous mentor for me; it's an incredible resource to draw from his 30+ years in the Automotive business. I am also very fortunate in that I'm surrounded by extremely knowledgeable engineers and designers that can provide input into various aspects of my automotive career.
In regards to racing; I have been trained and advised by many top drivers in the racing world. Starting at a young age I worked with Bondurant to refine my car control and technique. In Karting I trained with Lisa Caceres; Road Racing I trained with Danny McKeever. Most recently, I have been back with Bondurant and Danny Bullock to work on my Oval Track performance.
As a woman what features are your favorites in a car?
I love the aesthetics of a vehicle, the body line, and not to mention a killer paint like my Molly Pop Pink! Overall a car has to be cohesive in styling, everything needs to have a purpose and make sense to create a complete package. There's also nothing like a well balanced car. It's truly makes an exciting experience when you have the proper amount of horsepower to match the weight of a vehicle, throw-in some sexy styling and I'm begging to drive it!
Why does the auto industry seem like a difficult environment for females?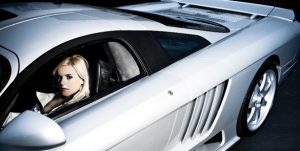 The biggest hurdle seems to be with the technical aspects of cars. Generally, female input doesn't have the same impact as when a male delivers technical information. However, women are continuously making strides in many aspects. Many auto manufacturers are now realizing that we provide critical input whether it's for design, sales techniques, or usability.
Racing is also commonly known as a "good 'ole boys club", I think this has to do with so many women don't like the competition, however I live for it! As a woman driver, all I need to do is setup my equipment to compliment my technique (as with any driver). This is where my style comes in, too often drivers only look at the technical aspects of their cars; I tend to look at my car as a whole package, match it to my style, and use it to my advantage.
Why did you want to work in the auto industry?
I have a passion for it. I consider myself to be "Born of Racing", I grew up at racetracks around the world watching my dad race, I developed my racing spirit and drive at a very young age. After college, I worked in other fields but found myself continuously coming back to automotive.
First automotive job?
Growing up in an automotive family I had plenty of jobs. When I was young, I traveled with my father while he raced throughout the world. I did everything from checking tire pressure to handing out posters. As an adult, my automotive career began at Saleen Inc. I started out in marketing where I worked the shows and events, basically doing the same things I grew up doing at the races.
Proudest professional achievement?
Opening the Saleen Store, we had an idea that automotive retailing is moving away from a dealership environment and into a more boutique setting. With mass customization on the verge of becoming a standard, we developed a retail store that serviced this. We worked for over a year to fully develop the concept, and the Grand Opening day was definitely an achievement to be proud of; we were even nominated as the best automotive retail store in Maxim Magazine. From my experience at the Saleen store I was able to take away a better understanding of retailing and from this I have been working on a women's racing-inspired fashion line, hopefully soon to be my next achievement.
Current challenge at work?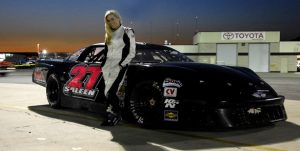 My work has many challenges, on a day-to-day basis I'm balancing running the retail division at Saleen, developing my clothing line named "Molly Pop", and progressing with my racing. I think these all have a common challenge, which is progress. I am constantly looking for ways to move the bar forward and stay ahead of the pack. Through technology we are seeing advancements happen faster than ever before, my challenge is to understand how I can better my position as these advancements come into play.
Dream job?
I love media. The best parts of my job are when I get to work with the movie studios and commercial shoots to present our cars.
What sports or activities did you enjoy in school or/and currently?
I love shopping; it's the other thing that really gets my endorphin's going other than racing!
What you do to relax?
I enjoy vacationing. Anytime I get to visit a new place and meet new people is always an adventure for me… It also lets me catch up on my sleep!
[Source: HerHighway]