Come spend the weekend with Saleen Automotive as well as Steve, Liz and Molly Saleen. Enjoy racing, cruising and two car shows…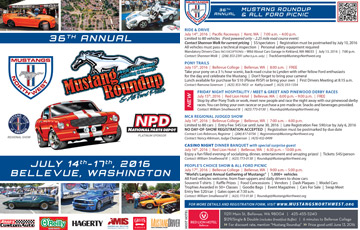 Event website: mustangsnorthwest.com
Host Hotel 2016
Red Lion in Bellevue
11211 Main St, Bellevue, WA 98004
(425) 455-5240
Room Rate is $129.00/night
---
Banquet Dinner
Mustangs Northwest is delighted to be able to invite you to join us for dinner on Saturday July 16th. Dinner will be buffet style. The event will be held at the host hotel, the Red Lion, in Bellevue on Saturday, July 16th.
The Banquet will be held on Saturday, July 16th.
More Details to Come.
Location:
Red Lion in Bellevue
11211 Main St, Bellevue, WA 98004
(425) 455-5240
---
Pony Trails
July 15th -Pony Trails – Depart from Bellevue College – Driver's meeting at 9:45am.
Take your Pony on scenic cruise on the backroads of the Cascades with other fellow Ford enthusiasts. We will depart from Bellevue College and head to Monroe and Highway 2. From Monroe, the cruise will take the backroads to end up in Roslyn. Driver's Meeting will be at 9:45 a.m. at the college. Come with a full take of gasoline, but there will be places to stop along the way. There will be a 50/50 pot with ticket sales at the college and in Roslyn and the drawing at 3 p.m. in Roslyn. See you on July 15th!
Contact information:
Jeanie McCain – 206-242-4980
---
Judged Show 2016
Click to download the 2016 Registration Form for the Judged Show!
July 16th – MCA Regional Judged Show – Bellevue College – 7:00 am to 4:00 pm. Entry fee for Registrations postmarked by July 1, 2016 is $45.00. Entry fee for registrations postmarked between July 1 and July 10 is $90.00. No day of show Registration.
Contact information:
Lois Robinson – Registrar – 206-817-0756
Nancy Atkinson – Judged Chairperson 425-432-0499
---
People's Choice Show
July 17 – People's Choice Show & All Ford Picnic – Bellevue College – 9 am – 5 pm
World's Largest Annual Gathering of Mustangs – Entry $20.00 per car (No Pre-Registration) – Gates open at 7:30 am.
Contact – Jeanie McCain – 206-242-4980
Contact information:
Jeanie McCain – 206-242-4980
Join us on Sunday July 17th for the World's Largest Annual Mustang Show. Vote for your favorite cars and see if they win one of the 200 plus trophies to be handed out. And oh, there will be vendors around to sell you food, coffee and car parts. Admission is $20.00 at the gate.