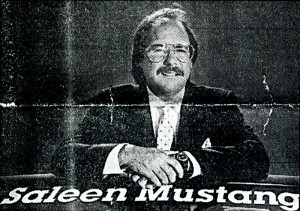 By: DOUGLAS FRANTZ on November 10, 1988
Original Article: LOS ANGELES TIMES
Carroll Shelby, meet Steve Saleen.
For those who may not remember, Shelby is the guy who put race-car muscle into Ford's sporty Mustang more than 20 years ago. He started in a garage outside Los Angeles and rode his famous Shelby Mustang into a multimillion- dollar business that he eventually sold to Ford.
Saleen started in a California garage, too, and the agility and eye- popping speed of his Saleen Mustang have earned it cult status among slightly fanatical driving enthusiasts in just four years.
As heir to the Mustang crown, Saleen transforms assembly-line, V-8-powered Mustangs from Ford into something special, with racing suspensions, aerodynamic alterations and other refinements. The final result, says Car & Driver magazine, "looks like a take-no-prisoners street fighter."
William Bryant, an actor who loves cars, owns a candy-apple red 1968 Shelby Mustang convertible. He heard about Saleen from other Mustang loyalists and wound up getting a ride from him in one of his cars.
"We entered a freeway on-ramp and came out at 97 miles an hour," Bryant said. "I said, 'I've got to have one.'"
He wound up with three in the family stable, a 1985 fastback and a 1987 convertible for himself, and an identical '85 fastback for his daughter. All three cars are black. Bryant has also persuaded 15 friends to buy Saleens.
Saleen has not reached Shelby's legendary stature. However, Motor Trend magazine recently called him "one of America's hottest limited-edition automotive designers," and his business has accelerated faster than a Saleen Mustang. The number of cars turned out has grown more than twenty-fold in four years, and employment has gone from three to 65 people.
In May, the privately held company, Saleen Autosport, moved into a new 45,000-square-foot plant. The company maintains its racing and engineering division in Detroit, close to Ford headquarters. However, Saleen said he doesn't intend to move design and production out of Southern California. "The trends and the fads really are created here."
In the sparkling-clean, hangar-like building in Anaheim, Saleen is tapping a trend that started in Southern California, hot conversion trucks. A special- edition Ford Ranger truck, with high-performance additions, is being added to the Saleen line.
In addition, Saleen is refining an ultrafast supercar for the '89 model year that he promises will outperform a Chevrolet Corvette. A mean-looking prototype sits in a corner of the building; the standard fuel-injected, 225- horsepower, 5-liter Ford V-8 is juiced to 300-plus horsepower and a roll bar arches over the leather interior.
By moving into the growing sport truck market and producing 250 of the supercars, Saleen expects to double production to 2,400 vehicles next year, an optimistic projection but based on an impressive track record that actually started on the track.
At 39, he has been racing professionally since 1975 — and his first win came in a Shelby Mustang. He moved up through Formula Super Vee to Formula Atlantic. Last year, his Mustang racing team won four major championships on the Sports Car Club of America circuit, and Saleen plans his debut in the Indianapolis 500 next year.
It was on the race circuit in 1983 that Saleen met Ford officials and decided to produce his cars with their cooperation.
In 1984, he turned out 50 Saleen Mustangs. The next year output jumped to 180. In 1986, it was 290; in 1987, 400. This year he will turn out 1,100 to 1,200 Mustangs.
The suggested price of $21,500 for a Saleen hardtop, while not in a league with a Corvette or Porsche, is heady for a Mustang. A top-of-the-line stock hardtop Mustang sells for about $13,000 to $15,000. Saleen's convertibles, which make up about a quarter of the annual run, list for nearly $24,500.
These are not the crude hot rods of mechanics who bolt on parts for pure performance. They are the result of years on the track and race-bred engineering.
The basic car is a Mustang LX, with the 5-liter V-8. Most of the cars have a five-speed transmission, although occasionally a buyer wants an automatic. The car also has luxury options such as power windows and locks and air conditioning.
The process begins when Ford ships the cars by rail to Saleen's shop, where they are stripped of their interior, suspension, brakes, wheels and many body parts. Saleen does not monkey with the engine or transmission, which means that Ford's power-train warranty and the emissions-control certification remain in effect.
Workers install special sport seats and matching rear seat upholstery and door panels. A leather-wrapped, three-spoke Italian steering wheel goes in, along with Hurst shifter linkage. An 80-watt, six-speaker stereo cassette system is installed alongside instrumentation that includes a 170-mph speedometer.