The Jones' Always Beat the Odds Podcast
Oct 20, 2015
Podcast Interview By A.J. GORDON
Article Written By YOAV GILAD
Growing up Mr. Parnelli Jones was into horses but when he turned 16 he sold his horse and bought a hotrod. After that, he was unstoppable. It was a 1923 Ford T-bucket, the same kind of car that he'd seen Troy Ruttman racing at Carrell Speedway. He still remembers Ruttman started at the back and fighting his way to the front to win the race. Jones started racing his car about a year later at the same track. "It was a radical car—needed a lot of maintenance," but the car and the link to Ruttman fascinated him and so Jones raced it.
Jones loved racing, it really captivated him, but he wasn't a natural, he really had to learn. After wrecking his car week after week, he blew his engine and finally didn't have the money to fix it. A guy told him he'd build an engine for Jones, if he'd just slow down and stop trying to win at the first corner. Over time something clicked because he began finishing a bit more, and finishing well. But there were still crashes.
After becoming more consistent, Jones began earning his way and being able to keep his car out of trouble and win some races he started climbing the ladder and was invited into different racing divisions. He raced at Gardena Stadium (Carrell) every Sunday and Jones thinks it was this exposure that led him into Modifieds (finished first in his first race), Midgets (finished second overall in his first season), Sprint cars, and Stock cars. "I'm the kind of guy who liked to see what's on the other side of the hill." If someone offered a ride in a different type of car, Jones was in. There was a period during which he was driving about 65 races per year.
And although the danger was always present, he was lucky enough to never spend a night in the hospital.
By the time he went to Indy, he was pretty well established. Jones guesses that he could've gone sooner, but he waited to ensure he'd have a strong car. Asked if he was intimidated, Jones replies that he realized that legends "Put their pants on one leg at a time," just like he does. Perhaps it's because Indy 500-winner Jim Rathman approached a then-rookie Jones in the pits to find out how he had passed him. Jones would win the famous race two years later.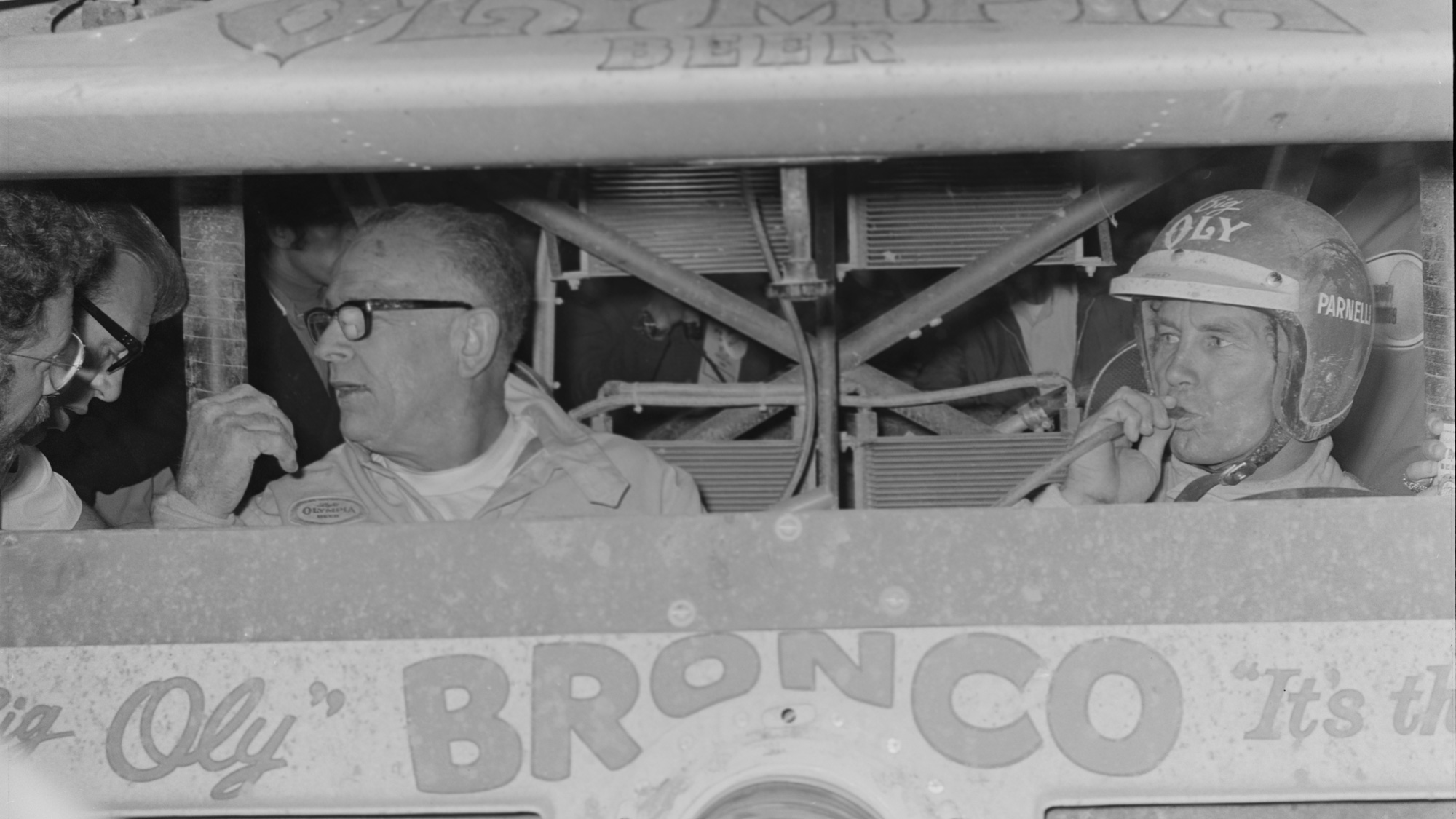 He's also known for racing, and winning, in major off-road competitions such as the Baja 500 and Mexican 1000. Why did he enter off-road competition? Jones was goaded into it by Bill Stroppe who said, "Well, you're probably not man enough, anyway," when Jones initially refused Stroppe's offer. He was man enough.
Ironically, Jones didn't encounter his greatest challenge until his sons began racing. PJ and Page, are Jones's boys and both fell in love with mechanical things very quickly. They could both ride a motorcycle by age four. But Jones didn't want them to race. They kept asking though, and eventually he relented. In their first kart race, PJ won and Page crashed, but both loved it and wanted to keep racing.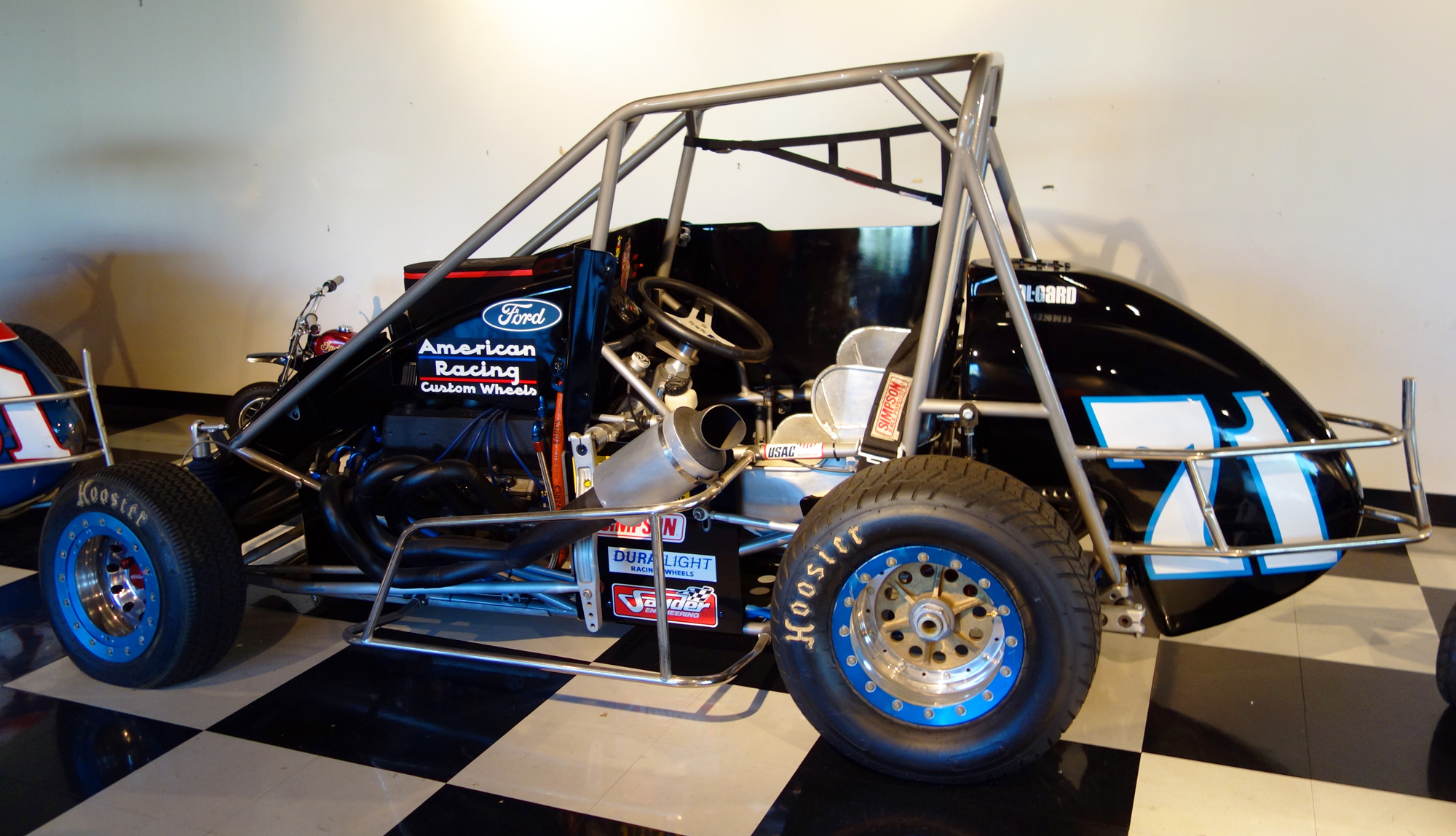 Over time, it became clear that Page was a phenom, winning 18 of 42 races in stock cars or open wheels, in one season. In one race, the following season he understeered badly into the wall, flipped and was struck in the roof by a pursuing racecar. The collision didn't look too bad on TV, but Parnelli received a call from the hospital in Ohio and the doctor told him to come out. It was a very serious crash.
Page suffered traumatic brain and spinal injuries. A nurse guaranteed that he wouldn't walk out of the hospital. She was right, but he survived and went into rehab.
Over the last twenty years, Page has learned to walk, talk, and live normally again. It has been a fight to survive and re-learn all that we take for granted. "We just pushed and pushed… Judy and I never accepted that this was where he was going to stop," Parnelli recounts. All the Jones' refused to give up or accept his condition as an unchangeable constant.
And somehow, it's as though they knew Page would regain his faculties from the beginning. "We had a great friend in Rich Sloan," who has filmed Page's entire recovery. He showed it to some folks in the movie industry who wanted to produce it. And so they did. It's called Godspeed: The Story of Page Jones.
But it isn't a documentary about racing or cars. If you watch it for wheel-to-wheel action or high-speed Indianapolis highlights you'll be sorely disappointed. It's about a man and a family beating the odds, and their strength, determination, and will.
Listen to new CarStories Podcast
episodes every Tuesday and subscribe on iTunes.
Click on this link to visit carstories.com and listen to the PodCast
Click here to participate in the discussion.
[Source: Carstories.com]