Saleen and ASC Combine Competencies to Build Niche Vehicles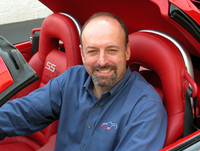 IRVINE, CA – August 11, 2007: Hancock Park Associates, the primary investor in Saleen Incorporated, recently completed the acquisition of assets of American Specialty Cars Incorporated (ASC). Paul Wilbur, current President and CEO of ASC, was today appointed to the role of President and CEO of Saleen, as well. The strategic alignment of these two niche vehicle manufacturers will create a complete portfolio of products and services for future Saleen vehicles, aftermarket accessories and vehicles created for the world's original equipment manufacturers (OEMs).
"Paul is one of the most dynamic automotive executives in the U.S. automotive industry with more than 26 years of industry experience; 21 years with OEMs and five years in the Tier 1 supply business," said Kevin Listen, a Hancock Park Associates partner. "His knowledge of the specialty vehicle business is paramount as he leads Saleen and begins to grow ASC's specialty open air and creative services businesses. We expect a lot of good things to happen under Paul's leadership."
In the near-term, both ASC and Saleen will remain as separate companies, although the long-term vision is to strategically integrate the two operations. While each company will maintain its unique focus, both companies have common platforms as low volume, specialty vehicle manufacturers. The combined group will be comprised of OEM, Tier 1 and aftermarket business units.
Along with Wilbur, Saleen will also be supported by Chris Theodore, the retired vice president of product development at Ford Motor Company, best known as the "father of the Ford GT program." Theodore will lead new product development for both companies and be its chief technology officer. Marques McCammon will assume the daily responsibilities at Saleen.
With great enthusiasm, the teams are currently working together to launch the 2008 Saleen model line, in addition to equipping all supercharged Ford Harley-Davidson Edition F-150s with Saleen's patented twin-screw supercharger and painting all 2008 Dodge Vipers. The group is especially looking forward to combining its efforts to produce the next generation of Ford Mustang and F- 150-derived vehicles due out within the next two years.
"The combination of Saleen's powertrain and chassis expertise, along with ASC's body engineering and design capabilities is no accident," says Wilbur. "Moving forward, both companies are excited to develop innovative products for the automotive industry. Together, the two companies will have the expertise to design, engineer and manufacture amazing new specialty vehicle products. The synergies of the two companies create a clear leader in the niche vehicle business. I am also very excited to join the talented team at Saleen."
ABOUT ASC
ASC is a supplier of highly engineered and designed roof systems, body systems and other specialty-vehicle systems for the world's automakers. ASC also continues to have strong capabilities in Creative Services with one of the largest vehicle design capabilities found outside the OEM community. The company was founded in 1965 and is headquartered in Southgate, Michigan. For more information, visit www.ascglobal.com.
ABOUT SALEEN
Since the company's inception in 1984, Saleen Incorporated has produced over 12,000 complete and EPA-certified vehicles and is a nine-time Manufacturers' Champion in GT sports car racing. Saleen manufactures the American supercar — the Saleen S7, as well as the S281 Mustang, S331 Sport Truck and the Parnelli Jones Limited Edition Mustang. Saleen also supports OEM partner niche vehicle initiatives, including projects such as the Ford GT, supercharged Harley-Davidson Edition F-150 and the Dodge Viper program. Saleen's manufacturing facilities are located in Irvine, California and Troy, Michigan. For more information, visit www.saleen.com