LeMay – America's Car Museum
Saleen: A Journey from the Heart of a Racer
to America's Supercar
OPENS SATURDAY, NOVEMBER 16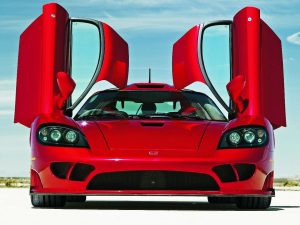 It is a rare breed of automotive trailblazers that are able to move from upper echelon race car drivers to OEM manufacturers of fine automobiles and supercars. The ranks of this rarefied group include names such as Ferrari, Shelby, Chevrolet. Steve Saleen is one of those individuals and the company he founded has a rich history of innovation, design and engineering distinction. The Saleen Exhibit at America's Car Museum celebrates companies founded by racers while keeping the focus on Steve, his company and, most importantly, the cars.
ABOUT SALEEN: An incredible race history with the performance design of the Saleen Mustang, to one of the world's most renowned super cars, the Saleen S7, CEO & Founder Steve Saleen has carved out a reputation that truly ranks with the most celebrated performance vehicle designers in history. Saleen's entrepreneurial business plan laid the groundwork for an entire new industry of design, engineering, manufacturing, and sales of high-performance vehicles that were race-proven and marketed for sales through showrooms nationwide.
SALEEN & CAFFEINE: COFFEE & DONUTS WITH STEVE SALEEN
NOVEMBER 16th | 9 – 11 am
This is your opportunity to meet one of the most successful and well-known automotive legends in the country – Steve Saleen! Enjoy coffee by ANTHEM coffee and donuts by Original House of Donuts, while being the first to view a legacy of racing and road cars by Steve Saleen. TICKETS ON SALE SOON! Learn more.
Click here to participate in the discussion.
[Source: LeMay: America's Car Museum]