By: DANIEL LLOYD on March 1, 2019
Original Article: SPORTSCAR365.COM
Saleen Automotive returns to racing with new Cup series launched for 2019…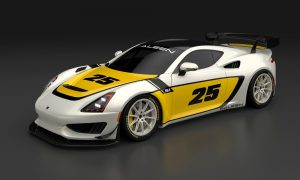 Saleen Automotive has announced a new single-make series that will support Blancpain GT World Challenge America later this year.
As first reported by Sportscar365 in October, the Saleen Cup will be dedicated to the racing version of the manufacturer's 450-horsepower Saleen S1 sports car, which was launched last year.
The five-round championship "arrive and drive" series will feature 20 cars plus spares prepared and transported by the California-based company, and comes with a chance to win a "factory seat" in its GT4 lineup next year.
Further details of Saleen's involvement with the S1 in GT4, including timescales, have yet to be established.
Round 1 of the Saleen Cup is set to take place at Sonoma Raceway in early June, followed by stops at Portland International Raceway, Watkins Glen International and Road America before concluding in Las Vegas in October.
The series will be open to standard 'D' licensed drivers while two-person crews will be permitted in a bid to help spread individual costs.
"I am very pleased to welcome the Saleen Cup Series to the Blancpain GT World Challenge America schedule for the 2019 season," said SRO founder and CEO Stephane Ratel.
"The Saleen name is instantly recognizable to every race fan and I have fond memories of the wonderful S7-R competing in the FIA GT Championship more than a decade ago.
"The new Saleen 1 is an exciting new project for the brand and the 'arrive-and-drive' concept is the ideal way to showcase it at some of the most iconic circuits in the United States."
Saleen emerged on the global endurance racing scene in the 1990s with specially modified Ford Mustangs, before running its own S7-R supercar in the 2001 24 Hours of Le Mans.
The manufacturer went on to win the Le Mans GT1 class through Larbre Competition in 2010 while the S7-R also raced extensively in the American Le Mans Series, FIA GT Championship and various national competitions.
"The Saleen Cup is the next chapter in our company's return to motorsports," said Steve Saleen, CEO and founder of Saleen Automotive.
"Racing is in the DNA of everything we do at Saleen. The technology and design of the new Saleen 1 model is a direct result of extensive track testing and development, so it's only natural that the new model makes its debut on some of the most iconic racetracks in America."
Format, Costs Outlined
Saleen's director of motorsports Gabriele Cadringher confirmed that Cup events will comprise of two 50-minute races with grids decided by 30 minutes of qualifying spread over two sessions.
Single or two-driver lineups are permitted, with each race carrying a mandatory pit stop but no tire changes.
Three sets of Continental tires will be available to each entry per weekend.
Cadringher projected that the total cost of a full-season program this year will be $190,000 ($38,000 per event) if submitted before April, rising to $210,000 afterward.
2019 Saleen Cup Schedule:
June 7-9 – Sonoma Raceway
July 12-14 – Portland International Raceway
Aug. 30 – Sept. 1 – Watkins Glen International
Sept. 20-22 – Road America
Oct. 18-20 – Las Vegas
Click here to participate in the discussion.
---
Daniel Lloyd is a UK-based reporter for Sportscar365 and e-racing365, with a focus on the FIA World Endurance Championship and various electric racing series.
[Source: sportscar 365]