SALEEN CODENAME "WIDOW MAKER" UNVEILED AS 2009 "DARK HORSE"
Willow Springs International Raceway, Rosamond, CA — September 24, 2008 — by SOEC/Saleen Forums News — Saleen CEO Chris Theodore officially presented its latest limited edition Mustang on the grounds of the fastes track in the west. "Dark Horse is the meanest, darkest and fastest Saleen yet," said Theodore, who only last month took over the top position at the automaker and shifting gears from the job of chief technical officer.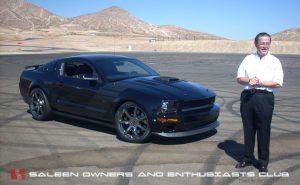 The Dark Horse powerplant is SAE-rated at 620 horsepower with 600 foot-pounds of torque, though it gets a little boost from Speedlab's SuperShaker supplying exclusive styling while enhancing performance. "The vehicle takes advantage of the ram effect into the SuperShaker air box," states Dan Agnew, Powertrain Engineering Manager, "It increases pressure in the air box, which adds boost by 0.5 psi and holds air charge temperature relatively constant even with the higher boost." The Dark Horse powertrain also features a Saleen port-matched Series VI integrated screw-type supercharger, forged aluminum pistons, forged steel connecting rods, and orged steel crankshaft. While the SAE-certified horsepower rating does not necessarily reflect the full benefits of the SuperShaker, it does exhibit itself on the track with neck-wrenching acceleration.
The new Dark Horse combines the power and handling of the Saleen Extreme with Heritage body stylings. Its black body color, flat black exterior graphics, blacked-out trim and black chrome wheels make up the exterior. A Ford navigation system, sport leather seating with Alcantara inserts, and red anodized shift gate and leather-wrapped shifter are featured in the cockpit.
"The Dark Horse provides the capability of extreme horsepower and provides the detailed look our customers expect. By merging the SuperShaker with the Extreme powertrain we have created a no compromise solution for people looking for both performance and classic Mustang looks," states Marc Musial, Chief Powertrain Engineer.
The Dark Horse's suspension features everything you would expect from a Saleen, including a second generation Watts-link. The package is impressive, and provides sure-footedness around the tight road course of the Streets of Willow at high speeds, tight turns and aggressive braking. It is considered the most intense Saleen ride yet.
Originally code-named "WM" or the "Widow Maker," the Dark Horse will be a limited edition of 25 coupes and begin production in November 2008. Pricing is to be announced, but should run in the $89,000-plus range.
SOEC, founded in 1991, is the premiere organization for Saleen owners and enthusiasts, with thousands of members worldwide.
Click here to participate in the discussion.
[Source: Saleen Owners and Enthusiasts Club]