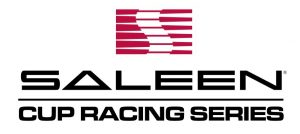 SALEEN CUP RACING SERIES DEBUTS AT PORTLAND INTERNATIONAL RACEWAY
Twelve drivers in two distinct classes competed in Portland, July 12-14, as part of an "arrive and drive" racing series showcasing the new Saleen 1 sports car
Brandon Davis of Sonoma, Calif. and Paul Terry of Nephi, Utah led 50-minute race, taking top podium finish during inaugural Saleen Cup event
PORTLAND, Ore. (July 16, 2019) – History was made at Portland International Raceway this week as California-based Saleen Automotive officially returned to motorsports with its debut of the Saleen Cup – an "arrive-and-drive" series designed to demonstrate the capabilities of its recently announced Saleen 1 turbocharged mid-engine sports car.
Brandon Davis of Sonoma, Calif. and Paul Terry of Nephi, Utah led a hotly contested 50-minute race on Sunday, July 14 as part of a shared team in the Saleen Cup "Pro-Am" class, taking top honors at the inaugural event. As one of the most successful marques in GT racing history, the Portland race marked a significant milestone for Saleen Automotive, led by legendary racing driver and high-performance vehicle pioneer Steve Saleen.
"We're extremely proud of our Saleen Cup debut in Portland and our company's official return to motorsports," said Steve Saleen, CEO and founder of Saleen Automotive.
"This series serves as our platform to develop the Saleen 1 street model and it's already proving to be very competitive on the track. We're thankful for our team drivers and the Saleen crew for their major effort during this event and look forward to the next race in Watkins Glen."
The Saleen Cup delivers a professional-quality racing experience, with a grid of fully prepared Saleen 1 Cup Cars featuring Iconic, Contemporary and Saleen racing liveries in bold, designer colorways. Full trackside support and hospitality amenities add to the professional-level racing experience. The cars are prepared and transported to each race by Saleen, so it represents a true "arrive and drive" series that offers a fast-tracked entry into motorsports.
A Pro-Amateur (Pro-Am) class invites experienced drivers to be among the first to spend time behind the wheel of the new 450hp turbocharged 2.2-liter, four-cylinder Saleen 1 Cup Car. The Pro-Am class debuts in Portland with eight drivers, including Martina Kwan; Brandon Davis; Paul Terry; Johan Schwartz; Zachary Lee; Bryce Miller and Drake Kemper – plus veteran driver and Steve Saleen's daughter, Molly Saleen.
The Saleen Cup's "Young Drivers" class presents a unique opportunity for prospective young drivers who are looking to start a career in professional motorsports. The four entries in the Young Drivers class at Portland include: Austin Riley; Cameron Lawrence; Hanna Zellers and Carter Fartuch.
Portland Results – Pro-Am Drivers Class:
First Place – (#4) Brandon Davis (USA) / Paul Terry (USA)
Second Place – (#2) Zachary Lee (USA) / Bryce Miller (USA)
Third Place – (#6) Molly Saleen (USA) / Johan Schwartz (USA)
Portland Results – Young Drivers Class:
First Place – (#12) Austin Riley (CAN) / Carter Fartuch (USA)
Second Place – (#71) Hanna Zellers (USA)
Third Place – (#9) Cameron Lawrence (USA)
The Saleen Cup is presented via a partnership with SRO Motorsports Group, and runs concurrently with the Blancpain GT World Challenge America. Trackside tire support for the entire Saleen Cup is provided by series sponsor Continental Tires. In addition to offering prospective drivers and enthusiasts a turnkey, once-in-a-lifetime racing opportunity, the category champions in the Saleen Cup will each secure a factory seat driving in Saleen's GT4 entry for the entire 2020 season. The Saleen Cup schedule includes four events through October 2019:
Portland International Raceway (Ore.) – July 12-14, 2019
Watkins Glen (NY) – August 30 – Sept. 1, 2019
Road America (Wis.)– Sept. 20-22, 2019
Grand Finale (Las Vegas) – Oct. 18-20, 2019
For more information on the Saleen Cup, visit www.SaleenCup.com. For more information on the Saleen 1 model, visit www.Saleen.com, or follow Saleen on social by using on Facebook at Facebook.com/Saleen, or by using @Saleen on Twitter and @Saleen on Instagram.
About Saleen Automotive, Inc.
Saleen is dedicated to transforming the transportation experience. For over 35 years, the California-based automotive manufacturer has redefined driving through high-performing vehicles that combine championship-winning racing pedigree with innovative technology and distinctive styling.
From the first Saleen Mustang in 1984 to the legendary S7 in 2000 and the groundbreaking new Saleen 1, founder Steve Saleen has continually set the bar for vehicle design and performance engineering on streets and racetracks worldwide. In addition to its distinctive Saleen Signature and Saleen Original vehicle lines, Saleen offers a wide variety of technical parts, lifestyle accessories and apparel for those with a passion for performance. Learn more at www.saleen.com.
Contacts
Media Contact:
Saleen PR – Collin Whitley
cwhitley@Saleen.com
[Source: Saleen Automotive]