By: JUSTIN KAEHLER on September 11, 2006
Original Article: IGN.COM
High performance Mustangs take over Orange County
Ford tuner/supercar builder Saleen shut down a few Orange County streets and opened the doors to its headquarters for its 10th annual open house/car show.
Saleen (the company) let the Saleen Owners and Enthusiasts Club (SOEC) take over its manufacturing headquarters so that everyone could celebrate all things Saleen (the car). Though this car show was technically open to any and all cars, this event was pretty much dominated by all things Ford-powered and Saleen-tuned.
Though a few S7s and Saleen-tuned F150s were on hand, the car of the day was the Saleen Mustang. All generations of Saleen-tuned 'Stangs were on hand, which is great for the Saleen Mustang fan, not-so-great for those looking for a bit of variety. Don't get us wrong, we love Saleen Mustangs as much as the next certified gear-head. It just seems as if most of these cars are picked up by the type of guy that spends one too many hours watching the Barrett-Jackson auctions on TV and not-so-secretly hopes that his Saleen Mustang will be the next million-dollar car. Most of these Saleen Mustangs look as if they rarely come out of the garage, let alone see any sort of track time. Whatever happened to buying a race-ready car and taking it racing?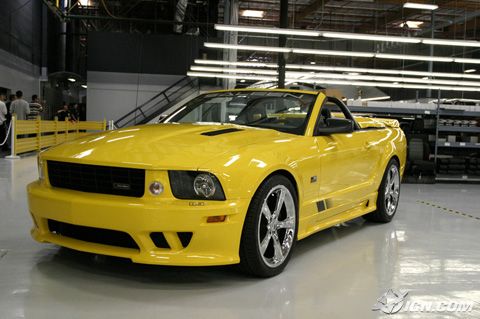 Of course, we have to admit that it was a treat to see some very clean mid-80's Saleen Mustangs. We loved these cars ever since we were kids, and finally seeing one in real-life was almost as cool as seeing an actual DeLorean. Yes, we are using this paragraph to admit that we seriously loved tuned American muscle back in the day, so perhaps you guys will give the "import bias"-thing a bit of a rest…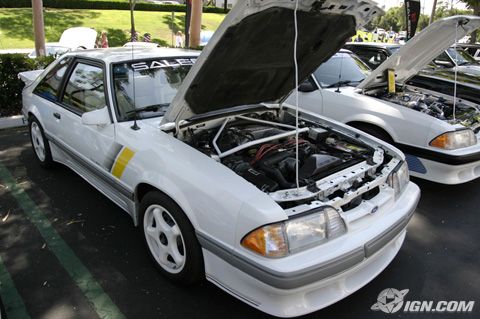 As we mentioned in the opening sentence, Saleen also opened the doors to its factory. It wasn't "operating" at this time, but show-goers could still see how Saleen is able to turn ordinary factory Fords into high-performance Saleens.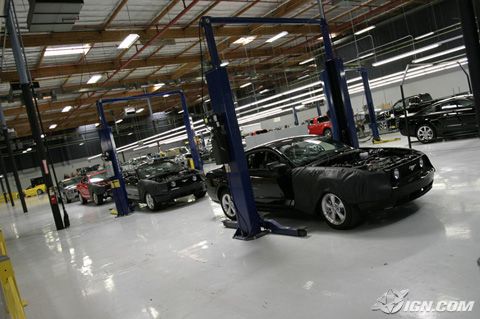 In fact, Saleen even had a separate section showing the frames and naked carbon fiber bodies of its S7 supercar. It's amazing to think that this little cage is the basis for the S7…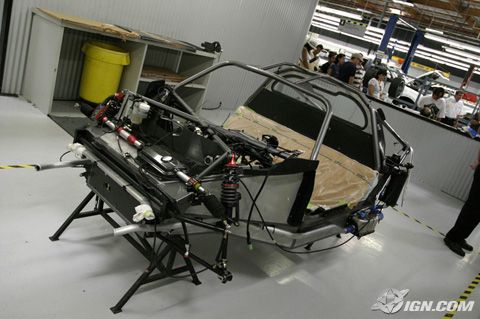 Did you know that Saleen tunes more than just the Ford Mustang? Check out this Saleen-tuned Focus. This was the only one at the show… We sure would have liked to see more of 'em, though.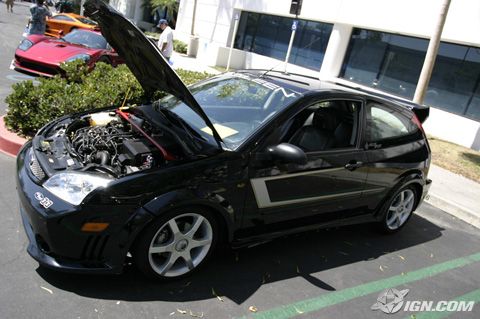 While we had a great time at Saleen's open house, we left wishing for more. Saleen's Mustangs were well represented, but we only saw the one Saleen Focus and zero Saleen Contours. We know that Saleen has them – we saw them at the Los Angeles car show a few years back. Here's hoping that Saleen will dig those cars out for next year's show…
While we wait for the triumphant return of the Saleen-tuned Focus and Contour, why don't you check out our Media Page for our massive gallery of all things Saleen. Enjoy!