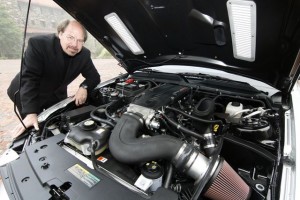 Steve Saleen's name has appeared on more than 11,000 high-performance Mustangs over 25 years, and he is celebrating that milestone with a special display and autograph sessions at 10-11 a.m. and 2-3 p.m. on Friday, Sept. 11, during the Sept. 10-13 Food Lion AutoFair at Charlotte Motor Speedway.
Saleen was a successful Formula Atlantic racer in the early 1980s when he realized that a few simple improvements could make Ford's popular Mustang perform on par with more expensive sports cars. Borrowing his sister's white 1984 Mustang hatchback with 5.0-liter V-8 and five-speed transmission, Saleen designed a package that would transform the pleasant pony into a modern muscle car. He upgraded the suspension with stiffer springs and shock absorbers and installed a set of exotic alloy wheels. To aid its high-speed handling, this first Saleen Mustang received an aggressive front air dam, low side skirts, and a rather large rear wing. The final touch was a banner of vinyl lettering across the top of the windshield announcing "Saleen Mustang."
Saleen kept his prototype and sold two cars to West Coast Ford dealers before the '84 season closed. Those first three cars, and every Saleen Mustang since, received a unique production number separate from the Ford VIN, a practice that enhances their collectible status.
Steve Saleen took his cars racing in 1986 and won four Sports Car Club of America championships in '87, giving his company the first of many competition trophies.
Due to federal emissions regulations, Saleen was not allowed to modify the 225-horsepower Mustang engines, so he hired a former Environmental Protection Agency official in 1988 and put him to work certifying a 300-horsepower V-8 for limited production. At the time, such a challenge was unprecedented for a small-volume manufacturer, but it resulted in the 1989 Saleen SSC, a car that enthusiasts still refer to as the "super Mustang." Not only was the engine more energetic, but the suspension, brakes, wheels and tires, transmission and rear axle were designed especially for that model. The leather-covered interior was fitted with a massively powerful sound system, four-point rollbar and a unique "rear speaker enclosure" that eliminated the back seat. All 161 SSCs were white hatchbacks.
Saleen's 10th anniversary in 1993 coincided with the final year of the "square" Mustang, a design Ford introduced in 1979. Steve Saleen chose to send the so-called "Fox" body on its way with a bang and developed the supercharged, 450-horsepower SA-10. Only nine of the black hatchbacks were built – all wearing the latest and greatest go-fast parts the company's catalog had to offer.
Five years later, the SA-15 embodied all that was holy to the Saleen faithful, this time in the form of 10 yellow convertibles with supercharged, 320-horsepower V-8s. Matching yellow 18-inch alloy rims, a composite hood, unique leather interior, and a fiberglass cover over the rear seats made the birthday model stand out from the standard Saleen Mustang.
Another five years flew by, and, for 2003, Saleen offered six pearlescent white SA-20 convertibles with 375-horsepower V-8s and a "Speedster" appearance package similar to that on the SA-15. The hefty sticker price, $54,357, included airfare for two to the Saleen plant in Irvine, Calif., one night's lodging, a celebratory dinner with Steve Saleen and attendance at the company's annual car show.
Recently, Steve Saleen left Saleen Inc. and launched a new company called SMS Ltd. to manufacture niche-market, ultra-performance vehicles out of new Chevrolet Camaros, Dodge Challengers, and, of course, Ford Mustangs. To recognize his 25th anniversary, Saleen built a single 720-horsepower silver hatchback he intends to keep for personal use.
The Food Lion AutoFair is commemorating the 25th anniversary of the Saleen Mustang with a special display that will include an SSC, SA-10, SA-15, and SA-20 – all owned by collector and longtime Saleen enthusiast Debbie Blaylock, of Asheville. Rounding out the exhibit will be a 2007 Saleen/Parnelli Jones Limited Edition model built to celebrate the company's 20th anniversary of its first SCCA championship. Steve Saleen will be on hand Friday, Sept. 11, to meet fans and sign autographs in the Showcase Garage from 10-11 a.m. and 2-3 p.m.
Enthusiasts can enjoy the Saleen 25th anniversary display during the Sept. 3-6 Food Lion AutoFair. The Fall Food Lion AutoFair annually attracts more than 100,000 visitors. It features more than 50 car club displays and more than 7,000 vendor spaces that offer a huge array of automotive parts and memorabilia. More than 1,500 collectible vehicles of all makes and models will be available for sale in the car corral that rings the 1.5-mile superspeedway.
Food Lion AutoFair hours are 8 a.m. to 6 p.m., Thursday through Saturday, and 8 a.m. to 4 p.m., on Sunday. Tickets are $10 for adults while children 12 and under are admitted free when accompanied by an adult. On Friday, Sept. 11, in honor of their public service, all police, fire and emergency workers showing a badge or ID will receive free admission to the Food Lion AutoFair. Parking for the event is $5.
For more information, contact the Charlotte Motor Speedway events department at (704) 455-3205 or visit the Food Lion AutoFair event page.