For Immediate Release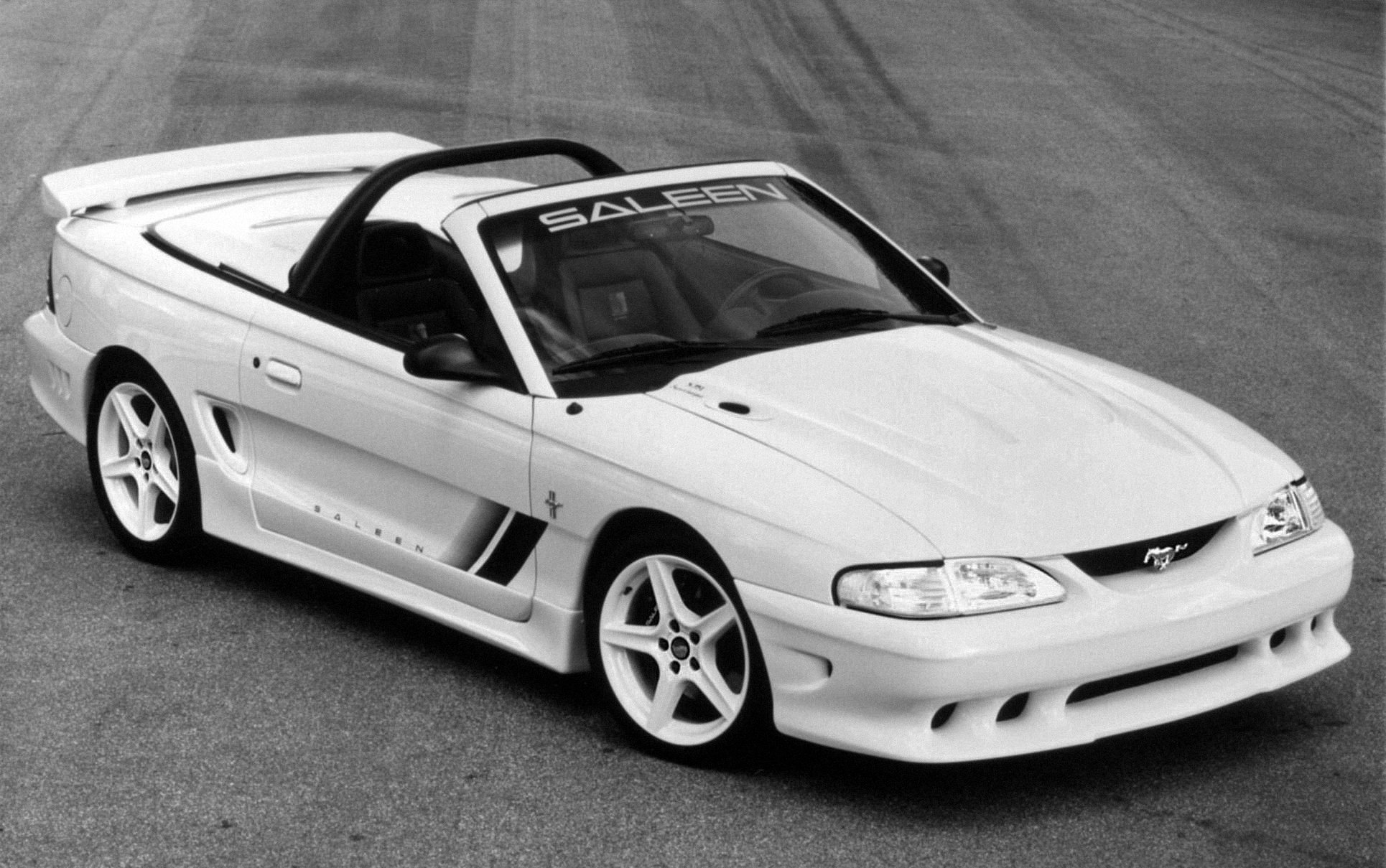 480 Horsepower, High-Performance Vehicle
Is Latest Edition to Expanding Line of High-performance Mustangs
IRVINE, CA – Saleen Performance, a specialty vehicle manufacturer, has announced the introduction of the Saleen Speedster, one of the latest edition of its expanding line of limited production performance Mustangs. Capable of generating up to 480 HP, the Speedster is the most powerful U.S.-produced automobile.
Speedster standard features include a 351 cubic-inch, 371 HP, Saleen engine with aluminum cylinder heads, Saleen intake manifold, Saleen headers, and a Saleen/Boria stainless steel exhaust system. A Tremec 5-speed transmission, and a custom-balanced drive-shaft upgrade the drive-line, and 18 inch magnesium wheels and tires, 4-piston competition style Saleen/Alcon disc brakes with 13 inch front rotors, a four core radiator, and dual electric fuel
pumps round out the performance enhancements. A Vortech supercharger boosts output to 480 HP, lowering zero to 60 times to 4.7 seconds, and 12.9 seconds in the quarter-mile.
"The Saleen Speedster is our answer to transforming a convertible into a sophisticated high-performance two-seater," said Steve Saleen, president of Saleen Performance. "We wanted to incorporate certain racing aerodynamics of the Saleen Mustang such as the carbon fiber hood and the Speedster tonneau cover for the convertible model. In addition, we wanted it to be more of an exclusive body style for us."
Extensive Saleen exterior aerodynamic refinements and a Saleen restyled interior, complete with Saleen sports seating, a white instrument gauge cluster with a 200 mph speedometer, Saleen leather wrapped steering wheel and leather gear shift knob are complemented by the convertible's hard cover Speedster tonneau, specially-designed carbon fiber hood and a light bar that attaches from side to side.
Suggested retail price for Saleen's Speedster is $48,500, available through selected Team Saleen Ford dealerships across the country. For a list of Team Saleen Ford Dealers, contact Saleen Performance at 9 Whatney, Irvine, CA 92718, or call (800) SALEEN-4.
Since the company's inception in 1984, Saleen has produced nearly 3,500 vehicles, more than any other specialty manufacturer. The company's line includes Saleen Mustangs and Saleen Performance Parts, the latter a complete line of performance and appearance products for 5.0 liter Mustangs.
Contact: Kim Seguin
JMPR: (818) 992-4353
SALEEN PERFORMANCE CARS
9 WHATNEY
IRVINE, CALIFORNIA 92718
714-597-4900
741-597-0201 FAX