From our friends at Saleen Automotive.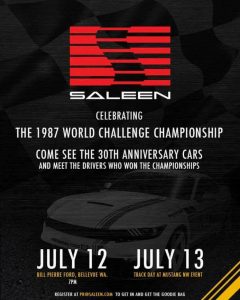 Hi all, We will be in Seattle on the 12th for our new unveil. Steve Saleen will also be at the Mustang NW event starting on the 13th at the track. I hope you'll join us. Don't forget to email your info for credentials.
1987 SCCA Escort Endurance Championship Celebration
Bill Pierre Ford, Seattle Washington
July 12th @ 7:00 PM
Meet the 1987 Saleen team drivers, Goody Bags
Email: pr@saleen.com
Click here to participate in the discussion.
[Source: Saleen Automotive]