From our friends at Saleen Club of America.
***YOUR CHANCE IS HERE NOW TO WIN A BUDGET RENT-A-CAR!!!***
Yes, you read that correctly! This year at the Nationals one lucky winner will receive a 1997 Saleen S281 Budget Rental Car, sponsored by HESCO!
Actually, the car is 97-0013B and is a Moonlight Blue Metallic exterior, grey Ford leather interior convertible with an automatic transmission.
By making a suggested tax deductible donation to Children's of Alabama through the SCOA you will automatically be entered into the drawing for the 1997 Saleen S281 Budget Rental Car #97-0013B. You need not be present to win, but we certainly hope you will be! What a great way to end the Nationals!
Go here now to enter and scroll to the bottom to "Enter to Win A Saleen"
https://www.saleenclubofamerica.com/event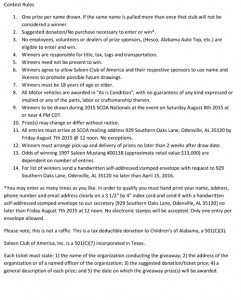 Follow the link called "Register" to be able to get your tickets via Paypal or by Check/MoneyOrder. The larger your donation, the more tickets that you get!
Again, you need not be present to win… but we'd sure like for you to be and not miss out on all the great Nationals fun!
Good luck!!!
Click here to participate in the discussion.
[Source: Saleen Club of America]