By: TREVOR FREEMAN on May 26, 2016
Original Article: GENERATIONHIGHOUTPUT.COM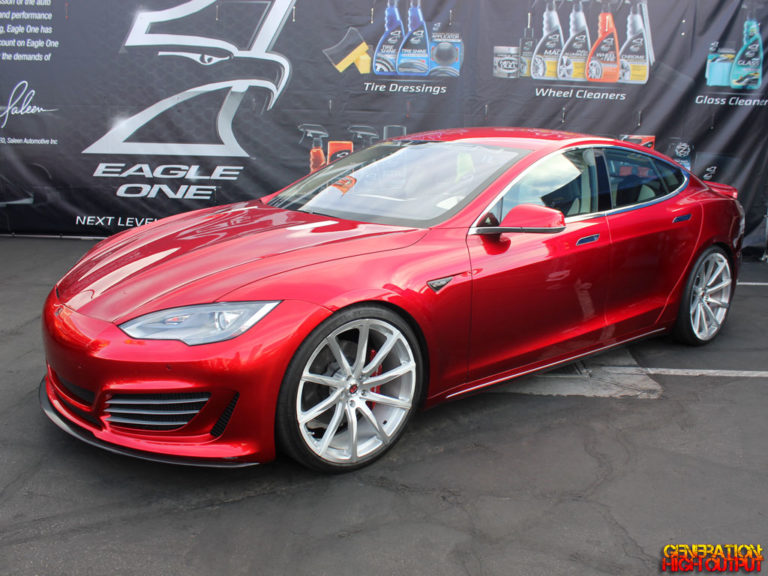 How do you tune an electric car? The American car manufacturer Saleen has found a way. Based in Corona, California, Saleen is most famous for their performance-upgraded Mustangs and Camaros. The decision to give the "Saleen treatment" to an all-electric car is certainly an interesting one.
The company starts with a Tesla Model S sedan and adds custom front and rear bumpers, which will set you apart from the thousands of other Teslas on the road. It's not just aesthetics, the larger front grille allows for more airflow to help the car's cooling system. There's also an aero hood, side skirts, rear diffuser, and a high-downforce rear spoiler.
Whereas the OEM Tesla Model S has seating for 5 adults, plus an optional 3rd row seat for kids, the Saleen GTX uses a 2+2 layout. The interior has also been upgraded with premium leather and suede materials.
The Saleen GTX is not just a Tesla with some new clothing; there are some serious performance upgrades going on as well. From the Saleen website:
"Propelling the new GTX is the 3-phase, four pole AC induction motor and copper rotor with the upgraded Saleen drivetrain including an all-new 11.39:1 final gear ratio for quicker acceleration. Also new for the GTX is a Saleen specific MAXGRIP locking differential that allows each wheel to efficiently apply rotational force and maximize traction and grip in performance environments." The company uses proprietary programming to give the car a "High Performance Calibration," though details about that are scarce.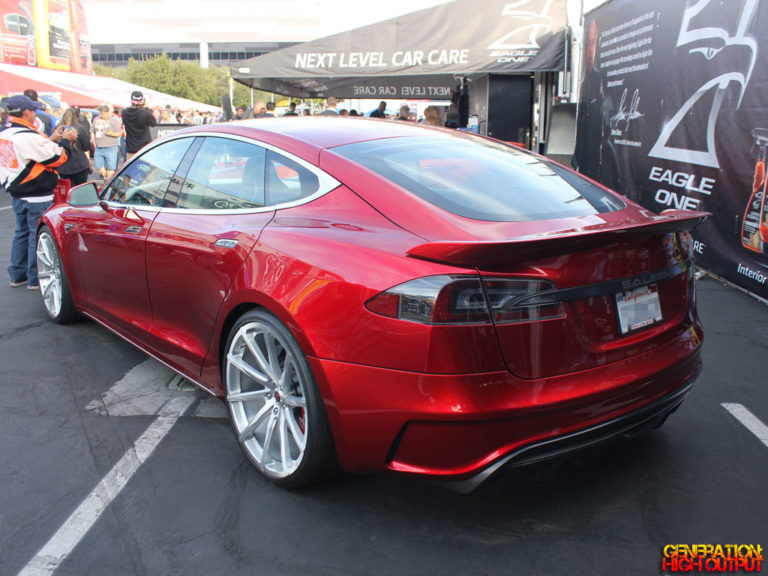 Besides the drivetrain upgrades, there are larger 14″ vented disc brakes, 21″ or 22″ wheels with high-performance tires, and a Saleen S4 suspension that includes anti-sway bars, specific rate springs, and Saleen shocks and struts. As a finishing touch, Saleen upgraded cooling system with a larger volume radiator, a high-flow water pump, and upsampled cooling fans. The combination of all these mods results in a car that looks and performs better than when it left the factory.
As with any car (and particularly with electric cars), it all comes down to the numbers. How does this compare to a Tesla Model S?
Well, a fully optioned-out P90D will run you $134,250 and puts out 463 hp (532 hp in Ludicrous mode). The Saleen GTX weighs in at $165,000 according to Automobile Mag for the 691 hp version. To be fair, the P90D price is the actual cash price, not counting any Federal Tax Credits or gas savings.
I think the idea of performance tuning electric cars is one that will continue to grow in popularity as a growing number of people begin to make the switch to EVs.
Body and Exterior
Redesigned Front Fascia for Improved Airflow
Functional V-Shape Aero Hood
Functional Rear Diffuser
Side Skirts with Carbon Fiber Trim
High Downforce Spoiler
Performance
11.39:1 Final Gear Ratio
MAXGRIP Locking Differential
Saleen High Performance Calibration
Larger Volume Radiator
High Flow Water Pump
Upsampled Cooling Fans
Wheels and Brakes
21″ or 22″ wheels
High performance ZR tires
14″ vented disc brakes or carbon ceramic brakes
Suspension and Handling
Upgraded "S4" Suspension
Anti-Sway Bars
Saleen Shocks and Struts
Specific Rate Springs
Interior
2+2 layout
Premium leather and Alcantara suede materials
---
About Trevor Freeman
Trevor is a real gearhead who loves everything from classic American muscle cars to high-performance exotics. When he's not reading about cars or taking photos at a car show, he's probably out cruising around. He is currently working on restoring a 1977 Chevrolet Monte Carlo coupe with his friends.