Life in the Fast Lane!
Molly Saleen is Shifting Gears for Saleen Motor Company
By: ADAM RILEY on July 7, 2016
Original Article: THESPEEDGIRLS.COM
Pink metallic paint glitters in the sunlight. Underneath the hood, the supercharged Ford V-8 hums along to the pitch of high RPM's. A blue desert sky hangs overhead as the Mustang blazes across the steaming Nevada asphalt. Running in-line with several high-horsepower muscle cars and exotics, there's no slowing down. The year was 2007 during "The Great American Run" and for Molly Saleen, it was a way to stretch the legs of her "MollyPop" Mustang; but most importantly, it symbolized a turning point in the history of Saleen Inc. The moment when Molly took the reigns and helped lead Saleen into a new era.
Fast forward to March of 2016, downtown Los Angeles at the Kim Sing Theater. Molly slowly pulls a car cover over and off the anticipated S302 Black Label Mustang, the latest addition to the Saleen muscle car line-up. The yellow-gold "California Sunset" paint glistens as it reflects the camera flashes and club lights. But it's not like this is Molly's first time involved in the action.
Growing up trackside, she's traveled with her father Steve Saleen to race venues over the entire globe and always helped out during events. Though being involved with motorsports at such an early age, she didn't quite understand why everybody seemed to know her father. "I would see cars with our name on them and ask my parents why?" She says.
Surrounded by the ambiance of motorsports, it didn't take long for her enthusiasm to kick in and by the age of six, she began racing shifter karts. "My mom was always like… you don't want to get into cars, it's greasy, dirty and messy… but I would sit behind the wheel of my dads race car and think — this is awesome!" Over the years, Molly has raced everything from shifter karts, to the Legend series cars, and even into club road racing — all before reaching her sixteenth birthday.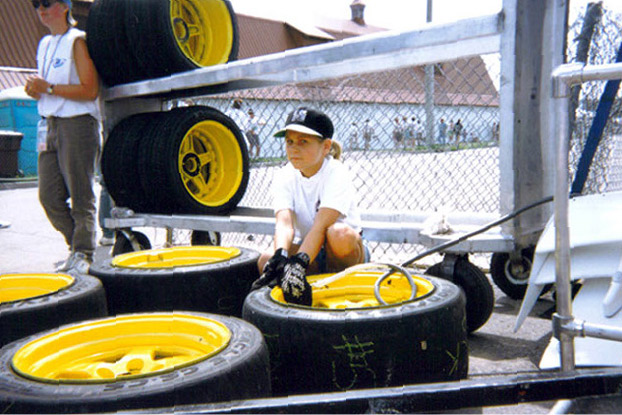 In fact, on that day, her father agreed let Molly drive the 495HP Saleen S351 for her drivers test. Although there was a small problem – she didn't exactly know how to drive a stick shift. "To teach me, he stopped me on a very steep hill and told me to keep the engine under 1,000 RPM's while keeping the car completely still… my leg was shaking. I was in tears! I didn't want to stall or roll… I learned how to drive it, but I accidently tore off the front fascia." She said while chuckling.
Though Molly continued to race, she also pursued a degree from USC and in 2006; she oversaw the launch the Saleen's first brick and mortar retail store, as a boutique version of the motor company. "Opening the retail store gave me more passion and drive to push harder in the business. The Saleen Store redefined how vehicles were being sold" She continued. "Not only is the retail location a new channel of opportunity for the motor company, but it's a way to offer a more personal experience for the buyer."
Gaining insights from interacting with customers at the retail store gave Molly the traction to step in-line as Director of Retail and help her father launch the SMS Supercars concept, which includes a line-up of American Supercars such as the Saleen 570X Challenger, Saleen 620X Camaro and the new S302 Mustang. All of which are available with a "MollyPop" pink paint option.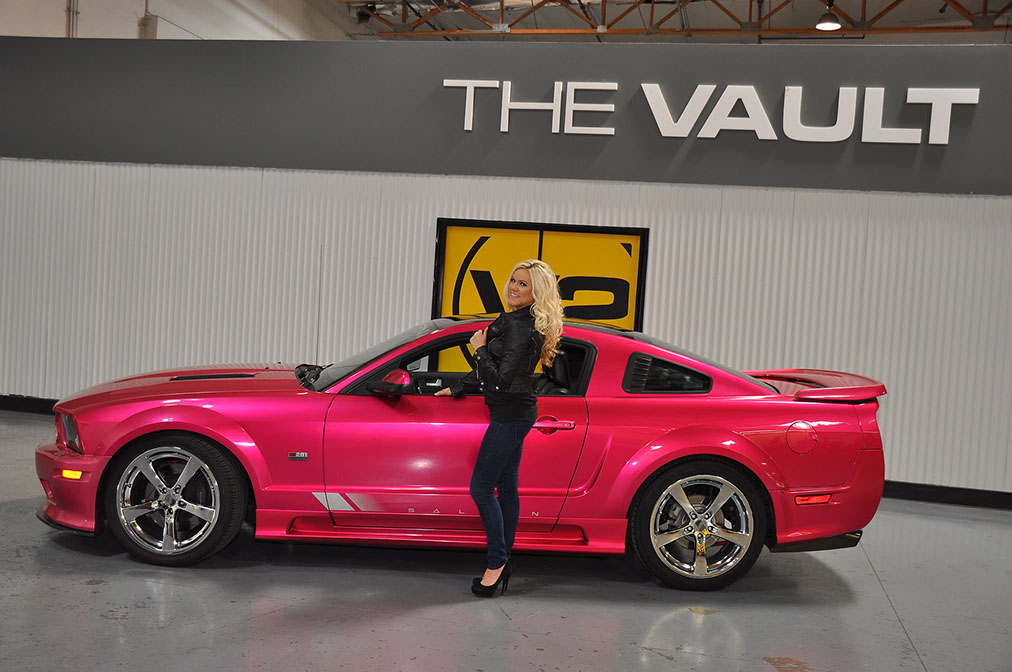 A lustrous paint color that originated from her 2007, #001 Saleen Mustang, that she personally commissioned. She and the team at Saleen specifically developed the custom pink color that has now become a brand that's expanded into a full line of apparel and automotive paint options. "I really began to notice that our retail store catered men, so the 'MollyPop' brand allows us to represent the women enthusiasts in our industry." She said.
But her "MollyPop" Mustang isn't the only supercar in the corral. Her high-horsepower stable includes a 2001 Saleen S281SC, 2016 Saleen S302 Mustang, and a 1989 Saleen Mustang that's ravished with bullet holes. "Apparently the car was in some kind of crazy shoot out." She said. "So I'm currently restoring it, dropping in a new 302ci motor and of course painting it 'MollyPop' pink!"
Rehabbing the '89 is a representation of what she's now working on at the motor company, which is re-establishing the production of original parts for early model Saleen cars. "So far, it's been a huge task." She says. "The largest hurdle is going back and having those parts reproduced for demand, along with focusing on trying to expand our catalog. I literally work day and night making sure we get items out to our customers…
"…But it's were my passion is; For our customers to have an exceptional experience with Saleen and keep our community building these cars."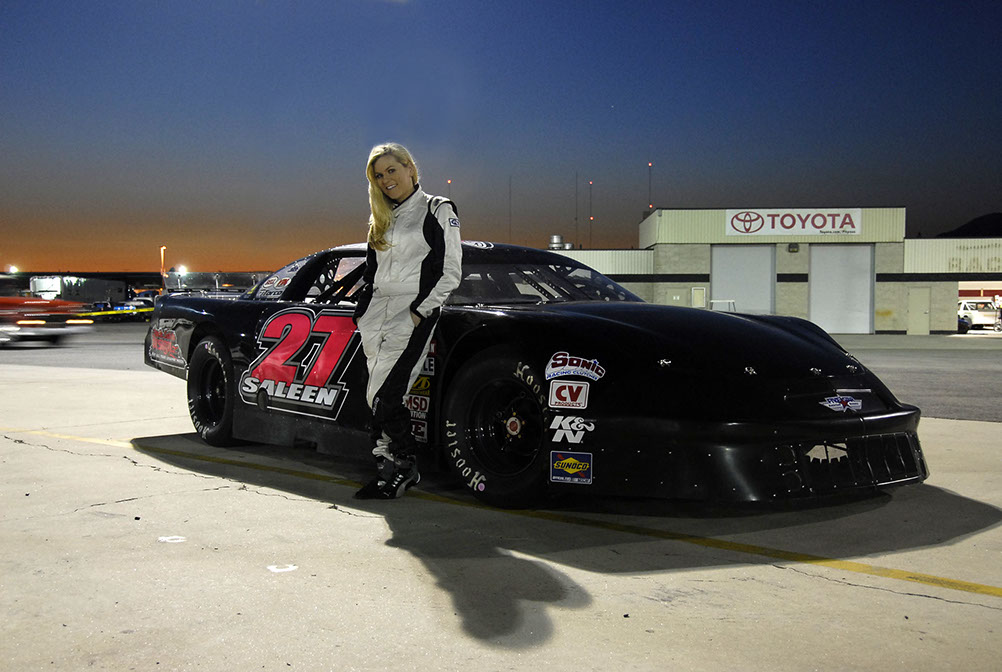 Nowadays, working as the Vice President of Retail for Saleen, you can bet Molly is juggling a hefty agenda, but still there's slowing down. Although several projects are under lock and key, she says that looking ahead they're working to open more boutique Saleen retail locations and keeping an eye on the evolution of the Supercar arena. It's still in the pipeline along with some other cool projects on the way.
All and all, Molly still spends her weekends behind the wheel of a racecar. She's recently been competing in the NASCAR Super Late Series and working hard to build an all women's race team. For her, there's no slowing down at Saleen Automotive. "I think that women are making great strides in the automotive community." She says. "The industry has generally always been intimidating due to it being a mans marketplace, but as for me — I live for the challenge."
---
The SpeedGirls is a web magazine dedicated to women that not only look great standing or sitting next to a hot car, but actually own them, work on them them, race them — or are just full fledge gear heads. It's just down right hot chicks with hot cars. All articles are original content from the SpeedGirls is subject to copyright. The SpeedGirls is a registered trademark
Click here to participate in the discussion.
[Source: SPEEDGIRLS]