August / September 1998
Original Article: Sports Car International Magazine
Take the traditional muscle car formula and turn it up to 11.
Result: Saleen's 495 horsepower S-351 Speedster.
It's no wonder Tim Allen's such a good comedian. You'd be laughing too if you got to drive a supercharged Saleen everyday, then race one on the weekends. Allen joined forces with Saleen in 1995 to form "RRR Speedlab," the same year Saleen debuted his supercharged Mustang. In the intervening three years, this team has taken their trick pony to places unimagined until recently. In 1996, Saleen and Allen won the SCCA manufacturer's championship for FoMoCo, and in 1997, they became the first American team to run a factory Ford at Le Mans since Carroll Shelby turned the trick 30 years ago.

Although Saleen builds a wide variety of Mustangs, and even Explorers for every pocketbook, the pride of the Irvine, California stable goes to the S-351, and its racing cousin, the 351SR. When Ford introduced the latest version of the Mustang in 1994, Saleen was already well into the development phase of his take on the new "modular" block 4.6-liter V8. But the 281 cubic inch engine, rated at 225 hp in Saleen trim, just didn't have the grunt to capture the imagination of a populace weaned on big block Vettes and muscle cars.
What to do? Dropping a true big block into the Mustang would have caused insurmountable problems in the emissions department. As Bob Mink, Saleen's Director of R&D says, "It's extremely difficult for large block engines to meet cold-start emission standards." A turbo was considered and dismissed because of its indifferent performance at low engine speeds. Mink again: "A turbo is counterproductive because it eliminates the low-end torque. It interferes with the exhaust path, and you lose the grunt. That grunt is why people buy these cars in the first place."
Saleen has more than a little experience in the art of persuasion, having induced 5000 buyers to purchase his Mustangs since 1984. So the R&D team settled on a Vortech supercharger as the best answer to the high performance/ low good emissions equation. Vortech makes the centrifugal V-1 blower at their facility in Moorpark, California. Erstwhile Trans-Am team sponsor AER manufactures the long-block 351 to Saleen specs in Dallas, Texas and test fires each engine before shipping it to Saleen's Irvine factory for final assembly and chassis installation.
The goodies on this 500 horse motor include forged pistons and special cylinder heads designed by Saleen and cast from aluminum. The piping to and from the Vortec huffer is brightly polished alloy, while the aluminum valve covers are sedate-looking by comparison in flat silver. Upper and lower intake manifolds are specific to the Vortec's induction requirements. Ceramic-coated headers dump exhaust gasses into a series of stainless four-way cats that empty into a melifluous Saleen/Borla mufflers with a 2.5 inch pipe orifice. A hydraulic-roller camshaft features roller rockers for improved valve actuation. An entire 65 mm worth of throttle body controls air flow to an 80 mm mass-air sensor. Once the tweaked engines arrive at Irvine from AER, Saleen technicians install special 36 lb/hr fuel injectors and a bright red Saleen wire loom to fire the NGK spark plugs.
While AER is busy building engines for this project, Saleen's staff of 30 employees transform production V6 Mustangs into S-351s. They strip each base model ponycar of its drivetrain and suspension, then add the, 5.8 liter V8 that Bob Mink calls "the big block for today's world." The suspension is bound together like pages in the Saleen parts catalogue. There's a quartet of progressive rate ""Racecraft"" springs which lower the chassis by over an inch. But as Saleen says, compared with an F355, we're about ten feet higher than the Ferrari." But that's okay by Steve, because he wants to build real world cars that his customers can drive everyday.
Saleen worked closely with Bilstein to perfect the valving on the ""N2″" nitrogen gas shocks front and rear. The addition of a machined adjustable upper front camber plate allows Saleen to dial additional negative camber into the front end when performing his "performance alignment" on the tuned chassis. Strangely absent from the engine bay is a front strut tower crossbrace – probably the victim of supercharger-reduced hood clearance. A 1.38 inch Racecraft front sway bar pivots in urethane bushings. In the rear, Racecraft N2 axle dampeners try to keep the live axle four-bar rear suspension from acting out. But the Achilles heel of the car remains its solid rear axle. When reminded of its shortcomings, R&D guy Mink scowls, "You can get rid of it if you want to pay an extra $10,000. We'll build you an independent rear with aluminum control arms, and dual four-arm lateral links." Ford initially conceived this upgrade, but dismissed the technology as too expensive for the market to subsidize.
Some of the biggest changes to this Mustang are those you can't see. Buried behind the 5-spoke front wheels are 4-piston calipers clamping 13-inch vented brake discs, grooved for water dispersion. Rear discs, also vented and grooved, are 10.5 inches in diameter. The upgraded brakes stop the S-351 in 110 feet from 60 mph. And instead of the conventional 5-speed manual gearbox , a 6-speed T-56 transmits 490 pound-feet of torque to the 8.8 inch rear end through 3.27:1 gears and a Torsen differential. A 3.55:1 rear gear set is optionally available for $812. That's right, there's a Borg-Warner gearbox lurking under the still-canted Mustang-style shift lever, and the reason you'll find a (horrors) GM cog driving this ultimate Ford is the availability of that sixth gear.
From a technology standpoint, the toughest part of the entire S-351 project was getting the supercharged motor to meet emissions requirements and produce good top end horsepower. One goal or the other was easy to accomplish, but in order to achieve both, the drivetrain required a six-speed box, something Ford does not make. Mink explains: "Technologically, the most advanced thing about this car are its emissions numbers. Putting together the whole package was hard-getting the cats set, making it cold start properly." Ford helped design catalysts with the proper thermal profiles that would last for 100,000 miles. Don't forget that Saleen is not just a tuning outfit, but a certified manufacturer of proprietary models which must meet manufacturer requirements for emissions and longevity. In this case, the warranty on drivetrain parts is seven years or 70,000 miles. That's a lot to ask of a small company, but they do it to the letter.
The S-351 is equipped as standard with 18-inch wheels made on Saleen-owned tools by Speedline in Italy. Standard issue for those five-spoke 18 inch rims (8.5″ front and rear) are BFG Comp T/As size 245/40 ZR 18. But a wise option for the 500 hp supercharged S-351 is the optional Michelin Pilot MXX3, which ups skidpad performance to .94g. Front tires remain bump up to 265/35s, while rears increase to 295/35s on wider-than-stock 10 inch wide rims. This option adds $1375 to the coupe's base price of $54,355. The convertible, called the "Speedster," costs an extra $4,000. When I asked Saleen if Porsche had any problems with him using the name "Speedster," he replied "absolutely not," continuing: "In fact we ourselves have all kinds of problems with people copying our names and products. Especially Racecraft parts."
Steve Saleen stresses that his company makes and owns all their tools, dies and molds. They may subcontract companies like Speedline to fabricate parts, but the engineering and tooling belong to Saleen, insuring that the company maintains strict control over the design of every part on a project Mustang. The composite hood, for example, and all the dramatically revised bits (urethane front fascia, side skirts, rear fascia, wing and taillight panel) are the sole inspiration of Saleen, who has long been responsible for his idiosyncratic aero-look. Once the molds are prepared in the Saleen shops, the parts are farmed out to various concerns, mostly in Orange County and Southern California, for construction.
Whether or not the parts are self-made or not is irrelevant. There are, after all, more than 2000 changes in part specification from the Ford-built Mustang to the S-351, and one could hardly expect such a sea-change in design to be accomplished in house. Rather, Saleen's strength seems to be in his ability to subcontract with exemplary vendors like AER and Speedline to get just what he wants, when he needs it, for his project cars. The efficiency of Saleen's operation can be judged by the fact that construction of an S-351 takes only two weeks from start to finish. Saleen plans on building 40 or 50 this year, plus 75 of the less powerful S-281 modular block Mustangs. Add a few dozen Explorers into the mix, and you've got plenty to keep those 30 employees hopping annually.
So the question here is not so much who makes the parts but how well they work together in the S-351 to produce a memorable sports car. If my one-day test hop in a Saleen Speedster is any indication, you definitely get your money's worth in the S-351. For about the price of a decently optioned Porsche Boxster or Corvette Convertible, you've got a Mustang that will run circles around either of those competitors. Saleen's entire premise for this supercharged Mustang was to build the fastest accelerating car sold in America through normal dealer channels. Since the S-351 is available through a network of 70 separate dealers, you can buy this car almost anywhere in the USA. And since the S-351 will crank consistent 12.6s in the quarter mile at 120-125mph, you can also call it the fastest accelerating production car available through conventional dealer channels. The Viper comes close, but Saleen feels his Mustang owns the edge over the substantially more expensive, marginally slower Viper.
Finished in white with black graphics and interior, '98 Saleen Speedster SN 98000 112 983 came off the assembly line in October 1997. The most noticeable aspect of the convertible package is the fluted slipstream-style Speedster hard-shell tonneau. This combing covers the area behind the front seats with a twin headrest nacelle that feeds into the cockpit via a Corvette-like waterfall between the front seats. The tonneau reduces interior wind noise to an entirely acceptable level for long periods of top-down driving.
Saleen has replaced the indifferent Mustang front seats with a pair of splendid sports seats that proved the perfect match for long distance driving. Finished in a nubby black fabric, and embroidered on the headrest "Saleen by Recaro," these buckets support your thighs, lower back and shoulders. They enable you to remain planted during G-loaded maneuvers without resorting to a death grip on the steering wheel. Both the wheel and the shift-knob sport striking carbon fiber inserts. The upper and lower strand bands on the face of the wheel are a bit disconcerting at first, but feel better upon longer acquaintance. Both doors feature white plastic inserts beneath the window and door lock controls. These panels dovetail nicely with the design and color of the Speedster tonneau.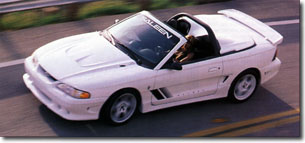 Proper instrumentation is a strong point of the S-351, with highly legible white faced gauges that include the expected (fuel, ammeter) and the unexpected (oil temp, 200 mph speedo recalibrated by Phillips). That redone speedo isn't optimistic by much, as the S-351 will post 172 mph in top gear at redline of 5700 rpm. There's also a fuel pressure gauge and a boost gauge contained in a central pod appended, Shelby-Mustang style, to the top of the dash surface. Unless you're well into the vices of the Vortec, the boost dial reads in the negative (at about -15 HgPSI). Although Saleen says maximum boost will reach +8 on occasion, the most I saw on the gauge was +6 PSI. Fuel pressure to those 36 Ib/hr injectors ranged from 35 psi at idle to 45 psi at full boost. The redone dash presents a comforting rest stop on the information super highway.
Steering is rather heavily boosted for a sports car, but still offers good positional feedback. Compared to the in-your-ear communication level of the new Porsche 996's steering, the yakety-yak Saleen rates about a seven on a ten-scale. Shifting the ergonomic Momo knob was usually a positive experience, with short, decisive throws between gears. Early in the game, though, I missed the fourth to third downshift and selected first (didn't let the clutch out, Steve) then slid over to fifth (did let the clutch out). For awhile, that fluff appeared to be an anomaly until the incident repeated itself several more times during the course of the day. Either the slots for 1-2 and 5-6 are too close to the 3-4 gate, or I'm a ham-fist when it comes to the T-56 tranny. But be forewarned, this may happen to you, so tread lightly before you drop the clutch.
The level of adhesion in cornering is so high that when you finally lose control of this car, you're bound to be in for a very serious incident. Surfing the apexes on Ortega Highway between San Juan Capistrano and Lake Elsinore, I came to trust implicitly the instincts of this admittedly heavy cruiser. Despite its weight of 3378 pounds, the S-351 felt more nimble than a Corvette in turns. Certainly the ride of the Saleen has a leg up on the C5 Vette, and with the optional Michelin steamrollers, you have to do something really stupid to loop this car. The four-pot front binders snag the Speedster every bit as quick as the spec sheet promises they will. I never came close to smoking the pie-plate brakes in my enforced death march over Ortega summit. Structural rigidity proved surprisingly good with the top down, and I never once heard a squeak or groan from the dash or felt a shudder through the steering wheel. The wingfoil-shaped black padded roll bar behind your head gives an added boost to your confidence level when driving hard.
But let's face it, nobody buys this car for the brakes, the seats, the roll bar, or even the outrageous looks. Well, maybe some do sucker for those looks, but the majority of customers willing to pay $60,000 for a car that started life at $30,000 do so for the promise of unbridled speed. And that's just what they get with this one. So what's it like to uncork 495 horses stabled under the composite hood of just one ponycar? It's like spinning the rheostat to max revs on a Dremel MotoTool. Your ears buzz, your teeth chatter, and your head buries itself in the gilt embroidery of that Recaro headrest. Before I left the Irvine shop, I asked Saleenwhether the ignition system was equipped with an electronic cut-out at redline of 5700rpm. He confirmed that it was, but then mentioned that he hoped I wouldn't go finding it very often.
Well, it's just about impossible to squirt this car in any gear without slamming up against that rev-limiter instantaneously. That's because the T-56's gears are spaced relatively closely, and a blast on the throttle in any gear save sixth puts you into the red on the tech so fast you barely have time to slam the lever into the next slot. The Vortec supercharger harnesses and magnifies the already abundant torque of the 5.8 liter Mustang V8 so quickly that keeping up with its sprints to redline is like chasing mercury balls around a tile floor. This kind of performance in first or second gear might be expected, but what really sets you on your duff is the relentless surge in the upper gears. Be sure your cleared for takeoff before pinning back the ears of a supercharged Saleen.
If this isn't a Boss Mustang, I don't know what is. And if Steve Saleen isn't the Mustang Boss, I don't know who is. He's covering so much of the same ground that Carroll Shelby tilled in the '60s that comparisons between the two men are inevitable. Like Shelby in years past, Saleen is coming off a good showing (2nd place in GT2) at this year's Sebring 12 hour endurance race. Like Shelby in his day, Saleen too went to Le Mans last year and acquitted himself well. And like Shelby, Saleen has had notable successes in winning manufacturer's championships for himself and Ford. In fact, the pride-of-place podium in Saleen's Irvine lobby currently displays an SCCA Manufacturer's trophy won by Lou Gigliotti aboard a Saleen Mustang. And this year, Saleen, like Shelby before him, announced a rental car tie-in to make his Mustang available to the masses. For only $89 a day, you can rent a mod-block S-281 from Thrifty. When I asked Saleen whether his rent-a-racers would be black with gold stripes, a la Shelby's Hertz GT350s, he just smiled impishly.
But the historical connection between Saleen and Shelby, both Ford loyalists to the end, bears further investigation. It's rare to get a second chance to do anything you missed the first time around. So if you passed up that GT350 back in the '60s, here's your chance to rectify your mistake in the '90s. Because the S-351 is nothing short of the same crazy horse, born again some 30 years down the road.