June / July 1998
Original Article: Sports Car International Magazine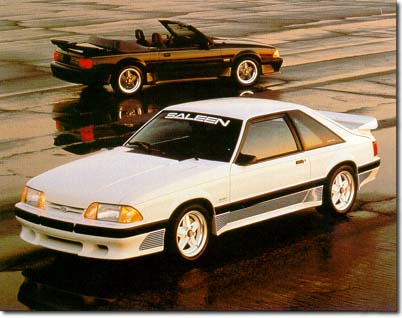 He builds and races Mustangs, he has support of Ford Motor Co., his cars are becoming legendary. Sound familiar?
Call Steve Saleen anything you like, but don't call him a "tuner". He's a small volume manufacturer, in every sense of the word. For more than a dozen years, Saleen and his cadre of engineers, assemblers, fabricators and hot-rodders have been turning garden variety Mustangs into Saleen Mustangs. And a Saleen Mustang is something different than just another "tuner car". The net result may appear somewhat the same: A Mustang that's received an array of performance, handling and appearance upgrades. Many a small shop has claimed to build "limited edition" Mustangs. This may be true, but more often than not, they've been very "limited"…to maybe one or two cars. Saleen has built more than 4000. Hence, the difference.
That difference starts with Steve himself. Saleen's enthusiasm for Mustangs began like most people's: "I was, at an early age, bitten by the racing and Mustang heritage bug … I was very Ford oriented in the late '60s and early '70s. I had a '65 Shelby, a '66 Shelby and my dad had a '66 289 coupe. I also had a '67 GT fastback that looked like Steve McQueen's car from [the movie] 'Bullitt', except that mine had a 390 in it, and I put dual quads on it. I then went on to a '69 Boss 302." Saleen admits to being a "Ford guy" through and through; turning Camaros, Hondas or something elses into limited-production, high-performance specials was never in the cards.
Saleen was also an avid racer, and displayed considerable talent. He began racing a Porsche originally owned by his father, then progressed to SCCA Formula Atlantic competition. In 1980, Steve finished a creditable third in that series championship; the competition must have been formidable, as Jacques Villenueve the elder won the title that year. Saleen then began competing in SCCA Trans Am in 1982, the year Ford came out with the revised Mustang 5.0-liter HO GT. Saleen formed his own company, originally called Saleen Autosport, in 1984, with the idea of building special Mustangs.
As noted, Steve owned several Shelby Mustangs, and it was not lost upon the USC business grad that something resembling the Shelby phenomenon could happen again, this time with the late model 5.0-liter Mustang. "As I progressed through my racing career, I saw an opportunity with Ford and the Mustang, to do something similar to what, during my teenage years, I fell in love with." He set up shop in Long Beach, California, and the first three Saleen Mustangs were built off of 175 horsepower, 1984 models.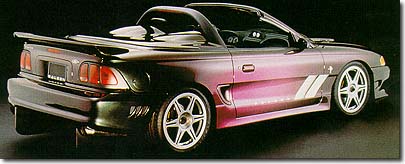 From the beginning, Saleen's goal was to improve the car from all aspects; a show only looker would never do, and a fast car with no improvements to the handling would also be an imbalance. Saleen and buddy Paul Pfanner conceived and designed a comprehensive upgrade package, including rocker panels, a rear spoiler ("Porsches have wings, Saleens have spoilers" according to Steve) and a square-shouldered front air dam. He dubbed his suspension improvement system "Racecraft," the name still used today for all Saleen suspension componentry. The package included Bilstein gas shocks and struts, special springs, urethane sway bar bushings and an additional chassis crossmember for added rigidity. Hayashi racing wheels mounted Goodyear Eagle GT tires.
Having been a marketing major, Saleen knew the value of brand identity, so there was a plethora of Saleen identification on the car: Specially screened gauges, badges on the dash, a Saleen Mustang decal at the top of the windshield, even Saleen ID on the chromed air cleaner cover. And again taking a note from the Shelby legend, Steve knew it was important that the cars be numbered in such a way as to commemorate their place in what he hoped would be a long production history. Curiously, the first three cars were numbered 32, 51 and 52. Smart move: Many a producer was sunk by the media for showing prototype #001….
Saleen then hit the marketing trail, both with Ford and with the media. In short, the magazines loved the Saleen machine, as people were still recovering from the pre1982 performance doldrums, and Steve's car easily out handled the TRX-equipped factory Mustangs. It was too early in the development stage for any horsepower addons yet, but those would come in time.
A crucial turning point in the future of Saleen Autosport would be gaining factory recognition from Ford; the ability to buy new Mustangs factory-direct, and to sell his cars through Ford dealers. This would separate Saleen Mustangs from other "tuner cars." For 1985, Saleen secured both.
The '85 Saleens had more content than those first cars, and real larger-scale conversion began with these models. There were more interior upgrades, a 170 mph speedo, leather trim for the steering wheel and shifter, but more importantly, further development in the suspension area. The latest 225/60 Gatorback tires were used, along with even more exterior trim to differentiate a Saleen from a regular Mustang. Again there were no modifications to the engine, though recall that 1985 was the year that horsepower went from 175 to 210 anyway, so that increase was deemed enough … for now. Production increased from three to 128 cars, and Saleen appeared to be on his way.
The year 1986 brought a further-developed car, and a return to the race track. Saleen switched to Koni shocks, 16-inch wheels and began installing a strut tower brace. Steve has always, and remains to this day, heavily involved in the design and specifications for the cars, and the Saleen Autosport urethane body panel packages were constantly being updated for a smoother look and higher quality. The '86s also had special racing-style front seats, upgraded stereos, a Hurst shifter .. Saleen knew that the more content he could engineer into the car, the better. The dealers received special training, and had specific ordering procedures on how to best tailor the car to meet the desires of the owners.
As noted, Saleen always kept one eye on his growing car business, and another trained on the race track. Steve felt the cars were ideally suited to SCCA's Showroom Stock Endurance class, and entered a team of Saleen Mustangs in the series. Their first win came on a rainy day in the 24hour enduro at Mosport. It would be the first of many.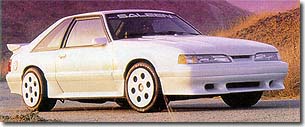 Ford redesigned the Mustang for 1987, and so the Saleen was updated as well. The exterior aerodynamics package was completely redesigned, with considerable attention being paid to the rear wing and lower rear valance area. The brake system really got some attention, in the form of 5lug SVO hubs, front and rear ventilated rotors, a heavy duty master cylinder and braided brake lines. It was expensive and labor-intensive, but worth it, given the base car's marginal brake package. The interior upgrades were redesigned around Ford's revised cabin, and with horsepower up to an all time high of 225, the Saleen Mustang represented a performance bargain at $19,900. Sales again increased, to 278 Saleen Mustangs, including the five SCCA race cars.
Win On Sunday…
Saleen re-entered the SCCA Showroom Stock Endurance series for '87, and came out with guns blazing. An all-female win, with Desire Wilson and Lisa Cacares sharing the driver's seat notched the team's first victory of the season at Sears Point. Wins followed at Portland and again at Mosport, with a stunning 1,2,3,4 and 6th place performance for the three-car and two-truck team at Atlanta, running in two different classes. Saleen had begun to attract the attention and participation of a few of the more seasoned, but certainly most capable drivers; former Trans-Am.champs George Follmer and Pamelli Jones, to name just two. The team's effort was rewarded with the 1987 SCCA SS Endurance series championships for Team, Manufacturer, Drivers and Tires.
Sales continued to increase, more dealers were added to the Saleen network, and all the while it's important to remember that the cars could be financed through Ford, and remained fully warrantied by both Ford and Saleen; again not something that could be said about many aftermarket specials. Though the race team could not back up 1987's championship-winning performance, 1988 was the year for a particularly sweet victory, a 1-2-3 finish at Mosport. This Canadian venue was the site of the team's first win in 1986, and the '88 win was their third consecutive victory at the track.
One of those "Best of times, worst of times" years for Saleen was 1989. Though the Saleen Mustangs had been universally praised for their handling performance, improved interiors and aggressive styling, people were crying for more horsepower. As the content level grew, the cost of a Saleen Mustang had escalated further and further above that of the LX and GT models, and the buyership was asking for more horsepower as part of the bargain. They got it, and a bit more, in the form of the 1989 Saleen SSC.
Nobody wanted more performance in his cars than Saleen and his people. But it wasn't that easy; by this time there was lots of go-fast hardware already on the market for the fuel-injected 5.0, but not a lot of it was EPA legal. In order to deliver the type of product he wanted, and to be able to sell it as a new car through Ford dealers, the cars had to be smog legal and not void Ford's warranty parameters at the same time. This made the job a little tougher than just sliding in a cam, bolting on some headers, and delivering them to dealer's lots. Besides, emissions- certifying an engine is not an inexpensive proposition.
Saleen used car 87-01 (meaning car #01 of the 1987 model year; all Saleens are so numbered) as the development platform for the faster Saleen that would become the SSC. In typical hot-rodder fashion, the improvements were found by increasing the engine's breathing capability. The final package ended up with an enlarged throttle body, an AirSensors TPI unit, polished and ported heads, revised rocker arm ratios and stainless-steel headers replacing the factory units. They were backed up by Walker Dynomax mufflers. For even more grunt, a 3.55 rear-end ratio was swapped in.
The SSC also got a revised graphics package, new 5-spoke 16-inch wheels and even more chassis stiffening via a roll bar and rear chassis support, in addition to all the normal Saleen suspension and braking upgrades. Saleen bolted in the best hardware he could muster, everything from Monroe driver adjustable shocks to special Saleen/Flowfit leather seats and a Kenwood CD player; remember, CD players in cars were still a bit of a novelty at the time. It all added up to an estimated 292-horsepower stormer that would easily top 150 mph. In all, 160 were built, and each of the white SSC fastbacks were sold in a heartbeat for their $36,500 asking price. One can only wonder why Ford didn't jump on the package, and create a real 25th Anniversary Mustang once it became clear that the Roush twin-turbo car would never see the production light of day. Sales for '89 were again the best in the company's history.
Saleen's racing efforts went big time for 1989, but it was an unfortunately short trip, and a rough one at that. Steve, like any American born and bred driver, wanted to race in the Indianapolis 500. Fortunately, his visibility, sponsor support and a certain level of success in the car business allowed him to assemble an IndyCar team. Though it was a competent enough effort, it was still decidedly shoestring when compared to the manpower and budgets displayed by powerhouses such as Newman-Haas and Penske. Steve's month of May was riddled by crashes and blown engines; the team did not qualify for the race, and Saleen had little more than-a flattened checkbook to show for the effort.

Power Up, Sales Down
One of the keen advantages of being a small-volume producer such as Saleen is the ability to quickly redevelop the products, and to introduce special models as desired. This focus describes the procession of the model lineup from 1990 through the end of the Fox cars in 1993. For 1990, Saleen continued to offer Mustangs powered by the standard 5.0 liter, an uprated version first developed for the SSC. Now called the SC, the hot version quickly became popular as people got the power to match the handling, equipment levels and looks they were buying with the rest of the Saleen package. Throughout these model years, there were continuous upgrades and changes to the aero package, wheels and tires, interior trim and the like. For example, the '91 cars got a 70 min mass air flow sensor to replace the 65 nun unit; a 77 mm unit came just a year later. The first "Spyder" package came in '92, with a special hard tonneau covering up the convertible top and rear seats, giving the look of a two-seat roadster. The same year, a Vortech supercharged engine became optional, and soon 17-inch wheels began showing up. Saleen, his longtime production chief Jimmy Moore, his wife Liz and the entire crew were constantly busy developing new products for both the cars and the thriving aftermarket parts business that grew out of it.
The year 1993 capped Saleen's 10th anniversary in the business, and they built ten special black-and-gold 10th Anniversary edition cars to commemorate he occasion. The cars kept getting better, further distancing themselves from the mainstream Mustangs. The only problem was, business, both in terms of sales and in terms of structure, got worse.
"From the tail end of 1989 to 1993, 1 would call those our 'dark years'," comments a thoughtful Steve Saleen. "That was not a very happy time in our endeavor, and 1992 was probably our darkest year in that we only produced 17 cars … however I think the key figure is that we actually produced 17 cars! What happened was that about half-way through 1989 (about the same time as the Indy qualifying effort), the economy went into a significant recession. The automobile industry was not excluded from that, and was also hard hit … a lot of (large and small) companies went out of business."
"The company was fairly leveraged at that time in terms of capitalization, and as our [sales] volume shrunk, it was difficult to keep our doors open. What I did in trying to preserve the company was to take two alternatives. One was to take our parts division … and I sold it lock, stock and barrel to a couple friends. I took the car company portion … and settled on one particular group of investors that came in and said, basically, if I will sign over the assets and the company to them, they will then put in money, take the company public and they would be able to pay off the debts, and [we can] move on with our lives. I went ahead, took that option … and after I got into it a lot deeper, I found out that the individuals I got hooked up with misrepresented [their capability] and really had no intentions of doing what they indicated and said that they would. I found myself between a rock and a hard spot."
Now Horizons
It took years for Saleen to work out the financial recapture of his company and in fact his own name as it applies to Mustangs. He did prevail, but the company was in shambles. Steve freely admits that some employees lost their jobs, and many vendors had to wait for their money, but he worked diligently to support the customer base they had tried so hard to develop. In 1993, he formed a new company, Saleen Performance, built a new shop in Irvine California and started almost from scratch. A humbling experience, to be sure.
The new SN-95 Mustang could not have come along at a better time, and in 1994 things began a swift turnaround for Saleen. "I started calling on dealers to rebuild our network, took a partner named Tony Johnson who could bring some financial backing and astute business knowledge … and concentrated on building cars again."
Saleen designed an all-new car based on the new-for-'94 Mustang, and it centered around what Mustangers had wanted for ages: A 351 Windsor V8. The Saleen S-351 capitalized upon all that was good about SN-95 Mustang, and then delivered what Ford didn't. A new aero package cured the Mustang's somewhat clumsy "bladed" rocker panel treatment, and the front and rear facsias were the most aggressive yet. The new car's generous fenderwell room meant optional 18-inch Saleen Speedline genuine magnesium wheels with the latest 35 series Z-rated rubber.
But the heart of the S-351 matter lay beneath the composite hood in the form of a 351 cubic-inch Windsor "crate motor" that Saleen converted to roller tappet form. Aluminum Edelbrock heads were fitted along with a heavily reworked SVO GT40 upper and lower intake. Developing this engine meant a lot of R & D work, and considerable certification cost: the cam was custom ground, the ignition specially recurved, and it had ceramic-coated headers and a new Borla exhaust system. The specs go way beyond the scope of this article, but the numbers don't: The Saleen-breathed upon 5.8 was rated at 370 horsepower at 5 100 rpm, and 422 lbs.-ft. of torque at 3500. Zero-to-60 times were in the low to upper fives depending upon who was doing the testing, and though those times suggest that the horsepower figure may have been a little bit optimistic it's clear that the S-351 was something completely different than your everyday 5.0. Perhaps more impressive was the handling performance: Road & Track tested an early S-351, and the combination generated .97g on the skid pad; as good or better than many a Porsche or Ferrari.
Another interesting event may have helped spark the turnaround for Saleen. Someone mentioned to Steve Saleen that actor/comedian Tim Allen was quite a car buff, and happened to be performing at a Hermosa Beach, California night club. Saleen caught the act, and later had the chance to show his cars to Allen. Allen drove the cars, and was immediately hooked. He asked Saleen to build him a special Mustang, and that was the birth of a pearl-white '93 fastback dubbed "R-R-R" after the grunting noises Allen makes as his TV character, Tim "the tool man" Taylor on his show, Home Improvement.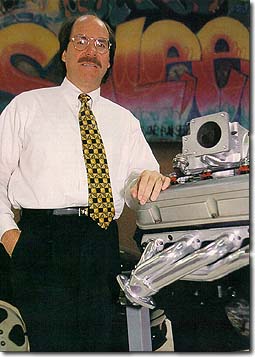 That particular car was a one-off, Vortech- supercharged 302-powered Saleen perhaps better suited to the track than the street. It also had a hand-fabricated front end section using slimmer Ford Thunderbird headlights, several custom carbon fiber panels such as the hood and front fenders, and aerodynamic wheel discs somewhat reminiscent of those used by IndyCars at the time. There are custom touches everywhere: Racing pedals, an extremely high tech sound system, a rollcage … the budget and the imagination were just about unlimited in the creation of what may be the ultimate Fox-bodied Saleen Mustang. Said to be good for 575 horsepower twisting through the Tremec 5-speed transmission, the car has been clocked to a tractionlimited 0-60 time of 4.9 seconds.
It was during a R-R-R test session at Willow Springs Raceway that Steve Saleen began to notice Allen's natural driving talent. "I would tell him to put the car 'over here' on the next lap [referring to an apex or cornering point] and he would hit it perfectly," comments Saleen. "He listened, and learned quickly." It wasn't long before the two formed the Saleen/Allen Speedlab RRR race team, the goal being SCCAs World Challenge class. World Challenge cars somewhat resemble what a modern day Trans-Am car might look like if it were built from a production Mustang and had to retain certain stock body parts, chassis layout and suspension design elements. They typically compete against Porsches, Loti, Corvettes, Carnaros and other Mustangs.
Allen progressed quickly as a driver, and the team hit the trail for the 1995 season. Several guest drivers also participated depending upon need and schedule, including Price Cobb and Cobra-meister Bob Bondurant. There were victories that season, but the effort really paid off the following year, when the sophomore team won the SCCA World Challenge Manufacturer Championship. Saleen notes that Allen is a non-stop gallows humor machine around the pits or during team meetings, but that he's "all business once he puts on that helmet."
Hot on the heels, literally, of the S-351 came a supercharged version. The blown Saleen S-351 R is rated at around 500 horsepower, fully smog and OBD 11 legal, and warrantied by Saleen. The supercharger is a Vortech unit, and AER again participated in the development and does some of the assembly. The only problem was that all this horsepower costs money, so beginning in 1996 Saleen developed a more cost-effective car based on the new 4.6-liter Mustangs, the S-281. The 281 moniker of course refers to the engine's corresponding cubic inch rating. The S-281 still features all the suspension, interior and exterior upgrades as the blown 351 cars, but at a much more affordable price: $29,500 for an S-281 coupe, as opposed to $53,900 for the S-351R. As the old saying goes "Speed costs money. How fast do you want to go?" Most S-281s are based on the 2-valve 4.6 cars, though some have been built using the 305 horsepower SVT Cobra as a base. What an unusual combination, having a car that is both a limited-production SVT Mustang with a hand-assembled engine and a numbered, limited-edition Saleen at the same time.
As noted, Saleen's education was in marketing, and it shows. The company goes out of its way to court its dealers and its customers, and constantly reinforces the company's position as a genuine manufacturer (they are recognized as such by the DOT). The Saleen showrooms are outstandingly presented with aftermarket parts, accessories and clothing; there is the Team Saleen club, a web site, a newsletter and club open houses at the factory. Steve Saleen makes many guest appearances … clearly an effort to stay in touch with his customers. In business school, they call it "relationship marketing," and Saleen does it well.
SCI has already covered Saleen's first ever effort at the 24 Hours of Le Mans, which he admits to being so far the ultimate experience of his racing career. Though the effort didn't produce class-winning results, it offered valuable lessons, and solid plans to return this year for another crack at the Sarthe.
What's next? You need only look at the unusually-colored Saleen SR prototype pictured herein. With both a widened body and an independent rear suspension developed in concert with the racing effort, this may be the "Ultimate Saleen"…at least so far (we can't wait to run one against a Viper GTS). And 1998 brings a new venture: The Saleen Explorer. Steve and company have designed a performance and appearance enhancement package for the wildly popular Ford Explorer, replete with supercharged V8, magnesium wheels, Recaro seats and a dropped suspension for better handling.
Is Saleen the Shelby of the 1980s, 1990s and beyond? It's hard to say, because that was then, and this is now. But some of the ingredients are certainly in place: tatted up Mustangs, a home-grown race team, marketing savvy and a bit of controversy now and again. Saleen, the man and company, have had their ups and downs. But they continue to build cars that stretch beyond the mainstream. And the Mustang loyals are loving it.