Details
We are back with interviews from the 2017 SEMA Show that we will be rolling out over the next few weeks. First up, live from the Craftsman Garage, we chat with the CEO of Barrett-Jackson, Craig Jackson, about the charity cars they had at the last auction in Las Vegas. Next, Troy Trepanier of Rad Rides by Troy shares his history with SEMA, Bonneville racing, and his friendship with Chip Foose. Then, Hollywood Car Consultant, Josh Hancock, jumps on the mic with legendary builder Steve Saleen. Steve talks with us about the Saleen rides at SEMA, and some exciting business news from China. Russell Holmes of Garage Rehab discusses his role on the show and sounds off about some of the craziest garages that the crew has been to. Switching lanes, Stacey David of GearZ shares all about his past as a musician, his recent children's book, and touches on his show. Rutledge Wood, NASCAR personality, explains a charity build he is doing with eBay Motors and a new show on the horizon for him. Ray Evernham, host of AmeriCarna, tells us about his role in the making of the movie Cars 3 and about the friendly, family rivalry between him and his wife, who is also a professional driver. Last up, we hit the backroads of our imagination with the crew from Dirt Every Day, who tell us about the wild 4x4s they have hit the mud with. Fill up on our stars' personal Craftsman tool stories that helped them build their dreams.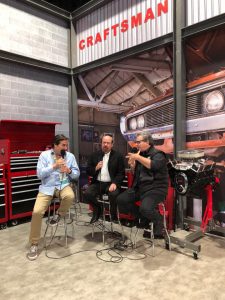 [00:19:53] Marvelous Memories of Meeting Steve Saleen
Alan and Josh Hancock of JoshCAR chat about the legendary builder, Steve Saleen. Tim Allen used to have a team called "RRR Speedlab" with Steve, and this was Alan's first introduction to these great drivers. Josh tells us that he first met Steve at the Saleen facility in Detroit while filming a movie that was never released. One thing is for sure, the Saleen team really knows how to get things into production and execute projects with great precision. Shifting gears a bit, Alan and Josh talk about Craftsman tools, and what it's like to be in the Craftsman Garage at SEMA.
TD 111817: Steve Saleen
Download the Podcast
[Source: The Drive with Alan Taylor]