From 281 Motorsports: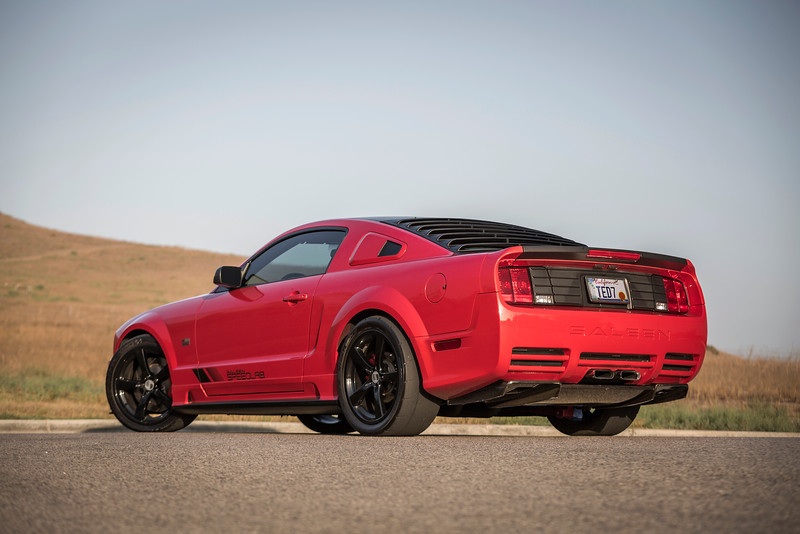 A good customer of ours loved Saleens, even was a previous owner. He always liked black cars, and while on his search to buy another one, he saw this Red Saleen in Puerto Rico. Ironically the more he looked at it, the more he was forced to like a "red" Saleen. Then after doing some Google searches looking at what others had done to their "red" Saleen's he came across one that he knew what he wanted his to look like… so he bought the car!

Now everyone knows we stress not buying a car sight-unseen, he did just that. After receiving the car, it just didn't seem to run quite right. So after a quick diagnostic we knew the cams just weren't right. Knowing the aggressive cams and headers wouldn't pass CA emissions, we knew we had to swap them and put some Carb legal parts on. After pulling the valve covers, we quickly noticed the cam phasers were on backwards… lovely. After fixing that and doing some housekeeping, this car was running AMAZING! Now it was time to play!

The former Speedlab Director Carlos Duran had some leverage while working at Saleen to do things that pumped the sales in the Aftermarket Parts Division known affectionately as "Speedlab". Carlos and Ned along with others got to toy with prototype parts and even the development of some parts that ended up being exclusives and other went into production. Being an Executive at Saleen had its privileges… Carlos got to design his own Company Car! Not a bad perk, right?!?!

Once Paul had seen Carlos's "Speedlab Saleen", he knew he wanted one just at cool! We reached out to Carlos and Ned and reminisced over the good days and then off to pick their brains on exactly what was done to this beast. After some serious research and some trial and error we ended up pretty dang close to what was built 7 years ago so we think. Paul couldn't imagine his car looking so Authentic, but that was easy when you have the original source on speed dial and a shop dedicated to Saleen livery!
Click here to participate in the discussion.
[Source: 281 Motorsports]