PHOTO: TIRE BUSINESS BY DAVE ZIELASKO
LAS VEGAS–(BUSINESS WIRE)–Cooper Tire is showcasing its ultra-high performance Zeon RS3-S tire on a 2016 Saleen® 302 Black Label Mustang in booth #43019 (South Hall) at the Specialty Equipment Market Association (SEMA) show now through November 6.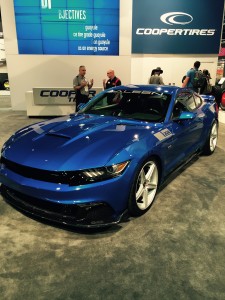 "Our RS3-S tires meet the exacting standards of Saleen, while also meeting the demands of everyday performance enthusiasts."
Saleen is an iconic American name in motorsports, synonymous with superb quality and unparalleled performance, and now comes standard with Cooper Zeon RS3-S tires.
"We are excited to work with Saleen, whose maximum performance vehicles give us an opportunity to demonstrate the capabilities and state-of-the-art technology engineered into our high performance products," said Scott Jamieson, Cooper's Director of Product Management. "Our RS3-S tires meet the exacting standards of Saleen, while also meeting the demands of everyday performance enthusiasts."
The race-inspired RS3-S is an ultra-high performance tire that delivers world-class dry road traction, increased handling and exceptional cornering. The tire's tread compounds are specifically formulated to combine dry and wet traction with crisp handling and high speed capabilities. The RS3-S also features a 20,000-mile treadwear protection warranty and a 45-day road test guarantee.
For more information on Cooper and the SEMA show, visit www.coopertire.com and www.semashow.com. Also connect with Cooper on Facebook, Twitter and Instagram.
About Cooper Tire & Rubber Company
Cooper Tire & Rubber Company, together with its subsidiaries, is a leading designer, manufacturer and marketer of innovative, great-performing tires that people depend on for all of life's road trips, whether on city streets, off-road adventures or high-speed tracks. In fact, Cooper is proud to sponsor and race in all three levels of the Mazda Road to Indy development program within the IndyCar racing series. Cooper tires can also be seen on the track as a sponsor of the IMSA Prototype Lites Series, and competing in the short course off-road TORC Series. Headquartered in Findlay, Ohio, Cooper, together with its subsidiaries, has manufacturing, sales, distribution, technical and design operations in more than one dozen countries around the world. This year, as we head into our second century in the tire industry, Cooper is looking toward a future where innovation will continue to drive our products and our products will continue to drive the world. To connect with Cooper, visit www.coopertire.com, www.facebook.com/coopertire or www.twitter.com/teamcoopertire.
About Saleen Automotive, Inc.
Saleen is an American specialty manufacturer of high performance vehicles, technical performance parts, lifestyle accessories and apparel. Founder Steve Saleen has continually set the bar for automotive design and performance engineering in both street and racing applications. Saleen plans to utilize its existing strategic partnerships and dealer network to refine its design and engineering prowess, continue development of emerging automotive technologies, and expand its presence nationwide with a combination of automotive retail services, aftermarket parts and new vehicle sales to build significant long-term value. Learn more at www.saleenautomotive.com.
Contacts:
Cooper Tire & Rubber Company
Michelle Rehbein, 419-423-1321
mrrehbein@coopertire.com
Click here to participate in the discussion.
[Source: BusinessWire & Tire Business]