Classic Cool
The Saleen Mustang
By: DAVID S. WALLENS on May 28, 2019
Original Article: GRASSROOTSMOTORSPORTS.COM
Time for a little history lesson. Don't worry, the test will be open book. Back in the `60s, retired racer Carroll Shelby added enough spice to the then-new Mustang to turn it from hot to hotter. Today a legit one is a six-figure proposition–or more, as a one-of-one, GT40-powered Shelby GT500 Super Snake just sold for $2.2 million.
Now let's jump forward. Steve Saleen, also a driver, followed a similar recipe and likewise offered his own hotted-up Mustangs through select Ford dealerships. The Saleen Mustang debuted for 1984, with the big performance upgrade being its Racecraft suspension: stiffer springs, Bilstein dampers, Goodyear Eagle GT tires and Hayashi alloy wheels.
The Saleen package also included some visual flair, like an `80s-appropriate aero kit; a leather-wrapped steering wheel and shift knob; and, of course, the requisite badges. Also standard: an Escort radar detector. In 1984 the Saleen package retailed for $4195 and could only be added to a Mustang L or LX coupe fitted with the 5.0-liter engine. Figure about $7100 for the Mustang itself.
Saleen offered modified Mustangs throughout the entire Fox-body run–and continues to reworks Ford's latest. The firm tweaked the formula during the Fox-body years expanding to include upgrades like five-lug hubs, Hurst shifters and straight-through exhausts. Convertible and T-top cars were eventually put under the knife as well.
The firm offered more horsepower, too. The 1989 Saleen SSC celebrated the Mustang's 25th birthday by adding a built engine, while a Vortech supercharger became optional for 1992, the year before the end of the Fox-body run.
Here's the take-home message regarding these Fox-body Saleens: While the aftermarket has always offered the same upgrades, these cars have legit collector appeal. Those six-figure Shelbys? At one time they were just inexpensive used cars.
WHY YOU WANT ONE
• In a sea of Mustangs, here are the ones that stand out. Those now-iconic rocker panel stripes plus the Saleen windshield banner came standard.
• These were the days of a 55 mph national speed limit and 85 mph speedometers. A 170 mph clock was part of the original recipe.
• Saleen built as many as a few hundred Fox-body cars per year, so while rare, they're not impossible to find. Complete year-by-year specs can be found on the Saleen Club of America website.
• The holy grail of Fox-body Saleens is the 1993 SA10. Only nine were built, each one to order. They all look the same, though: black hatchbacks sporting yellow and white graphics.
• A little birdy recently hinted that collector insurance quotes for Fox-body Mustangs are on the rise, so if you'd like to get ahead of the curve, this may be your chance.
PRACTICAL GUIDANCE
Our expert:
Mark LaMaskin
Performance Autosport, Inc.
performanceautosport.com
(804) 358-2505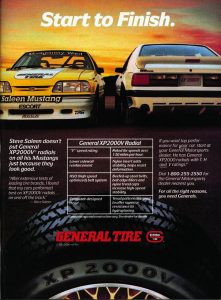 They're the `57 Chevy of our generation. I think it's the time to buy Saleens and put them away. It's a huge in-the-future collectible.
Stay away from modified cars. You don't know who built it. Even a modified 5.0-liter Mustang isn't that fast.
Buy the most expensive and nicest car that you can afford. You'll never get ahead of the game by buying a restoration project.
The most prevalent years are 1987–`89.
Those were the largest production years. You can buy a really nice car for between 15 and 20 grand. The really, really nice cars are 25 grand and up.
You can't get into a decent SSC for less than $25,000. They're usually in the $40,000 range. Saleen made 17 supercharged hatchbacks in 1993. Those cars are $60,000 and up.
There's a registry with all of the serial numbers. People can call Performance Autosport to authenticate every car.
Some of the parts are available and some aren't. The one thing that I always tell people is avoid buying a car with torn-up seats.
The 1987–`91 cars had a Flo-Fit seat. Saleen had custom material made for those seats. You're screwed if you buy an early car and the seats are hashed up.
No one makes material that looks close. I would buy an 80,000-mile car that looked like a 30,000-mile car before I bought a 30,000-mile car that was beat to poop.
The cars are fairly bulletproof.
RECENT SALE
Model: 1988 Mustang Saleen convertible
Price: $31,350
Condition: "Stock and unmodified condition"
From: Mecum at Indy, May 2018
RESOURCES
FlimFlam Speed & Custom Tuning
flimflamspeed.com
(804) 921-5341
Saleen Automotive, Inc.
saleen.com
(800) 888-8945
Saleen Club of America
saleenclubofamerica.com
(714) 400-2121
[Source: Grassroots Motorsports]