Congratulations to Tom Rice for the recent feature of his 95-0077 S351 in Hot Rod Magazine.
---
The Bigger the Better: The 1994-1999 S351s represented a classic enthusiast's mindset, and this 1995 takes the idea even further
By: ERIC ENGLISH on April 1, 2016
Original Article: HOTROD.COM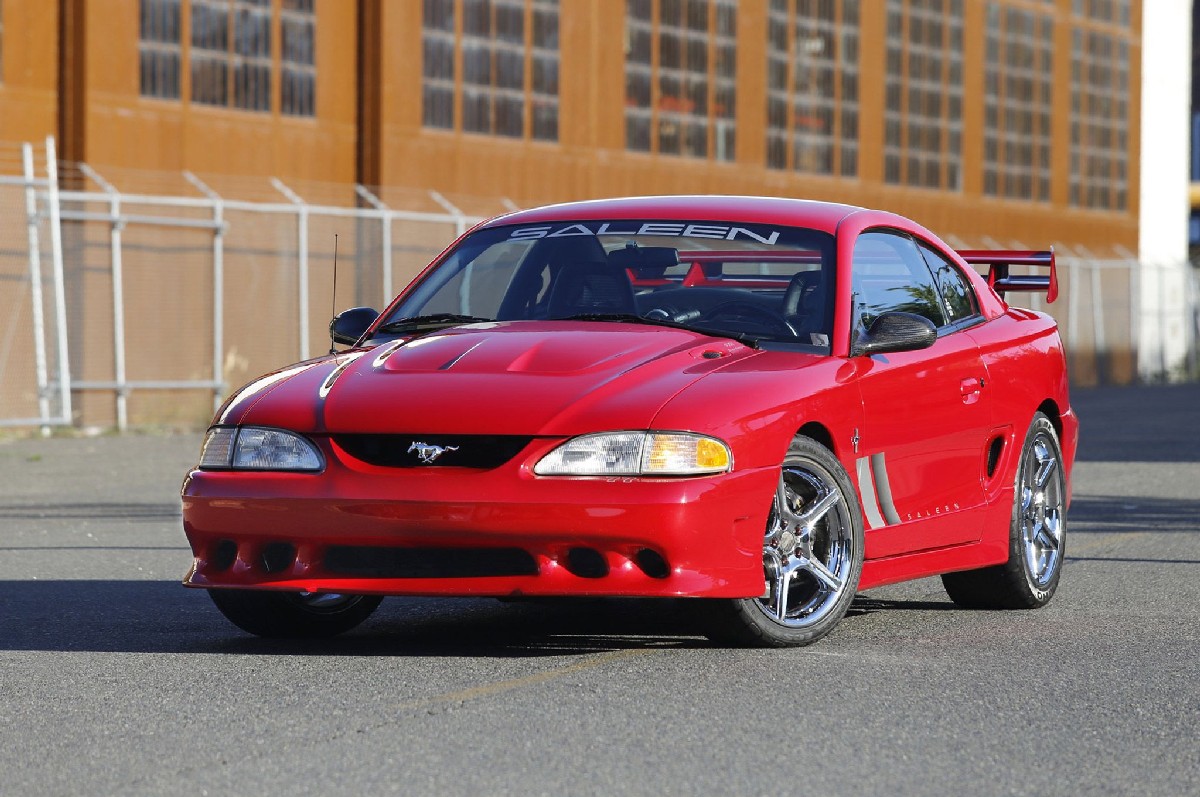 Twenty-plus years after the fact, it is easy to forget the significance of the first Saleen S351, which debuted in 1994. Mustang hadn't sported an engine larger than 302 cubes since 1973, and as the Saleen nomenclature implied, Saleen's new super Mustang had an honest 351-inch engine as the heart of the beast. Rated at 370 horses—a full 130 better than a 1994 Mustang Cobra, the Saleen 351 was based on the venerable 351 Windsor, and had a host of go-fast hardware as standard equipment: aluminum heads, GT40-type intake, a Saleen-spec roller cam, a 65mm throttle-body, headers, and much more.
All these years later we are still in awe that Saleen had the vision and resources to install the larger engine—not really a difficult feat mechanically, but no doubt difficult from an economic and emissions perspective. We are also really impressed with this particular S351 feature car, which has picked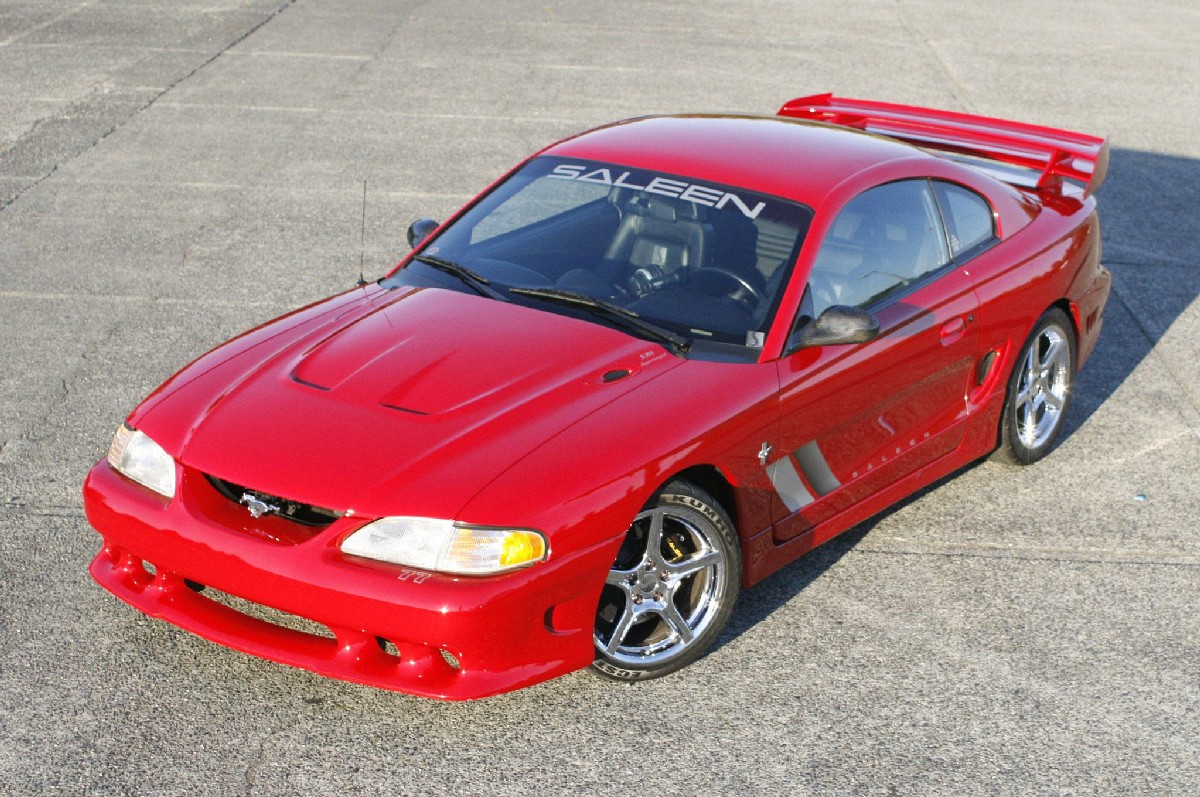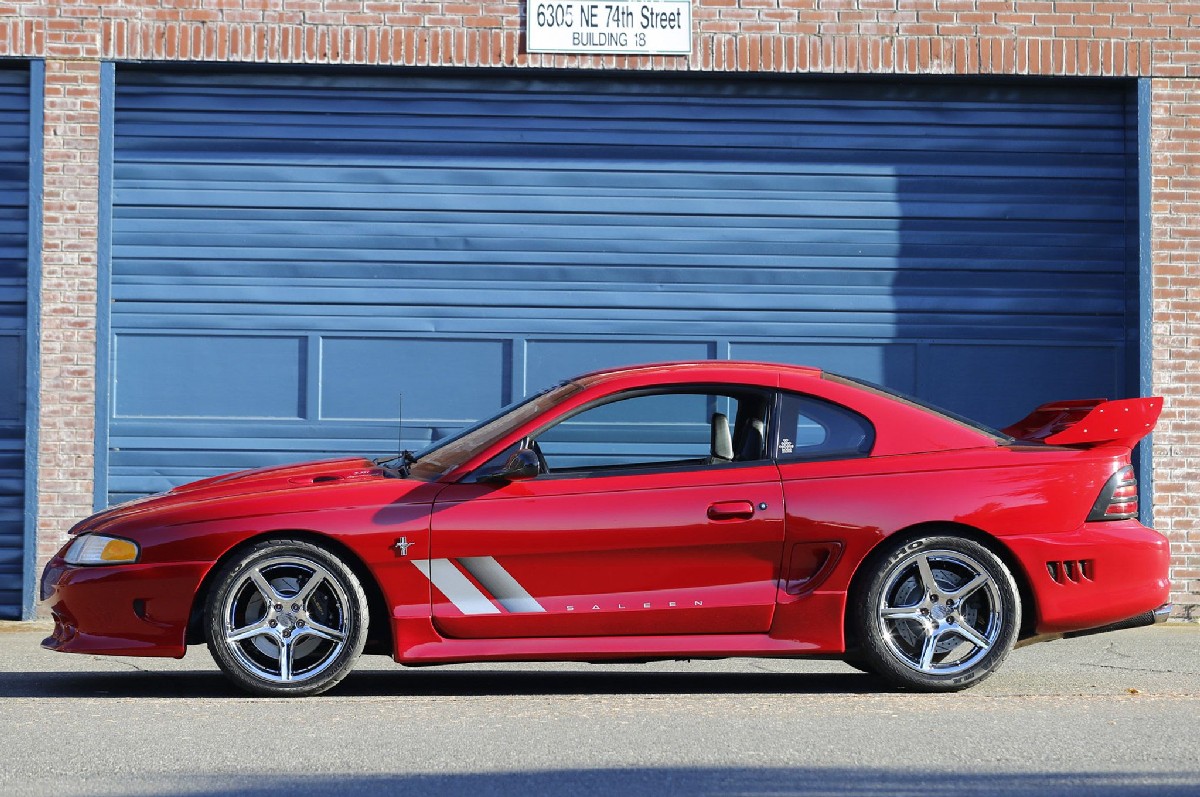 Owner Tom Rice, a consummate tinkerer, also wanted to keep his car among the fastest of fast street Mustangs. That's a tall order these days, what with Boss 302s, flat plane GT350s, and 5.8L GT500, but Rice has done well with what we now consider somewhat archaic technology. Think of it this way: A pushrod V-8 hasn't been a part of Ford's Mustang vocabulary since Rice's car was built in 1995, and last saw use in a Saleen Mustang in 1999. To say the least, the power scene has changed dramatically in the last 20 years!
To remind ourselves just how potent our beloved pushrod V-8s can be, let's review the build specifics of Rice's engine. It all starts with the factory 351W roller block equipped with a Probe main cap girdle and filled with an Eagle 4-inch stroker crank, Eagle H-beam rods, and JE inverted dome pistons. A Comp Cams blower grind camshaft pops the valves in ported Edelbrock Victor Jr. heads. The whole thing is topped by a Hogans sheetmetal upper/ported Lightning lower intake combo with 75-lb/hr injectors and an Accufab 80mm throttle-body. This "no replacement for displacement" mantra yields a healthy 408 ci, only to then get a big boost from a Vortech T-trim supercharger.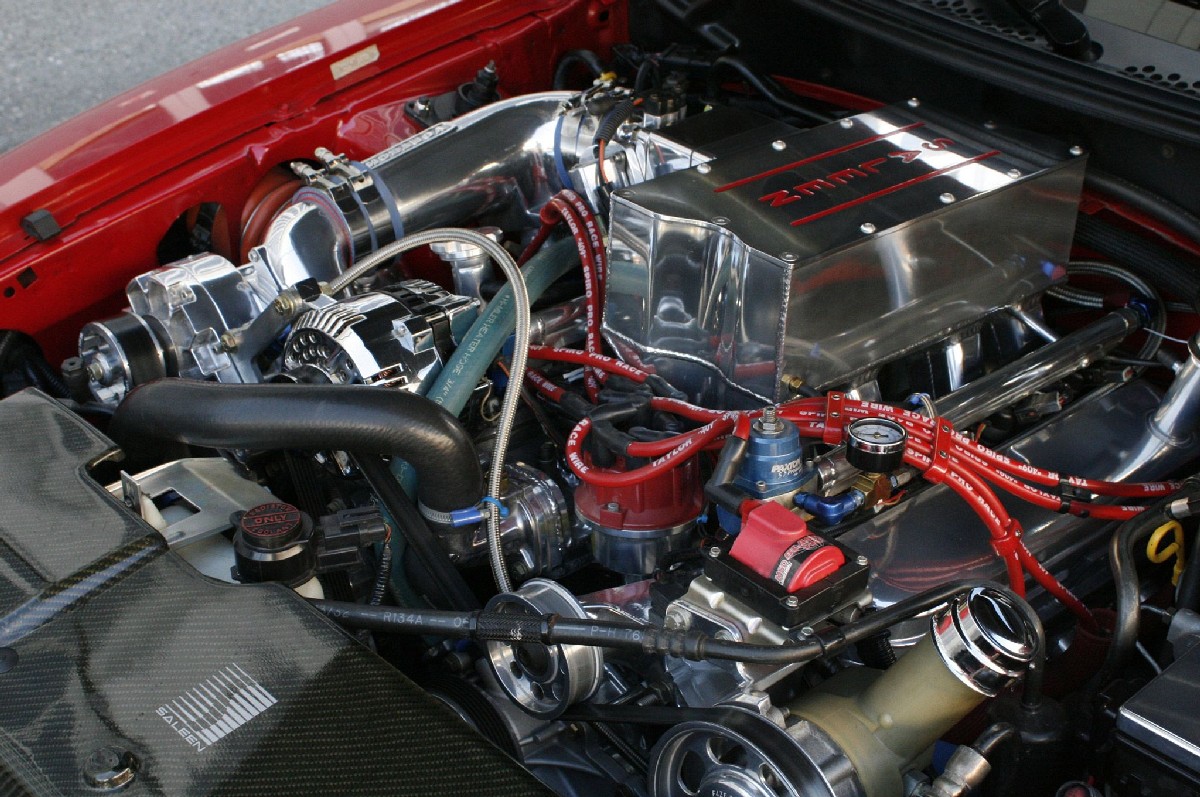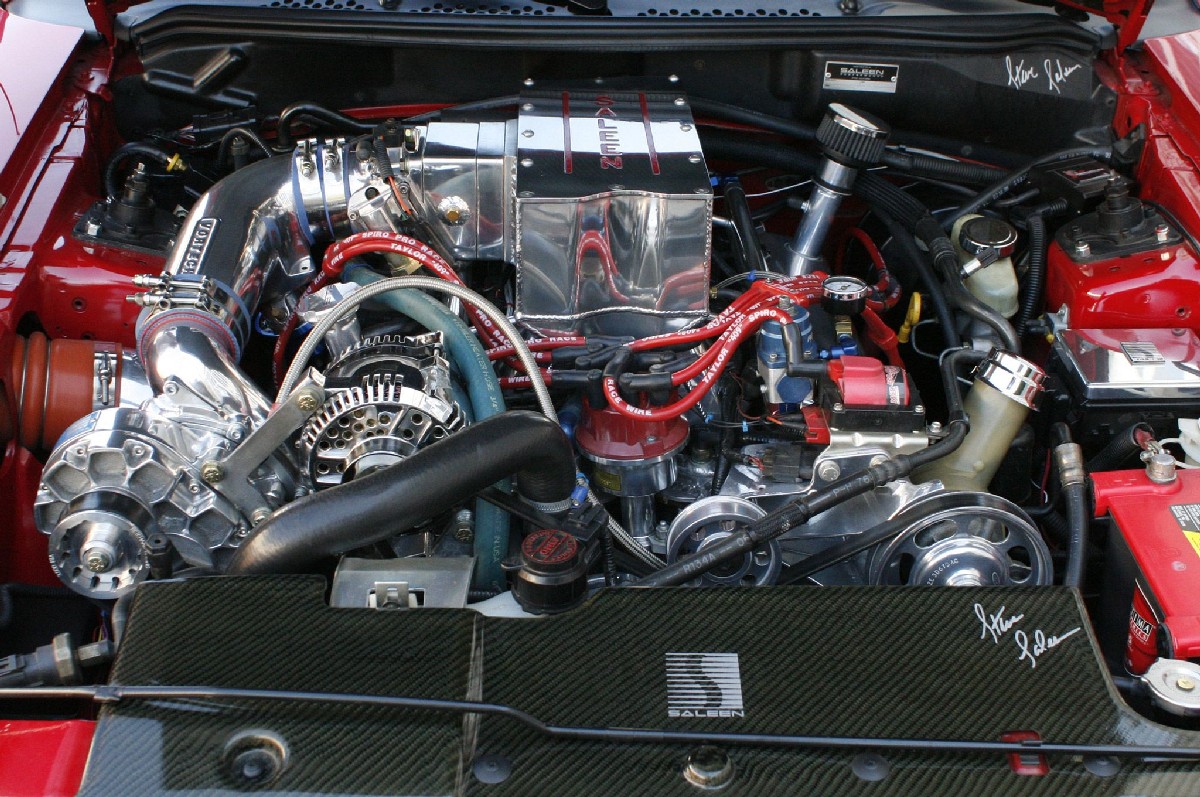 Of course the supporting hardware of fuel, cooling, and exhaust systems is all thoroughly upgraded for the task, while the stock EEC-IV computer was replaced by ACCEL's GEN 7 DFI. Tuned by Blood Enterprises in Auburn, Washington, the 408ci engine has cranked-up rear-wheel horsepower numbers in excess of 600. While almost docile compared to a typical 600-horse carbureted engine, this kind of number is reflected in the exhaust note and idle quality of the car, which is to say that it doesn't quite have the street manners of a factory effort—a sort of badge of honor that Rice is OK with.
Like the engine, the rest of the driveline makes use of the original heavy-duty gear, albeit upgraded for the considerably higher performance task at hand. That means the Tremec 3550 was gone through by Hanlon Motorsports and aided by a Spec clutch and Pro 5.0 shifter. A Griggs aluminum driveshaft delivers power to the 8.8-inch rear, fortified with a Torsen T2R differential, 3.73 gears and a TA girdle cover.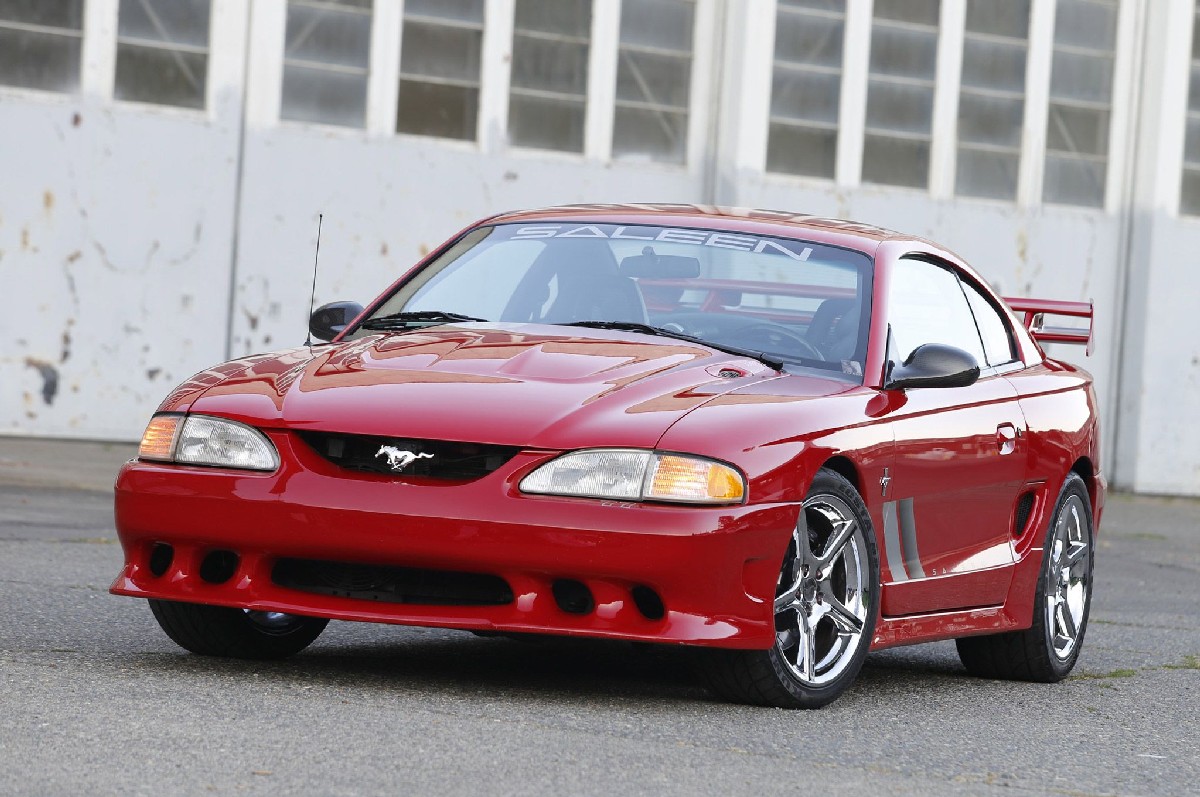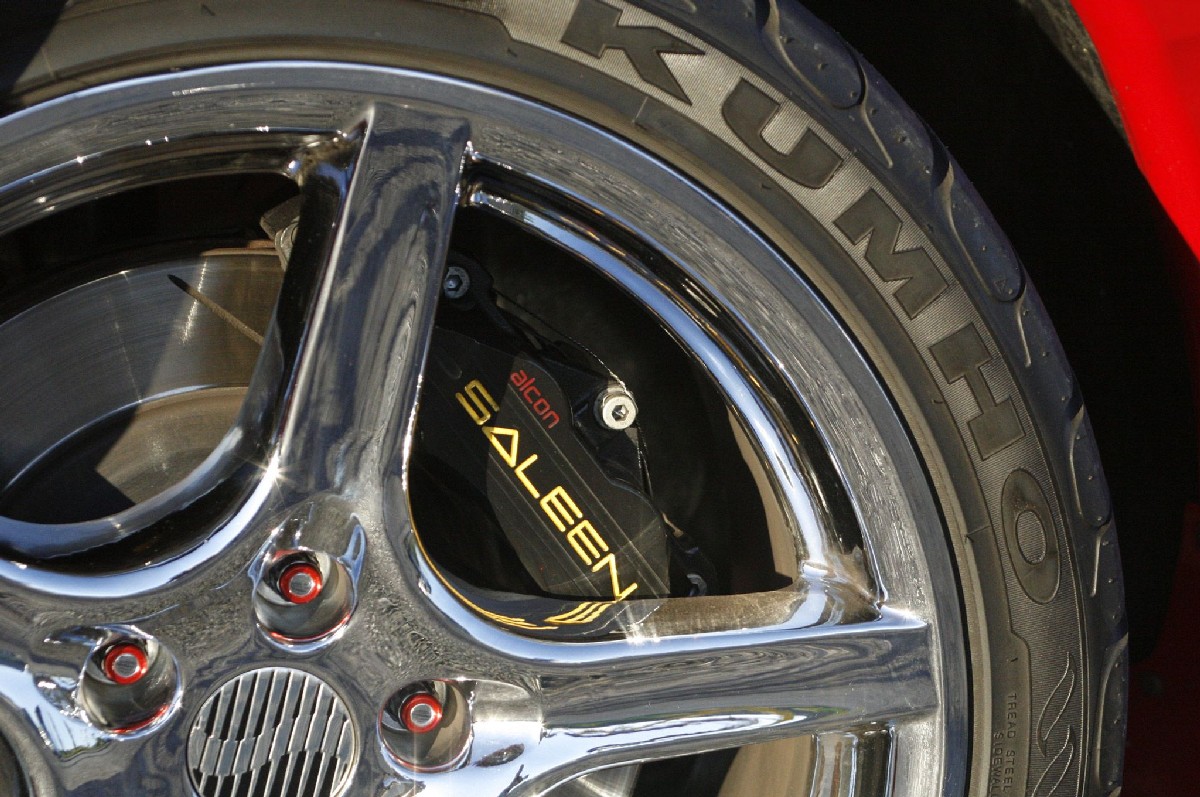 With Saleen's considerable road race history, it is not surprising that Rice set up the rest of the '95 to further its handling prowess. A full Griggs GR40 suspension setup has been installed, to include the company's tubular K-member, control arms, and Koni coilovers up front, along with a torque arm and Panhard bar in the rear. It turns out Rice's Stang was optioned with Saleen/Alcon four-piston 13-inch brakes up front, thus the brakes were good to go with a simple rotor and pad upgrade—the rears getting matching 13-inch rotors from Baer.
Another notable factory option for this car are the original 18-inch magnesium wheels, which Saleen sourced from Italian manufacturer Speedline. Rice has them tucked safely away in storage right now, with the current rolling stock being nearly identical aluminum castings offered at one time through Saleen's Speedlab parts division. Though this particular set is one of just a handful to come with a chrome finish, that didn't stop Rice from sending the rear pair off to Weldcraft Wheels for widening to 10-inches—all the better to rock the 295/35-18 rubber.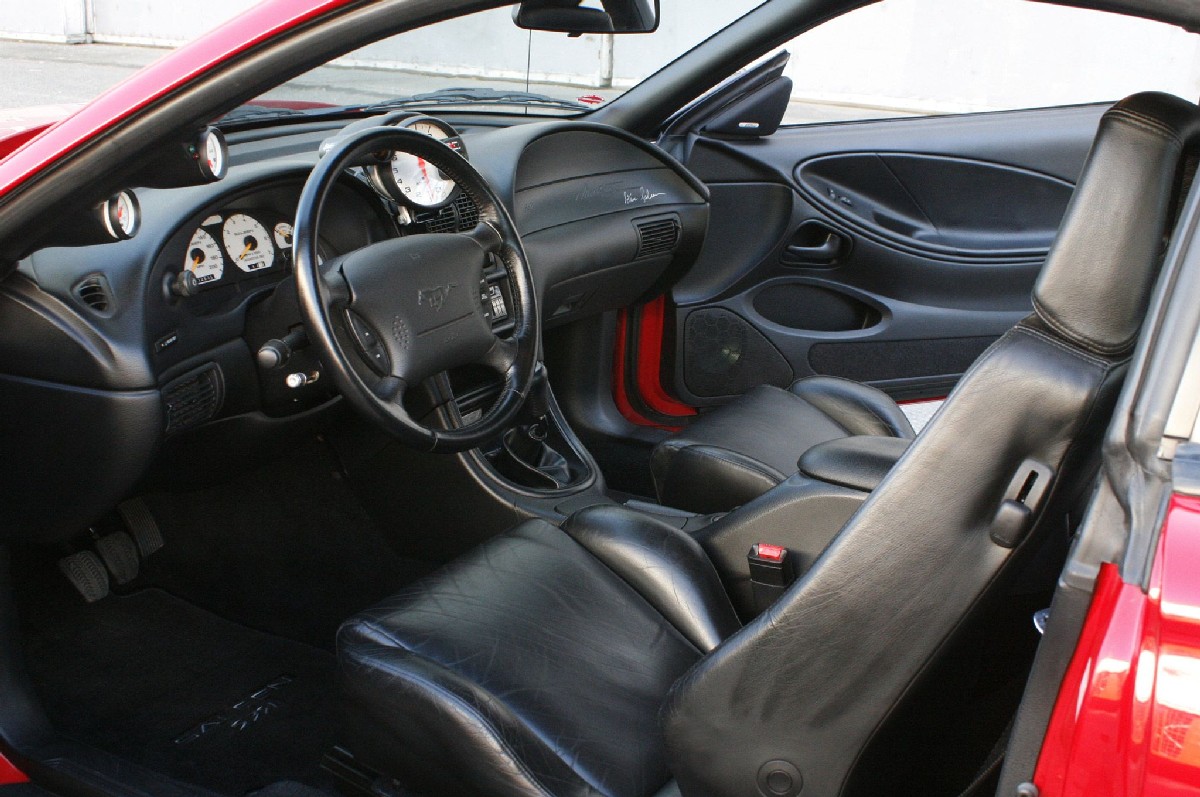 Rice purchased this particular car in 2000 when it had just 5,000 miles on the odometer. It was right down his alley in that he was specifically looking for a red S351, and with just over 300 S351s of all colors built during the entire 1994-1999 production run, he took what he could find. As you might expect with the low odometer reading, the condition was excellent, which has allowed the following years of ownership to focus on the fun task of dialing in the car to Rice's specific tastes.
There are plenty of items we didn't have space to expound on, such as the owner-added rear wing and the carbon fiber hood that was already on the car in 2000. Was it factory installed? Who knows? Who cares? What we do know is that this '95 sports big power and is in pristine condition, and the low production volume should keep Rice in the hunt with any of the current super Stangs rolling out of Dearborn. Yes, bigger is better indeed!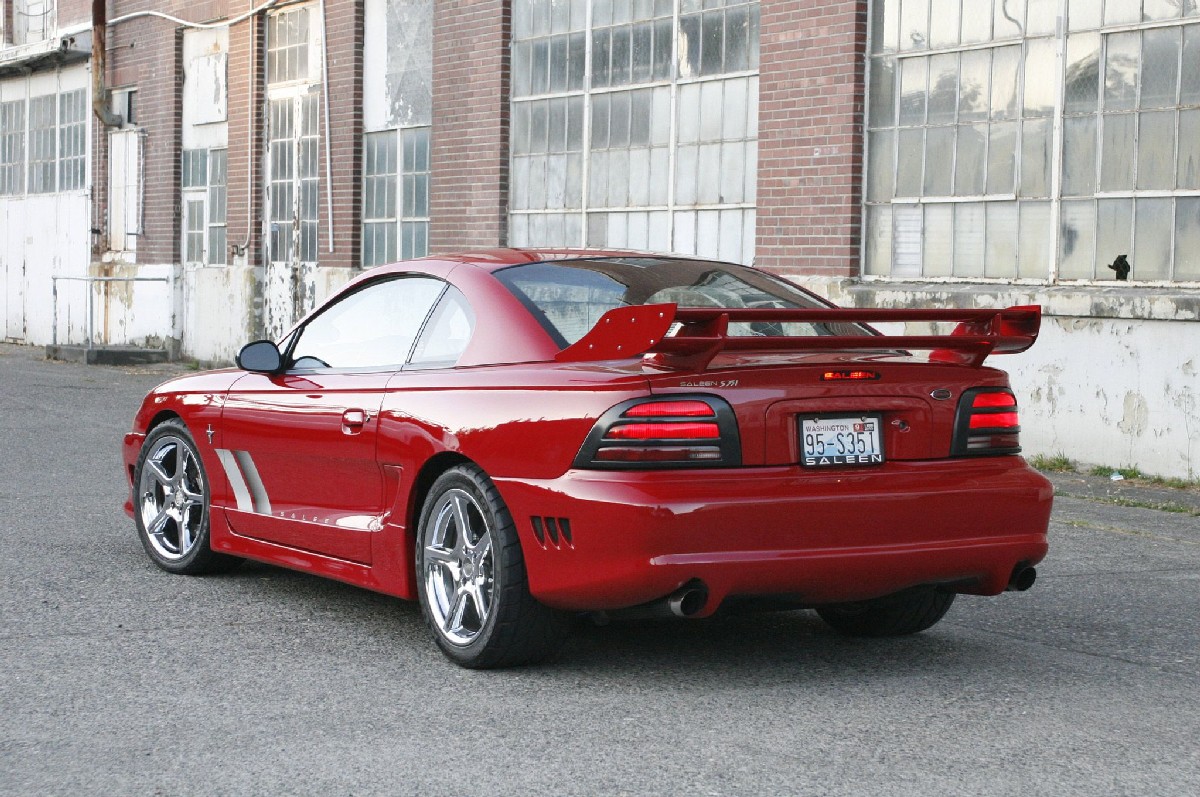 [Source: Hot Rod Magazine]