#167 STEVE SALEEN: BRINGING RACE-PROVEN PERFORMANCE TO THE STREET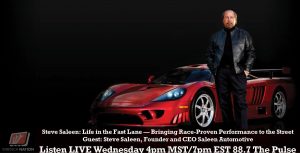 The Business of Super Cars
With an incredible race history with the performance design and build of the Saleen Mustang to one of the world's most renowned super cars, the Saleen S7, CEO & Founder Steve Saleen has carved out a reputation that truly ranks with the most celebrated performance vehicle designers in history. Mr. Saleen's entrepreneurial business plan laid the groundwork for an entire new industry of design, engineering, manufacturing, and sales of high-performance vehicles that were race-proven and marketed for sales through showrooms nationwide. His impeccable attention to detail while observing a business acumen is like no other.
Additional Builds and Hollywood
Other significant accomplishments include the paint and sub-assembly of the Dodge Viper, supercharged Harley Davidson Ford F150 and the construction of the first "running' Camaro for its introduction in the movie "Transformer". Numerous Hollywood films have featured Saleen vehicles, including "Fast and Furious", "Bruce Almighty", "Transformers" (as the Decepticon "Barricade") and "Ironman."
Mr. Saleen has recently upped the game in the automotive world with the introduction of the Saleen 1, the mid-engine sports car with super car credentials. As the "History Channel" program pointed out, Steve Saleen is part of a trio of "legendary" performance car builders alongside Enzo Ferrari and Ferdinand Porsche.
Check out Wrench Nation:
www.wrenchnation.tv
Click here to participate in the discussion.
[Source: Wrench Nation]