Saleen Cup Racing Series Storms Watkins Glen
At GT World Challenge
By: DAVE PANKEW on September 6, 2019
Original Article: TURNOLOGY.COM
Saleen Automotive is continuing to make new roads in their Saleen Cup Racing Series as a one-make "arrive and drive" style of race. We reported on the new series, which is in the second round of the inaugural race season and was held during the SRO Motorsports – Blancpain GT World Challenge America Series at Watkins Glen International. The Labor Day Weekend action saw several race teams campaigning the race version of the 450 hp Saleen 1 turbocharged race car to storm 'The Glen' nestled in the rolling hills of upper New York state.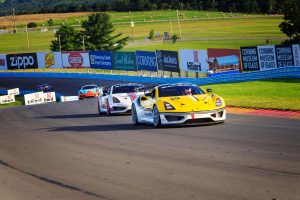 The Saleen Cup Racing Series was intended to be easy to enter and affordable to maintain while retaining a professional-level of racing over the season in the Saleen 1 race car. The series is divided into two classes, the Pro-Am and Young Drivers, both of which foster talent at those levels for those looking to ramp up their racing resume.
For Saleen Cup drivers, there is quite a bit on the line as the winner of each class will get a paid seat in a Saleen GT4 car for the 2020 season. Not many guarantees like that in motorsports since anything can and will happen to change plans for the following season. With the Saleen Cup Racing Series, if you take the title, you're racing in GT4 the coming season.
At the Watkins Glen race on Sunday, the winner in the Pro-Am Class was Brandon Davis, and Florida-native Hanna Zellers sealed up top spot in Young Drivers class.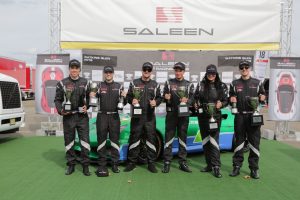 Pro-Am Drivers
First Place – (#14) Brandon Davis
Second Place – (#4) Paul Terry
Third Place – (#6) Johan Schwartz
Young Drivers
First Place – (#71) Hanna Zellers
Second Place – (#12) Austin Riley
Third Place – (#19) Cameron Lawrence
"The Saleen Cup Racing Series has served as a development series for both our new Saleen 1 model and our team drivers. Watkins Glen was a proving ground for both," said Steve Saleen, CEO, and founder of Saleen Automotive about this recent race.
The Saleen Cup Racing Series schedule includes four events for 2019 with two already completed, the upcoming rounds at Road America, Sept. 20-22 and Las Vegas, Oct. 18-20 should be heating up to clinch the championship and that GT4 seat next year.
For more about this series, visit the Saleen Cup website.
[Source: Turnology]