By: TOM WILSON on December 19, 2018
Original Article: TURNOLOGY.COM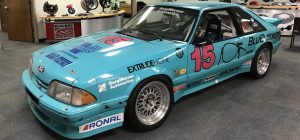 If you were a car guy, the late 1980s were like coming in out of the rain. The horrid malaise years of the later '70s and early '80s were over and Detroit was finally making new cars that ran as well as the famous but by then thoroughly tired '60s iron. Better yet, computer engine controls were offering new paths to power to those willing to learn the new ways of tuning.
As the '80s closed and the '90s opened, in Carrollton, Texas a young, hard-working Hal Baer had paid his street and racing dues sufficiently to set up his own shop under the Baer Racing banner. Originally from Tucson and eventually to return to Phoenix, Hal Baer was in the Lone Star State alongside some friends to build cars and make his fortune. One of those friends was Bart Spivey, another budding engineer and also from the wilds of Tucson.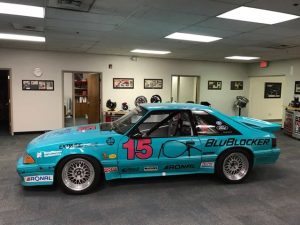 Together the two could be found smoke wrenching roll cages together and making gear swaps during the day at Baer Racing, then servicing the plumbing shop's trucks from across the way in their industrial park at night. If that wasn't enough, Hal had a powder coating business on the side, although with both days and nights spoken for, just what side of the clock that business was on is a mystery.
It was "maniacal" to use Hal's description. Aside from the Gulf War, the economy was up and running and everyone in the car biz was busy and forward-looking. Fresh, new hardware was hitting the streets and electronic tuning was budding, but it was still early enough the internet was a few years from practical application and no one was so much as dreaming of electric cars. No fewer than four magazines would soon be covering just 5.0 Mustangs, along with more rags detailing the growing sport compact scene, not to mention the legions of a traditional street and muscle machines that backbone the car hobby. Hal was up for getting his share of the action, but he had to get noticed.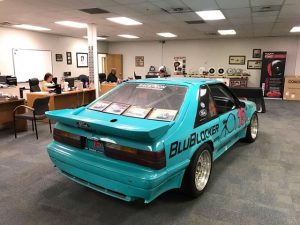 And so, busy as he was, Hal Baer decided to go World Challenge Racing. Recently he had crewed in the short-lived Corvette Challenge road races as well as done his own Formula Ford driving, so road racing was a natural.
Sanctioned by the well-established Sports Car Club of America (SCCA), World Challenge was designed as a manufacturer's playground at its highest level, with well-heeled amateurs filling out the back of the grid. But that's not what Hal noticed. Rather he saw an opportunity to wrench together an attention-getting race car from the sweat of his brow and run it against the big boys. First considering a Corvette—easily the most logical V8 sports car to go road racing with—Hal quickly set such thoughts aside in favor of a more proletarian Mustang. Everyone was running 'vettes, a 300ZX or a Lotus in the World Challenge A class, so he figured on standing out with a Mustang. Besides, he had been driving and wrenching his own personal '69 fastback for years by then, so sticking close to the blue oval felt like home. And most importantly of all, "We couldn't afford a Corvette."
It wasn't necessary to go far to find a workable Fox race car in those days, and Hal quickly bought an '87 LX hatchback in drag racing trim that he found in a Fort Worth junkyard for $600. In fact, Hal discovered he knew the car from when it was new in the Dallas area, and how it had quickly turned into a street-strip car and then some before Hal had lost track of it. A fairly radical drag race car by 1990 standards when he bought it, the chassis gave Hal a small head start of fabricating it into a road racer.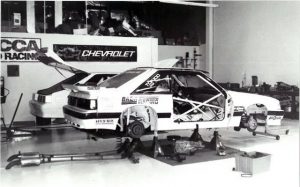 Because he was going pro racing, the car got the full treatment from day one. In fact, it got a little bit more than the full treatment as the SCCA was willing to look the other way, "because we were dumb enough to race a Mustang at the top level of World Challenge." The sanctioning body knew the cheap, flexi-flyer Mustang with the small 302 engines, sketchy suspension and shoebox shape was no threat to Corvettes so they were willing to let Baer Racing take a few liberties to add a little variety and populism to the top World Challenge class.
"They let us run the 3-link and bigger brakes—they were Brembos at first—up front. We over-caged the car [got it good and stiff], snuck in some front suspension tricks concerning Ackermann and other little stuff no one knew enough to check or care about," says Hal.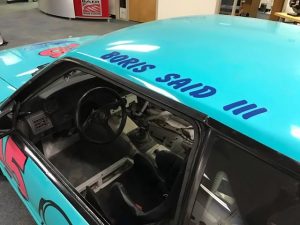 Of the special mods, the 3-link rear suspension was the big deal. Fox Mustangs suffer from a nasty, compromised 4-link rear suspension from Ford that's just impossible. When the stock suspension compresses, the geometry between the upper and lower links gets increasingly antagonistic. Ultimately the suspension binds, effectively turning the rear axle into a giant sway bar which is what gives a Fox its bar-of-soap-on-the-shower-floor handling. While fiddling with bushings and stiffer suspension arms gave a limited improvement on the street, Hal knew only a complete rear suspension redesign would suffice for wheel-to-wheel racing.
Simply put, Hal's choice was to eliminate the two upper control arms in favor of a single arm centered above the differential. We drove this rear suspension in Richard Holdener's Baer Racing Fox Mustang to a Second in class finish in December of 1994 in an SCCA regional race and it handled superbly. Certainly, the 3-link was the foundation of the World Challenge car used to such good effect, especially when the combination gained a supercharger.
If the chassis was a cut above the Mustang norm, the team's finances were not. Even given the crushing time constraints he and Bart faced, Hal, said, "the real issue was no money. We bought stuff one at a time, as in we'd buy one front caliper, then two weeks later the other front caliper, that sort of thing. We were in so far over our heads but didn't know it."
In fact, this triumph of wild enthusiasm over reality was common to many a Mustang story in the go-go '90s. After two decades on the pro racing sidelines, the Mustang did not have any continuity to its 1960s factory glory days, and the new generation of enthusiasts didn't really know what they were up against when wheeling onto a pro grid.
But Hal and Baer Racing were soon to find out.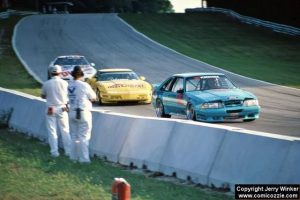 As 1990 became 1991 the Baer Racing World Challenge Mustang had taken shape and was ready to contest the '91 season. A young gun, Boris Said, came on board to pilot the new car and borrowing a friend's '76 F-150 Super Cab and an open trailer Baer Racing hit the road. In fact, this same rig would carry the Baer car through the '91, '92 and '93 World Challenge seasons. "We made every race," Hal recalls. That, by itself, is worth an award of some sort.
If the new team was no direct threat to the factory-supported Chevys or mid-engine Europeans or high-tech Japanese cars, in the best Mustang tradition it proved "good and durable, except for the engine and transmission. We kept changing the engine for power; we didn't realize how little power we had…" and, "didn't realize how cheated up the factory stuff was." Plus the spindly T-5 transmission was hopelessly over-matched by the task at hand.
As old Fox hands recall, the T-5 transmission was light and smooth shifting on the street, but suffered bent shift forks and stripped Third gears at the hands of power-shifting drag racers, not to mention what full-blown road racing would do to them.
Because that was all there was, Baer Racing fed the World Challenge car a steady diet of T-5's with .85 Fifth gears. "We went through those things like popcorn. Especially when supercharged," recalls Hal. In fact, the team went into the longer races knowing the transmission was going to fail.
And there was always the shoestring budget. "Lorenzo motors, they came in plastic crates. Ours came out of junkyards. We built our own motors," using, "stock blocks, stock A9L computers…we were probably 80 hp down just from inefficient tuning."
"We were a way-underfunded deal the whole time. Doc Bundy [Chevy-backed Corvette driver] once came over and said, 'Our catering budget is more than your entire weekend.' But everyone loved the car. It was the underdog. [It] probably wasn't perceived as a threat to anyone, but it did way better than it should have."
"In '92 the Ford skunk works had an early '93 Cobra at Road America and it qualified in 53rd behind a Subaru, and we were on the pole. This got Ford interested [back when you had to be a factory team to get any support] and they asked what would happen and we said it was a three-hour race and the car will go out and blow up the transmission in 15 minutes."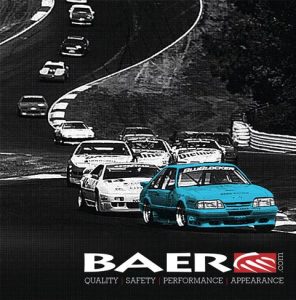 "So they said they would hook us up with Don Walsh, the Ford SVO driveline expert. And we told them we were already getting T-5's from Don by the pallet load. I'd put them in my street car for 500 miles just to wear them in."
"So the trans blew up in 15 minutes, and not just a little, but enough to blow out the front and rear seals." That motivated Ford to get Baer Racing something stronger, and what they got was a Tremec T-56 out of a Viper. "It wasn't optimum gearing and it was heavy, but it didn't break," notes Hal.
To show what sort of shenanigans a factory can pull, after Ford went sniffing around for a stronger gearbox, Borg Warner, who owned Tremec, asked Dodge if they could supply the Viper transmission to Baer, and they agreed. To cover its tracks Borg Warner ground the "Viper" out of the transmission housing casting and Bart made a custom bell housing for it. "And that's the transmission that's still in the car," says Hal.
As for engines, the team kept two on hand, both sporting stock short-blocks. "The second short-block [Richard] Holdener found in a junkyard with a broken head stud," said Hal. To provide the freshest internals Hal pulled the oil pan and, "I turned the rod bearings upside down. I also put some top rings in it and that was that."
"Both engines were the same," explains Hal, "decked so the pistons hung out .005-in. and with ½-inch head bolts which were probably a mistake as it would pull the blocks apart." The cylinder heads were TFS units; the camshaft a solid roller from Crane.
It wasn't long into the debut '91 season when it was beyond obvious the Baer Mustang was far down on power. So the SCCA agreed to a supercharger to help even things up in the early summer of '91 at the Denver race, and the racer remained supercharged for the rest of its days through '92 and '93. The blower was somewhat the work of Todd Gartshore, who had just moved from Corky Bell's Dallas-based Cartech turbo outfit to Jim Middlebrook's brand new Vortech outfit in California. He talked his new boss into sending Baer an A-Trim unit which certainly didn't hurt Vortech's visibility or Baer's power curve. Later Gartshore left Vortech and partnered with Hal to form Baer Brakes until Todd's death in 2011.
Those early A-Trim Vortechs, "…were noisy but strong. The blower was durable. Very. We never hurt it, never sent back to have the bearings checked. They made a lot of improvements since then, but it was always durable." And just to prove how hard Baer Racing was trying, the Vortech was pullied for 11 pounds of boost on top of the engine's 11:1 compression ratio. The fact that the engine didn't instantly die of black death is a testament to both the adiabatic efficiency of the Vortech and high-octane race gas.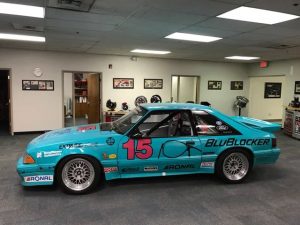 One reason Baer Racing's Mustang made such a splash was its driver, Boris Said. While Hal was an accomplished amateur road racer, Boris was an up-and-coming talent with pro aspirations and an exceedingly heavy right foot. He ended up driving the Baer car for every race for all three years the car ran, except for Road America in '92. Boris had a commitment to the German Touring Car Championship that weekend and his replacement that one time was Andy Pilgrim, a long-time Corvette, and World Challenge driver Hal had known for years.
This was also the one time the car ran on Goodyear rubber due to Andy's contract with the American tire manufacturer. Otherwise, Yokohama's were in the wheel wells because of Boris' contracts. Hal says the Goodyears were definitely faster, "about 1.5 seconds per lap (!)" but would go off after anywhere from 50 minutes to an hour and a half. "But the Goodyears were quick enough they'd just came back to where the Yokohamas were," so the American tires and the teams running them were never at a disadvantage.
Down on power plus at aerodynamic and tire disadvantages, Boris had his work cut out for him. "He deserved a better ride," recalls Hal. "He got poles and fastest laps but the car wasn't competitive or reliable over a race distance." That doesn't mean he didn't try. A young tiger, Boris was constantly looking inside himself for more speed and, of course, the frustration of it all led to moments, "but we lasted all three seasons," said Hal.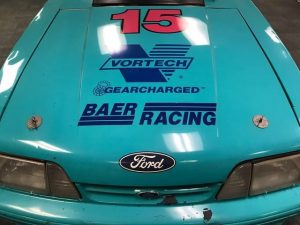 Of course, the experience of working for it in the Baer car helped Boris develop, and he went on to a winning career in international sports cars plus 54 starts in NASCAR's headline series.
While the Baer Racing Mustang certainly gained its share of publicity the two years it ran in white and sometimes labeled as a Saleen SC and carrying a Saleen body kit, today it's best remembered as the teal BluBlocker sunglasses car of its final 1993 season. If nothing else, the livery is a standout scheme, and we've had a couple of decades to remember it that way as Hal has kept the car in its final as-raced form in the Baer Brakes showroom.
At the time the BluBlocker sponsorship was a major step up for Baer Racing, "so we tried to run three cars [in all three World Challenge classes]," recalls Hal. "That was a mistake, I should have run one car and bought a motor program and won the championship." He's no doubt correct as the Baer team finished Third in the '93 championship—their best result—and certainly would have done better with a stronger engine program.
In fact, Baer Racing had built two other World Challenge Mustangs for the lower World Challenge classes. One for ex-amateur motocross racer and Bondurant instructor Spencer Sharp (son of Scott Sharp and grandson of Bob Sharp of BRE Datsun fame) and journalist-racer Richard Holdener. This was on top of building six hardcore Mustangs for the Bondurant Pro Search program along with running the BluBlocker car. It was all too much for too little.
By the end of the '93 season, the effort had run its course. Hal, Bart, and friends were worn out, Boris was ready to move up and it was time for Hal to quit hemorrhaging money and try to make some for a change. So the racer was parked and Hal brought in Todd Gartshore along with third partner Robert Sommers to incorporate Baer Brakes in January of '94.
The focus on brakes was natural for Hal. In the late '80s he had been introduced to the Australian PBR twin-piston caliper used on the Corvette. This is the brake that ended up on the World Challenge car, and Hal was, "buying them $48 for a full caliper load. We were putting new ones on every two races, so the old ones went on my ['69] Mustang." This supply of used PBR calipers quickly over-ran Hal's Mustang's ability to consume them and with a little bracketry magic, the PBR's soon became a stable addition to the street Foxes coming through the Baer Racing shop. When the racing stopped and it was time to get into brake business, PBR was the bedrock of Baer's first offerings before they branched into making their own.
So, was all the World Challenge work worth it? "I wouldn't go do it again!" said Hal with emphasis, but then he quickly noted, "It certainly gave us a name…a subterranean culture deal… [It] helped when starting Baer Brakes. But obviously, there are way better ways to make money!"
---
Tom Wilson
Infatuated by things that make noise and go fast, Tom has been writing about cars and airplanes for over 35 years. So far that's meant a decade editing Super Ford magazine, plus long associations with Road & Track, MSN Autos and more lately Kitplanes magazine. It's also meant some SCCA racing and a lot of fun sampling everything from Trans Am cars to F1 chassis as part of "work." Besides the racing hobby Tom enjoys flying his biplane, plinking tin cans and messing around with telescopes.
[Source: Turnology]