Auburn Fall Auction – August 27-31, 2014
2007 Ford Saleen S281 Extreme Mustang
Ford VIN: 1ZVFT82H775241308
Saleen ID: 07-0049E
To be offered on Saturday, August 30, 2014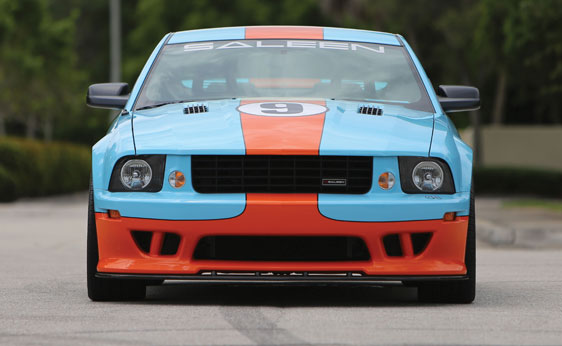 Estimate: $ 75,000 – $ 95,000
Saleen Automotive is an American manufacturer of specially-built high performance sports cars and automotive parts based out of Corona California. In 1984 Saleen introduced the first Saleen Mustang featuring better aerodynamics, suspension upgrades and cosmetic modifications.
This 2007 Saleen Mustang has been finished in a one-of-one paint, which is Gulf Livery Heritage colors. The body has been modified from its original specifications and now has a body kit with a new front grille, rear wing, S281 Extreme badges and new hood. Tugging at the leash is a fuel-injected 4.6-liter V-8 engine with an integrated twin-screw supercharger that is pumping out an astonishing 550-bhp. Backing the engine is a five-speed manual transmission with a short-throw shifter. The suspension is equipped with coil-over springs and three link, live rear axle with Panhard rod.
The car comes fully loaded with power steering, brakes, windows, air conditioning and a radio with CD player. The interior has also been modified and sports black leather performance driving seats. Behind the forged five-spoke chrome wheels are four-wheel slotted disc brakes.
The Mustang offered here is a one of a kind car; it is number 49 that was produced in 2007 and shows less than 300 miles on the odometer. Since the first Saleen Mustang was produced, the name has become synonymous with custom styling and high performance handling. These ingredients are what embody this car into a show-stopping, high performance supercar that are eagerly searched for by Saleen enthusiasts.
Click here to participate in the discussion.