18 Reasons to Visit the Saleen Exhibit at LeMay – America's Car Museum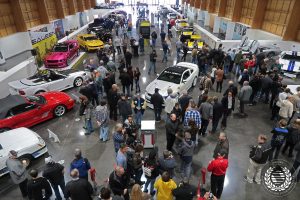 As you read this, many of you have seen coverage from last weekend's grand opening of a new year-long exhibit honoring the racing and business achievements of Steve Saleen; witnessed through numerous videos and photos shared via social media from the LeMay Automotive Museum. If you were fortunate enough to attend the "Intimate Dinner with Steve Saleen" or "Saleen and Caffeine" or both, then you observed first-hand this impressive presentation of historic Saleen vehicles and vintage memorabilia collected under one roof. Steve, Liz and Molly were also in attendance and warmly greeted owners and fans throughout the two-day affair. If you did not go, don't fret, I will convey why you should make plans to visit this "must-see" destination very soon.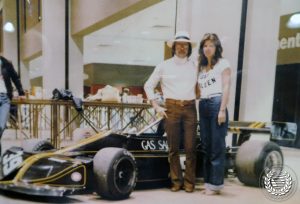 As you walk towards main entrance of the LeMay Museum, you are dazzled by a 2019 Saleen S1 painted in signature Lizstick Red, glowing in its red with orange hues inside the main lobby. As you journey into the start of the main floor display area, be prepared to be instantly taken back by the Saleen Exhibit. In front of you and lined up to your left are some of the most iconic Saleen street vehicles ever built organized by their generation. Meanwhile lined up to your right are a few of the most historical and famous Saleen competition vehicles that have graced racetracks around the world. A lot is represented here, all in one place, from the very first Saleen Mustang ever made to the current Saleen 1 Cup racecar. Ornamenting the museum walls are a selection of important Saleen memorabilia that is gloriously displayed behind glass.
If you're not impressed yet, then chew on this. Where else can you view some of the most iconic/historical Saleen vehicles and memorabilia all gathered in one accessible place? This exhibit is a cooperative effort through Steve Saleen as well as private owners and collectors across the USA to bring together this fantastic display of irreplaceable and priceless pieces of Saleen history. The kind of history that is interwoven into every Saleen's (vehicle) DNA.
Still not convinced? Here are the 18 reasons why you should see the Saleen Exhibit:
 1984 Saleen Mustang, the first Saleen vehicle ever built. On loan from Stu Akers.
 1995 Saleen S-351, this Speedster was a corporate demo and famously used to promote the national Mcdonald's Monopoly sweepstakes. On loan from the PAS collection.
 2003 Saleen SA-20, to celebrate the company's 20th Anniversary. On loan from Debbie Blaylock.
 2007 Saleen S281 SC "Molly Pop" custom colored "candy pink" for Molly Saleen. On loan from Molly Saleen.
 2015 Saleen S302 Black Label, custom colored "California Sunset" as a tribute to Paul Walker. On loan from David Weiner.
 2007 Saleen S281 "Barricade" specially built for the "Transformers" movie. On loan from Robert Rendon.
 2020 Saleen Sportruck XR, Baja capable, but daily driveable. On loan from Saleen.
 2014 Saleen SA-30, to celebrate the company's 30th Anniversary. On loan from Tim Anderson.
 1996-1998 Saleen/Allen Racecar, "RRR" Speedlab racing team, with comedian/actor Tim Allen. On loan from the PAS collection.
 1990 Saleen Race Truck, which competed at Des Moines, Road Atlanta, Colorado National Speedway, and Las Vegas. On loan from Mike Charles.
 1988 Indy Car 88 March, in 1989, Steve Saleen enters the PPG Indy Car World Series. On loan from Saleen.
 2001 Saleen S7, the first S7 manufactured and featured in the movie, "Bruce Almighty." On loan from Bob & Linda Yallen Intermedia Racing.
 2005 Ford GT, Saleen is awarded two contracts to build the new Ford GT for Ford. This vehicle's VIN# is "1966" coinciding with Ford's win at Le Mans. On loan from Saleen.
 1976 March 76B Formula Atlantic, Steve sets 13 track records and ultimately wins the 1977 Pacific Coast Championship. On loan from Saleen.
 1987 Saleen Mustang Racecar, competed in the 1987 – 1988 SCCA Escort Endurance Championship, winning the Driver's Championship as well as the Manufacturer's Championship. On loan from Dave Frezza.
 2020 Saleen 1 Cup Racecar, 1 of 20 race cars built for tine inaugural Saleen Cup Series. On loan from Saleen.
 2019 Saleen S1, Lizstick Red promotional car. On loan from Saleen.
 Rarely seen collection of Saleen racing and manufacturing memorabilia.
If you close your eyes for a moment, you can picture a Mustang, a Bronco, a Model T, a Thunderbird, and yet year after year we attend car shows to see these cars with our own eyes. This Saleen Exhibit hosted by the LeMay Automotive Museum is a once-in-a-lifetime opportunity to feast your eyes on a selection of Saleen vehicles and memorabilia that you may never be able to see again.
Click here to participate in the discussion.