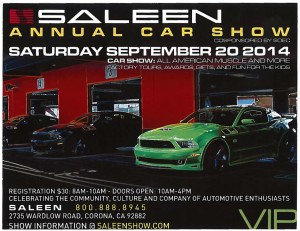 Saleen and SOEC present the World's Largest Saleen Show!
Celebrating the community, culture and company of automotive enthusiasts
Join Steve Saleen, the Saleen family and the team at "Saleen Headquarters" as we welcome the Saleen Owners and Enthusiasts Club and all Saleen owners and enthusiasts at Saleen's annual open house and American Muscle car show. This is the world's largest gathering of Saleens and fine examples of American Muscle in the world!
Registration for vehicles: $30.00 (we invite ALL Saleen owners to participate, whether it's a "show car" or not!)
Registration for spectators: FREE! (but please register so we know you're coming)
CLICK HERE TO REGISTER ONLINE!
Friday evening: SOEC Members, Non-Members and Guests Dinner (casual meet with locals and out-of-towners; pay-your-own way). Meet at Saleen at 5:30 p.m.
Saturday: Car Show and Open House
More than 30 Saleen and SMS classes!
Expanded classes for 2005-09 S-series 3-Valve, Supercharged and Extreme!
Also classes for other Mustangs and Fords, plus Chevrolet, Camaro, Dodge and Challenger, and more!
Special Display Only category for those who don't want their Saleen judged — bring your daily driver or fixer-upper!
Special SOEC awards for Saleen entries: Longest Distance Driven, Longest Distance Traveled, Best Non-Judged (nomination required)
Saleen worldwide headquarters factory tours
Entertainment for the kids!
Poster signing and autograph session with Steve!
Steve Saleen will autograph Saleen or SMS vehicles after the show — please be by your vehicle to have it signed.
Saturday Evening: SOEC Dinner (members and their guests) — watch your email for info to come.
Sunday: SOEC Breakfast (members and their guests), and out-of-towners who want to attend, Meet at Ayres Suites main lobby at 9:30 a.m. where we'll depart to Godfather's for a hearty pay-your-own breakfast.
Saleen Worldwide Headquarters
2735 Wardlow Road
Corona, CA 92882
714-400-2121
91 Freeway, Exit 47
Serfas Club / Auto Center Drive
Left at In-N-Out Burger onto Wardlow Road
---
SOEC Hotel: Ayres Suites Corona West
Comfortable accommodations at a special $79 bargain price, it's only 1.4 miles away on the other side of the 91 freeway and up Frontage Road.
Special Saleen rate includes breakfast. All rooms have microwave, fridge and coffeemakers (with coffee) and free wireless. You save $24+ over their regular rate. Double occupancy rooms with double-doubles or a king. Inquire at the time you make reservations for the best room layout that suits your needs. Free parking. Some room for trailers (inquire at desk). There is a do-it-yourself car wash nearby off 6th Street.
Call Ayres Suites Corona West directly at (951) 738-9113 and ask for the "Saleen" rate. Room block at that rate is limited, and is good for the full weekend from Thursday-Sunday or as they have room, but you should book by Sept 1. Clarify room amenities and layout at time of booking. Room upgrades available. It's a nice, clean, casual hotel, pool for the kids, and a good mexican restaurant next door.
1900 Frontage Road, Corona
http://www.ayreshotels.com/CoronaWest/