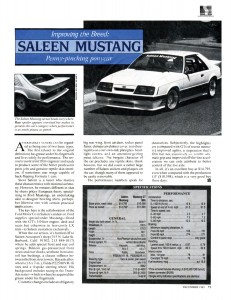 For 1985, Saleen Autosport manufactured 140 Mustangs during their inaugural year of production. Vehicle number 85-0001, a demonstrator for Steve Saleen, lived life in a constant state of flux throughout 1985 and 1986.
Pulling duty both as a demo and press vehicle, 85-0001 continued the task 84-0032 began with introducing the "Saleen Mustang" to an unknowing public.
Shortly thereafter 85-0001 became a Saleen Autosport development vehicle, gaining revised suspension components, a built short block, in addition to 1986 model year appearance and interior items. A most notable upgrade were the 5-lug rotors and four wheel disc brakes.
After serving Saleen Autosport as the resident development mule, 85-0001 was reconditioned, regained the correct 1985 spec front air damn and then offered for sale.
85-0001 spent the last decade hiding from onlookers in plain view. Torched by Southern California sunshine and motionless for the past six years.

Click here to participate in the discussion.