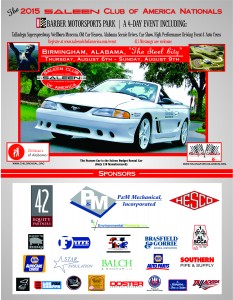 2015 Saleen Nationals
* Presented by: P&M Mechanical
* Featuring the Saleen S281 Budget rental cars from 1996-1998.
* The 2015 Saleen Club of America Nationals will be held at Barber Motorsports Park in Birmingham, Alabama August 6-9, 2015.
* Host hotel information here. Use group code: SAL
* Win a 1997 Saleen Mustang: Sponsored by HESCO
THE SCHEDULE
THURSDAY for the Early Birds, there will be a cruise down to Wellborn Muscle Car Museum. We'll eat lunch there then cruise back up through the Talladega National Forest stopping at the Talladega Superspeedway where you'll have the opportunity to make a couple of hot laps around the 2.66 mile high banked oval and visit the International Motorsports Hall of Fame.
THURSDAY EVENING will be our Early Bird meet & greet at the host hotel, sponsored by Saw's BBQ.
FRIDAY will be a driving tour stopping at Old Car Heaven in downtown Birmingham for lunch and then cruising back to the hotel.
FRIDAY EVENING is our Welcome Bash – This event will be held in the atrium of the Barber Vintage Motorsports Museum, sponsored by NAPA Auto Parts.
SATURDAY is the National Show. Want your car signed by Steve Saleen? He'll be there, along with Liz and Molly! There will also be parade laps on the track from noon to 1:00 PM if you want to see the track from the driver's seat and there will also be High Performance Drivers Education (HPDE) so you can learn what your car will really do if you choose! The HPDE will be four 20-30 minute sessions on the track (based on number of registrations) with an instructor sitting right beside you. We'll also have a Powder Puff division (one 20-30 minute session) for the ladies that don't want to mix it up with the men.
SATURDAY EVENING we'll be off to dinner, set on the ground floor among the vintage cars at the Barber Vintage Motorsports Museum, sponsored by NAPA AutoCare Centers. Be sure to register for this event as Steve Saleen will be the guest speaker and you don't want to miss that. Plus we'll be awarding the Gary Alsobrooks Award to the 2015 recipient.
SUNDAY will be the annual "See Ya" Breakfast for host hotel guests that are headed out early, then off to the Autocross driving event for the day for everyone else. We will class cars accordingly and awards will be given. This event is being held in conjunction with the Alabama Region SCCA.
Location Barber Motorsports Park
6040 Barber Motorsports Parkway
Birmingham AL 35094
(205) 298-9040
Map
Hosted By
Saleen Club of America
1290 Lakes Rd.
Monroe NY 10950
Event Website
www.saleenclubofamerica.com
Click here to participate in the discussion.
[Source: Saleen Club of America]