Saleen's New Supercharged S331 Packs a 450 Horsepower Punch,
Seats Up to Five Adults and Can Tow a House
IRVINE, Calif., Sept. 27 /PRNewswire/ — In its first year of production, the 2007 Saleen S331 Sport Truck revived the diminishing performance truck segment with the first fully-functional, high-powered sport truck to the market in several years. Many performance trucks quickly followed, but none came close to offering the same combination of functionality, performance and aggressive styling.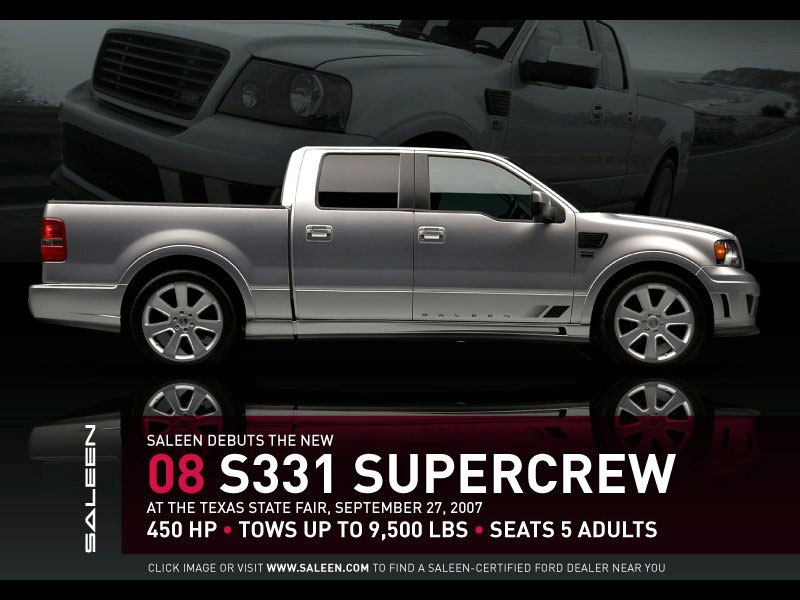 The 2008 edition continues to lead the performance truck segment with the same aggressive 450 horsepower, supercharged V-8 engine, Saleen RaceCraft suspension and the addition of a new SuperCrew four-door cab option. The S331 also maintains the ability to tow up to 9,500 lbs. Designed and engineered by the same technicians that hand-built the Saleen S7 Twin Turbo super car, the S331 continues as a functional truck with the optimum performance and styling of a world-class sports car.
The S331's package is complete with 23-inch Saleen wheels on ultra-high performance tires and power assisted four-wheel ABS brakes. Like all true performance vehicles, the S331's cockpit has a commanding driving position from two-toned, double-stitched leather sport seats.
Starting at $54,200, the S331 Sport Truck will outperform any truck on the road, tow lots of heavy toys and comfortably carry up to five adults. And since it's a Saleen, the vehicle will maintain a high resale value.
Saleen, a niche vehicle manufacturer, engineers vehicles under the same requirements as the big three automotive manufacturers (Ford Motor Company, General Motors and Chrysler LLC). This is an extensive process, but it guarantees buyers each body panel is made of the same high-quality, injection-molded plastics as the original equipment manufacturers (OEM) require. Each performance modification is engineered and calibrated by Saleen to provide efficient power and exceptional handling, without over exerting the engine or drivetrain. The end result is an exclusive vehicle offering of high-performance cars and trucks unlike anything else on the road.
As of 2007, Saleen equipped more than 600,000 vehicles worldwide, including 12,000 complete and EPA-certified vehicles, more than any other specialty automobile manufacturer. Saleen also helps major automotive manufacturers engineer and produce their performance vehicles including the Ford GT and Harley-Davidson Edition F-150 for Ford Motor Company and Dodge Viper for Chrysler LLC.
To find one of 200 Saleen-certified Ford dealers in your area, please visit http://www.saleen.com.
Saleen Media Bureau
(949) 597-4900
pr@saleen.com
SOURCE: Saleen, Inc.