Car Reviews
Just Your Basic 480-Horsepower, Magnesium-Wheeled, Carbon-Fiber-Fortified, Scooped, Spoilered, and Supercharged Mustang
Writer: C. VAN TUNE; Photographer: RANDY LORENTZEN on January 02, 1995
Original Article: MOTOR TREND
It's as subtle as a 20-megaton bomb in a whoopee cushion. As conventional as Jeffrey Dahmer at a Kiwanis father/son picnic. And about as charming, erudite, and socially responsible as a great white shark in a bloody sea of baby harp seals. Make no mistake, the new Saleen SR is a predator of the highest order: a rapacious, wild-eyed, super-Mustang, purpose-built to feed on the weaknesses of others.
If you're looking for sensible transportation, look elsewhere. The Saleen SR likes nothing better than to stamp its big steel-toed workboots into the cherubic face of "sensible." Creator Steve Saleen's mindset here is one of total world domination-one Corvette, Porsche, or Ferrari at a time. And with a supercharged 5.8-liter Ford V-8 that produces well over twice the horsepower of a new Mustang's 5.0-liter, this veteran racer/car-constructor's latest offering is his meanest yet.
Now entering his 11th year of producing modified Mustangs, Saleen dishes up the most vicious ponycar available without a prescription. With a reported 80 more horsepower than the Dodge Viper's V-10 and 75 more than the Corvette ZR-1's DOHC V-8, the 480 horses churned out by this pressurized Ford V-8 makes the Saleen SR the most powerful American car sold in dealer showrooms.
Dealer showrooms. That's the operative phrase here. Saleen's cars aren't your typical "aftermarket" buy-by-mail-order concoctions. Rather, this California-based company has been certified by government officials as a "small-volume manufacturer." Over 3000 Saleen Mustangs have been sold since 1984, and the only way to get a '95 model is to purchase it from one of the 75 Ford dealers certified as "Team Saleen" members. Each car comes with a full factory warranty and a clean-and-green stamp of low-emissions friendliness.
For '95, Saleen offers four performance levels of Mustang. The bargain of the group is the V-6 Sport, a muscle-toned insurance-beater. The price for this package is approximately $18,000, but another four grand buys you a Vortech supercharger for the 3.8-liter V-6, a set of ceramic-coated headers, and electronic boost control. With a projected 220 horsepower, performance should at least equal that of the Mustang GT's 215-horsepower 5.0-liter V-8.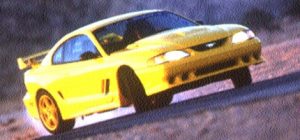 Grab the next rung of the performance ladder and clamp down on Saleen's potent S-351. Stuffed with a 5.8-liter (351-cubic-inch) modified Ford V-8, this $37,000 freeway flyer wears aluminum cylinder heads, a hydraulic roller camshaft, modified upper and lower intake manifold (sectioned and enlarged for improved high-rpm power), a larger-diameter throttle body and mass airflow sensor, higher-flow fuel injectors, ceramic-coated headers, and a low-restriction 2.5-inch-diameter Borla stainless exhaust system. Backed by a well-fortified suspension, 18-inch rolling stock and full-posture bodyshaping, the S-351 is a 371-horsepower gorilla with projected 0-60-mph times in the low 5s.
Pipe a Vortech supercharger onto the intake tract of that angry simian, and prepare to run for your life. Saleen's literature quotes the mechanicals as being an 8-psi system, but this motor swelled to 11 psi of boost by the recommended 5500-rpm shift point. Dyno sheets from Duttweiler Performance corroborated the internal-combusting muscle living beneath: With 480 horsepower at 5500 rpm and 487 pound-feet of earth-torturing torque at 3600 rpm, the Saleen SR is a nuclear-powered jackhammer-from-hell, capable of pulverizing small-town street toughs into quivering piles of emasculation with just one rap of the throttle. Prices start at $49,990.
An aluminum driveshaft and a four-row radiator are heavy-duty items unique to the SR, but the purpose-built equipment doesn't stop there. Everywhere you look, touch, or try to sit, Saleen has replaced the "sensible" factory part with an alternate component fashioned by some sort of whacked-out racing groupie. Most of it works quite well.
Regardless of its giant 18×10.0-inch Speedline five-spoke magnesium rear wheels wrapped with juicy 285/35ZR18 Dunlop SP8000 radials, there's more torque than traction until well past 60 mph. Outfitted with a transplanted Tremec five-speed and tough Auburn Traction Loc rearend with 3.27:1 gearing, the goes-sideways-just-by-looking-at-it Saleen SR requires a talented hand in order to extract 10/10ths performance, but it's so surprisingly easy to drive at 7/10ths that even Piltdown Man could dust off every new Corvette in town (despite the fact that such a fraud of anthropology couldn't have properly operated a stick-shift). At a test venue with less than perfect traction, we coaxed the SR from 0-60 mph in 4.7 seconds and through the quarter mile in 12.9 seconds at 117.0 mph. The last stock Viper we tested ran 0-60 mph in 4.5 seconds and bludgeoned the quarter mile in 13.2 seconds at 112.1 mph.
Saleen quotes top speed at 186 mph, which is about 40 mph faster than that of a stock Mustang GT. We didn't get the opportunity to corroborate that claim, but our vintage slide rule attests to the fact such a velocity is technically feasible-albeit careening toward the barrier of mechanical reason given the gearing limitations. Plug in the Viper's Borg-Warner T56 six-speed, and things could get really interesting.
Slathered in Saleen Racing Yellow paint and affixed with every race-car styling cue created since the era of Ray Harroun's Marmon Wasp, the SR embodies a look that evokes either mouth-watering stares of wanton lust or scrunched-brow grimaces of dyspepsia. Wearing a carbon-fiber hood with functional air vents, aggressive body side-scoops, and a dual-plane rear wing large enough to lift a vintage Stearman tail-dragger into the sky, this Saleen isn't a car you'll easily lose in a Chuck E. Cheese parking lot. The usual assortment of bulging fascias and tape-stripe graphics are included, but you can specify an even more outlandish $5500 "FIA Body Components" option that delivers carbon-fiber laminates in the front fascia, front fenders, and rear deck, plus the fitment of a Lexan rear window. Weight savings for racing use is the obvious sales tactic for this package, though at 3094 pounds, the SR already boasts about 285 pounds less heft than the Saleen S-351.
Part of that weight reduction came from the interior, where an upholstered shelf resides in lieu of a back seat, and thin-shell Recaro racing buckets replace the original Mustang couches. As curvaceous and purposeful as anything you'd find in a Group B rally car, these high-sided body-huggers are, however, nearly unusable by anyone with a wider pelvic girth than that of Macaulay Culkin. Combined with seat tracks that don't allow enough legroom for six-footers, these pinched-derriere torture chairs diminish much of the car's long-haul comfort.
The rest of the interior is pretty much standard Mustang in design, except for the addition of boost and fuel-pressure gauges in a dashtop pod (replacing the clock binnacle) and a technoid-looking carbon-fiber shift knob. A four-point chromemoly rollbar (officially referred to as an "internal chassis brace") is well integrated into the rear area. Adding color to the otherwise all-black cockpit are body-hued panels on the sides and backs of the seats, and inserts on the door panels. Saleen-spec white-faced gauges provide a 200-mph speedo and a classy look during the day, but absolutely abhorrent nighttime illumination that pours a mish-mash of green, red, and orange lumens out of every tiny opening in the cluster. We've seen better use of display lighting in a Hot Dog On A Stick menu board.
The car we tested (the first SR built) had been rushed through production to meet our deadline and had not yet received the Saleen serial number plates or safety harnesses. Drilled-aluminum pedal covers had been installed, bringing a wider throttle pad that noticeably aided heel-and-toe downshifts. Unlike the S-351 model, however, the SR isn't offered with leather upholstery nor as a convertible.
Suspension improvements come in the form of progressive-rate coil springs, gas-pressurized struts/shocks, urethane bushings, and a larger diameter front anti-roll bar (1.38 inch), plus the race-bred tweaks of camber/caster plates, a beefier Panhard rod, rear shock mount bracing, and reinforced rear lower control arms. The front-strut tower brace hadn't been installed at the time of our test, but chassis flex wasn't a problem. However, by using staggered-size tires (255/35ZR18s up front and 285/35ZR18s at the rear) aggressive steady-state cornering (such as that produced on a skidpad) lets the rears easily maintain their hold, while the overworked outside front tire gives up the ghost-resulting in understeer. There's little doubt the Saleen SR's 0.90 g of lateral grip could be improved upon by fitting same-size tires at all four corners, but it would be no minor challenge to stuff 285-series rubber under the front fenders. The other option, using 255-series tires at the rear, would only make for more impressive burnouts.
In real-world situations, where transient response and squirt-to-the-apex talent is more important than driving around a 200-foot diameter circle, the Saleen is in its element. Rapid steering response, precise turn-in control, excellent balance, and an overall authoritative road manner combine with the Lockheed SR-71 jet firepower to move you ahead in a big hurry. The car's 66.6-mph average speed through our 600-foot slalom was slower than expected (due to moderate twitchiness in the fast left-right-left maneuvers), but this is only part of the equation. From Mulholland to Malibu, the SR runs with all but the hottest Cafe bikes and makes you the center of attention upon arrival at the Sheriff's impound yard. Pizza-pan-sized grooved brake rotors (13.0-inch-diameter front; 12.0-inch rear) with Alcon four-piston calipers are standard and halted the rampaging pony from 60 mph in 117 feet, despite their present ABS incompatibility. With computer-modulated assist, that figure could decrease significantly.
Sure, there may be questions as to America's need for a 480-horsepower Mustang, especially one that tops $55,000 with every magic-bean race ornament installed. And no, we aren't the types who could live with such a temperamental brute on a daily basis. As a commuter car, the Saleen SR is as ridiculous as a GE turbine engine with a barbed-wire seat and training wheels attached. So take the minivan to pick up Nana for the weekend. To use this car properly, you need ready access to a road-racing track and a gas card with a six-figure limit. Then, it'd be one helluva fun ride.
Tech Data
Saleen Mustang SR
GENERAL/POWERTRAIN
Vehicle configuration
2-door, 2-passenger coupe
Engine configuration
90° V-8, OHV
2 valves/cylinder
Engine displacement, ci/cc
351/5752
Bore x stroke, in./mm
4.0 x 3.5/101.6 x 88.9
Compression ratio
8.8:1
Fuel/induction system
Multipoint EFI,
Vortech supercharger
Horsepower,
hp @ rpm, SAE net
480 @ 5500
Torque,
lb-ft @ rpm, SAE net
487 @ 3600
Horsepower per liter
83.4
Redline, rpm
5800
Recommended fuel
Premium unleaded
Transmission
5-speed manual
Axle ratio
3.27:1
CHASSIS
Suspension, f/r
MacPherson struts/solid axle
Steering
Rack and pinion, power assist
Brakes, f/r
Vented discs/vented discs
Wheels, f/r
18 x 8.5/18 x 10.0, magnesium
Tires, f/r
255/35ZR18/285/35ZR18, Dunlop SP8000
PERFORMANCE
Acceleration, sec
Stock
Saleen
0-30
2.4
2.1
0-40
3.5
3.1
0-50
5.0
3.9
0-60
6.7
4.7
0-70
9.2
6.0
0-80
11.7
7.3
0-90
14.7
8.4
0-100
—
10.0
0-110
—
11.7
Quarter mile, sec/mph
15.1/92.8
12.9/117.0
Braking, ft
30-0
31
29
60-0
125
117
Slalom, 600-ft, mph
66.8
66.6
Skidpad, 200-ft, lateral g
0.86
0.90
PRICE
Base price
$49,990
Price as tested
$51,500 (est. )
[Source: Motor Trend Magazine]