Car Reviews
Tuners: 1998 Saleen S351
By: JOHN PEARLEY HUFFMAN on May 02, 1998
Original Article: MOTOR TREND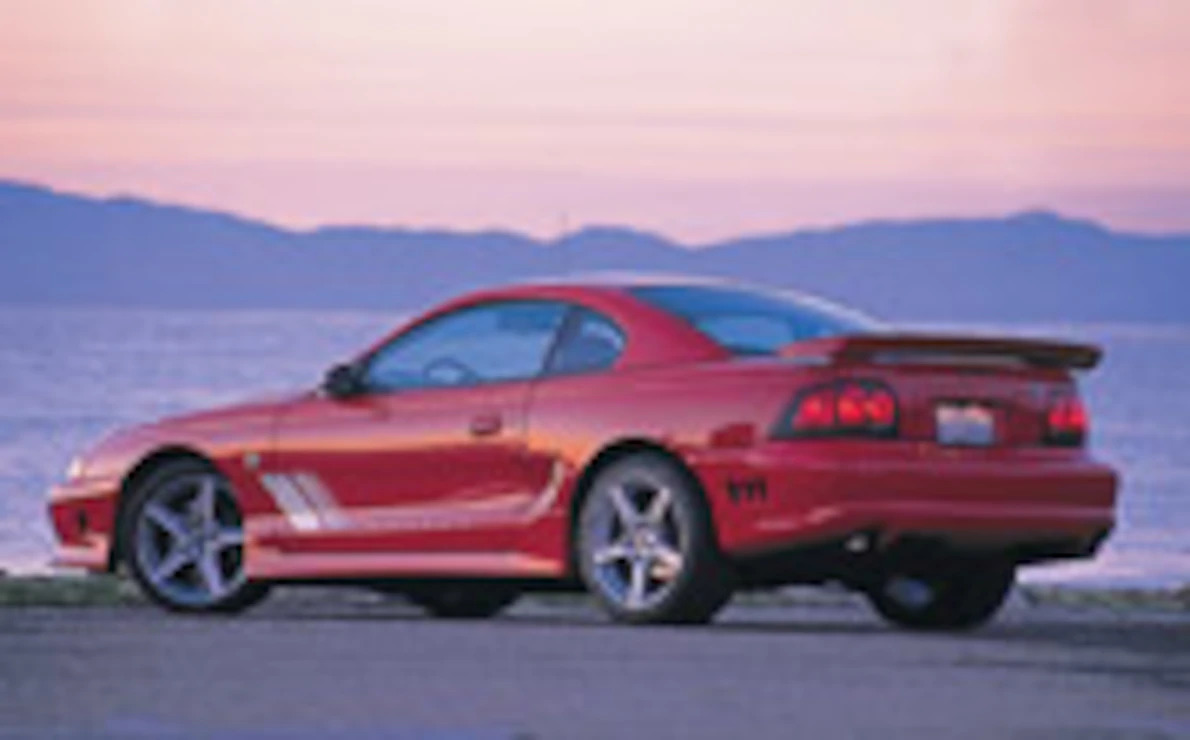 Saleen's supercharged S351 Mustang would be inexcusable if it weren't so fast. It's a fiend with so much brute torque the driver feels as if he could pull both the Titanic and the ocean floor beneath it up out of the North Atlantic. Through corners, it's as effective and subtle as a leopard clamping his jaw down on a zebra's femur. The S351 is for fanatics-those few people with $60K to spend who value sheer performance over sophistication, comfort, or the prestige of a luxury nameplate (and who just have to have a Mustang).
Saleen is a small-volume manufacturer, not a tuner, and the S351 is almost a completely un-Ford Mustang. Saleen starts with a base Mustang, rips out the V-6, and replaces it with a version of Ford's venerable 351-cubic-inch (5.8-liter) OHV V-8. Using TFS "twisted wedge" aluminum heads, the intake manifold from the old Lightning pickup, and a Vortech centrifugal supercharger produces, Saleen claims, 495 horsepower at 5500 rpm and 490 pound-feet of torque at 4500 rpm. Behind that is the Dodge Viper's Borg-Warner T56 six-speed transmission, and the rearend is packed with a hydraulic Gerodisc differential. The brakes are upgraded to 13-inch-diameter Alcons up front, and the suspension is lowered over a set of 18-inch five-spoke wheels wearing P245/40ZR18 front and P295/35ZR18 rear Michelin Pilot SX tires. The interior gets leather Recaro front seats, white-face gauges (including a 200-mph speedo and a dashtop boost gauge), and body-color trim.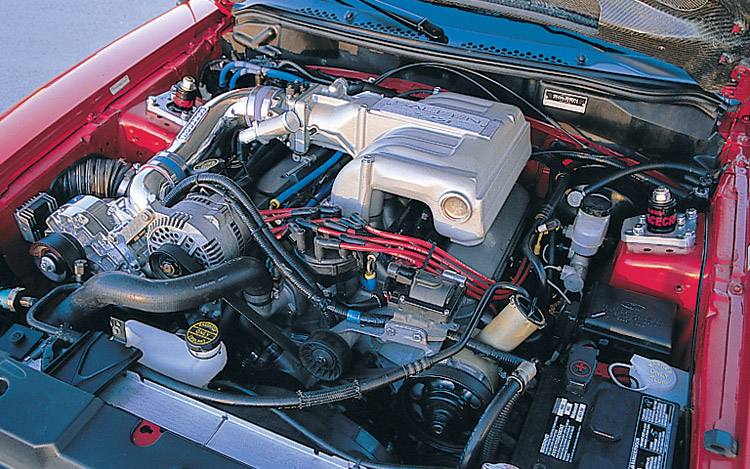 Saleen has done Mustangs long enough to know and apply every trick and subtlety from front camber adjustment plates through a composite hood and on to beefed lower rear control arms. Despite hellacious power, the S351's chassis is never overwhelmed, which, considering the Mustang's basic architecture, is amazing. That simple structure does, however, transmit tire noise into the passenger compartment, and bumps aren't something the suspension subdues peacefully.
Handling is remarkably neutral, and the limits are very high. The rabid blitz through the slalom averaged 70.8 mph, faster than every production car but the Viper GTS, Ferrari F355, and Porsche 911 Turbo. While much credit goes to the splendid Michelins, the differential is equally impressive. The distribution of torque is managed so that the rear end remains composed through every transition and stays planted under acceleration. Unfortunately, by the end of its stay with us, that diff was slipping.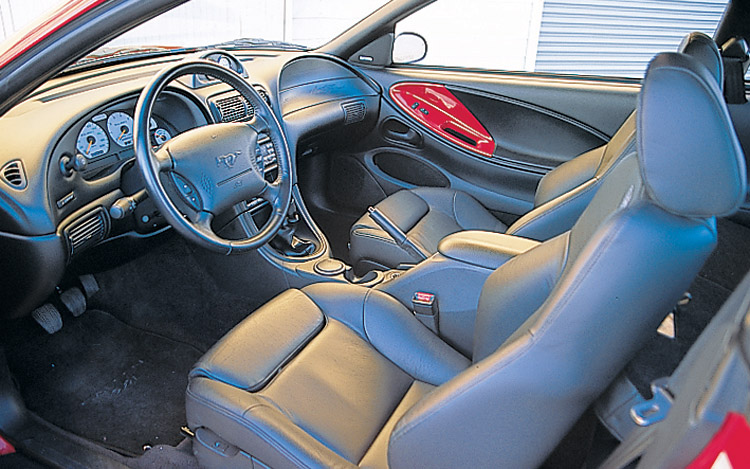 It takes two hands to select reverse in the short-throw shifter and the throttle travel is abrupt for casual cruising about town, but on the track it's magic. Launched modestly, the S351 ingested the quarter mile in 12.9 seconds at 116.8 mph and barged to 60 in 4.6 seconds. It's Ferrari-level performance that challenges even the venomous Viper GTS. But it takes a steady hand to extract it.
Even the barbaric Viper, though, seems a garden snake compared to the Saleen's rude steed. Civilized buyers need not apply.
| | |
| --- | --- |
| 1998 Saleen S351 Mustang | |
| Base price | $56,990 |
| Price as tested | $60,000 (est.) |
| ACCELERATION | |
| 0-30 mph | 2.1 |
| 0-40 mph | 3.1 |
| 0-50 mph | 3.9 |
| 0-60 mph | 4.6 |
| 0-70 mph | 5.9 |
| 0-80 mph | 7.0 |
| 0-90 mph | 8.3 |
| 0-100 mph | 10.1 |
| Quarter mile, sec/mph | 12.9/116.8 |
| Braking, 60-0 mph, ft | 112 |
| Slalom, 600-ft, mph | 70.8 |
| Skidpad, 200-ft, lateral g | 0.92 |
[Source: Motor Trend Magazine]