Car Reviews
A Thundering, Plundering, Viper-Eating Monstrosity
Writer: JEFF KARR; Photographer WESLEY ALLISON on April 02, 1996
Original Article: MOTOR TREND
For the first four seconds, you feel like you're at the wheel of a dragster with a stuck throttle in a giant pan of cooking oil. Slipping and sluing, the tach builds revs in a needle-blurring burst through first gear, then second. Your toes curl around the top of the gas pedal, trying to feel for traction that isn't there. You've backed off to half throttle, yet both double-wide rear Dunlops churn in a fog of rubber smoke.
Then at about 60 mph, the shift to third puts things right. Finally, the available grip can absorb most of this car's horsepower. Pulling through 4000 rpm, the pancreas-flattening rush is awesome. Fourth gear is even better. The g's barely diminished by the rising aerodynamic loads, you're pinned to the Recaro seatback more forcefully than in anything short of an F-15 in full climb.
Just when you're ready to scream, through 5500 rpm, the power begins to flatten, but there's no point in going for fifth this close to the end of the quarter mile. Before you can ponder this any further, you're shooting past the finish on the high side of 120 mph, then standing hard on the brakes.
You can inhale now. The timing gear displays a 119.3-mph quarter-mile terminal speed, a number that's difficult to relate to the performance range of normal cars. Muscular production cars, like the Corvette, just crest 100 mph in the quarter mile; really fast ones, like Porsche's 911 Turbo, can even exceed 110. But tripping the lights at close to 120 mph is a whole other level of thrill. To a driver seasoned in conventional cars, it creates a sensation akin to teleportation. It's a feeling to which Saleen S351 R drivers first become acclimated, then addicted.
The R-Code Saleen S351 is far from a conventional car, even though it's based on a production Mustang. Steve Saleen likes it that way. This is a real production vehicle, not a one-off. And you can order one through any Ford dealer, or see it at any of the 75 Team Saleen Ford dealerships that keep the model in stock. Each is an emissions-certified vehicle as easy to buy as an Escort, albeit for a lot more money.
Performance is the single standout feature here. And that's been Saleen's obsession since he began tinkering in earnest with Ford's ponycar in 1984. Today his company offers three different models. On the bottom end is the S281 (coupe, convertible, or Speedster), a modest evolution of the new modular-engined Mustang GT. The next step up is the S351 (around since late '94), which adds a 5.8-liter/371-horsepower OHV V-8 engine to the mix, among a host of other performance and cosmetic items. Slap the R-Code option on that puppy, and horsepower jumps to a peak of 480. At the pinnacle of the line is the SR, which gives you all the R-Code S351 stuff and less. Less back seat, less cushy civility, and most of all, less weight. Roughly 300 pounds lighter, the SR is the strongest performer in the Saleen line; however, in our estimation it's too stripped down to serve as a daily driver.
That task is left to the far more civilized S351 R. It begins life as a humble '96 Mustang V-6, direct from FoMoCo. The unused V-6 is popped out and sold back to Ford, and a Saleen-engineered Ford 351 is dropped in. It breathes through a cast-aluminum manifold and is fed by sequential fuel injection. Saleen-spec TFS aluminum heads cap the iron Ford block. A hydraulic roller cam and roller rockers help cut friction; exhaust is ushered overboard via ceramic-coated headers, stainless converters and exhaust, then finally through a pair of Borla 2.5-inch mufflers. The 351 is mated with a heavy-duty clutch, a Tremec five-speed manual transmission, a special drive shaft, and a heavy-duty rearend with 3.55:1 gearing.
Chassis changes are all-encompassing. Additional structural bracing delivers better chassis rigidity and in turn, wheel control. Saleen/Racecraft struts go up front and mount to adjustable camber/caster plates to allow for new alignment and setup specs. A huge 1.4-inch-diameter front anti-roll bar is fitted, and it rides on firm urethane pivot bushings to further tighten body-roll characteristics.
The Mustang's live-axle rear suspension carries on with the help of Saleen's quad-shock system, and another sausage-thick anti-roll bar. Ride height is dropped significantly with the addition of variable-rate coil springs at all four corners. Finally, a set of Saleen-designed 18-inch Speedline magnesium wheels are bolted in place.
On the outside, Saleen wraps the Mustang in new front and rear fascias, bodyside cladding, and a rear wing-which in our experience, combine to create more thumbs-up approval from passers-by than free Duff Beer. The Saleen exudes toughness, without the elitist overtones of the European exotics that approach its performance.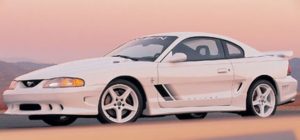 The S351 is priced at $42,990. Come forth with another $6244, and you can ante up to the R-Code Package of our test car. Lift the hood of an R-car, and you'll be greeted by a beautifully polished aluminum Vortech belt-driven supercharger that pumps an extra 109 horsepower out of the engine. Normally aspirated, peak horsepower is 371 at 5100 rpm; with the pressure on, you're looking at 480 horses at 5500 rpm. Torque is similarly enhanced, swelling from 422 pound-feet to 487 at 3600 rpm. Other R-Code delights include recalibrated engine management electronics and pizza-size 13-inch front brake rotors clenched by huge four-piston calipers.
Settle into the firmly supportive Recaro driver's seat and turn the key, and the car rocks harder than a Northridge condo sitting squarely on a fault line. But tip into the throttle even a little, and the engine smoothes instantly.
Don't let this taste of civility mislead, however. Even with only 2000 rpm registering on the tach, a sudden stab of half throttle will fling your Slurpee clear into the back seat. Boost arrives progressively, but by 3000 rpm or so, the intensity of the power delivery demands your full attention. Experience in tamer cars such as the Dodge Viper or Corvette Grand Sport won't fully prepare you for what this Saleen has to offer.
Nor will they ready you for the Saleen's race-car-spec handling. With firm spring rates balanced by specially nitrogen-charged dampers, the S351 R has a stiff-legged ride. Stiff, but not often abusive. Snap it into a corner, and the S351 R turns in progressively, staying slot-car flat all the while. The Saleen's chassis is balanced toward a hint of understeer, which can be teased away with the always accessible power. Squeeze on more, and you can transition to glorious tire-burning, teen-cheering oversteer.
Our slalom testing confirmed the Saleen's remarkably good transient handling-and sheer speed-with a best run of 69.7 mph. If not for having to test at a track with less grip than our usual venue, it likely would have broken into the 70-mph range. The same slippery, weathered pavement netted a mediocre 0.89 lateral g reading on the skidpad and an unremarkable 127-foot stop from 60 mph. With better test conditions, we expect the S351 R's figures would improve substantially.
The same goes for acceleration numbers: Tippy-toeing off the line, we were able to get the Saleen down to 5.2 seconds 0-60 mph-only a bit better than the last '96 Mustang Cobra (5.5 seconds) we tested at another facility, and slower than our recent 5.0-second run in a Viper also tested elsewhere. The Saleen's quarter-mile elapsed time was 13.4 seconds-0.2 second behind the Viper, but almost a second ahead of the Cobra.
The most telling figure is the Saleen's terminal speed, which is relatively unaffected by low grip off the line. At 119.3 mph, the S351 R is the fastest production street car (not a tuner special) Motor Trend has ever tested in the quarter mile, outrunning even the Saleen SR prototype we drove last year. At the quarter-mile mark, the Saleen pulls away smartly from the 113.4-mph Viper, and accelerates away from the Mustang Cobra at a rate of 17.6 mph-like Carl Lewis at a full run.
That's teleportation. That's the Saleen S351 R.
TECH DATA
Saleen Mustang S351 R
General
Manufacturer
Saleen Productions, Inc.,
Irvine, California
Location of final assembly plant
Irvine, California
EPA size class
Subcompact
Body style
2-door, 4-passenger
Drivetrain layout
Front engine, rear drive
Airbag
Dual
Base price
$42,990
Price as tested
$49,879
Options included
Supercharger R -Code Package, $6244;
B-pillar chassis brace, $345
Ancillary charges
Destination, $300
Typical market competition
Chevrolet Camaro Z28 SS,
Corvette Grand Sport, Pontiac Trans Am WS6
Dimensions
Wheelbase, in./mm
101.3/2572
Track, f/r, in./mm
61.6/60.7/1565/1542
Length, in./mm
182.0/4623
Width, in./mm
71.8/1824
Height, in./mm
50.1/1273
Ground clearance, in./mm
3.0/76.2 (est. )
Manufacturer's base curb weight, lb
3375
Weight distribution, f/r, %
58/42
Cargo capacity, cu ft
10.8
Fuel capacity, gal
15.4
Weight/power ratio, lb/hp
7.0
Engine
Type
90° V-8, liquid-cooled, cast-iron block,
cast-aluminum heads
Bore x stroke, in./mm
4.0 x 3.5
101.6 x 88.9
Displacement, ci/cc
351/5752
Compression ratio
8.8:1
Valve gear
OHV, 2 valves/cylinder
Fuel/induction system
Sequential EFI, supercharged
Horsepower
hp @ rpm, SAE net
480 @ 5500
Torque
lb-ft @ rpm, SAE net
487 @ 3600
Horsepower/liter
83.5
Redline, rpm
5750
Recommended fuel
Premium unleaded
Driveline
Transmission type
5-speed manual
Gear ratios
(1st)
3.27:1
(2nd)
1.98:1
(3rd)
1.34:1
(4th)
1.00:1
(5th)
0.68:1
Axle ratio
3.55:1
Final drive ratio
2.41:1
Engine rpm,
60 mph in top gear
2000
Chassis
Suspension
Front
MacPherson struts, lower control arms,
coil springs, anti-roll bar
Rear
Live axle, four trailing links,
coil springs, anti-roll bar
Steering
Type
Rack and pinion, power assist
Ratio
14.7:1
Turns, lock to lock
2.4
Turning circle
38.3
Brakes
Front, type/dia., in.
Vented discs/13.0
Rear, type/dia., in.
Vented discs/11.7
Anti-lock
Standard
Wheels and tires
Wheel size, in.
18 x 8.5/18 x 10.0
Wheel type/material
Cast magnesium
Tire size
255/35ZR18/285/35ZR18
Tire mfr. and model
Dunlop SP8000
Instrumentation
Instruments
200-mph speedo; 7000-rpm tach;
coolant temp; fuel level;
oil press.; volts;
supercharger boost;
fuel pressure; digital clock
Warning lamps
Check engine; battery; brake; belts;
ABS; airbags; low oil
Performance and Test Data

Acceleration, sec
0-30 mph
2.6
0-40 mph
3.7
0-50 mph
4.5
0-60 mph
5.2
0-70 mph
6.6
0-80 mph
7.6
0-90 mph
8.7
0-100 mph
10.5
Standing quarter mile
sec @ mph
13.4 @ 119.3
Braking, ft
30-0 mph
33
60-0 mph
127
Handling
Lateral acceleration, g
0.89
Speed through 600-ft
slalom, mph
69.7
Speedometer error, mph
Indicated
Actual
30
29
40
39
50
50
60
60
Fuel Economy
EPA, city/hwy., mpg
15/26
Est. range, city/hwy., miles
231/400
THOUGHTS
Although the blown 5.8-liter V-8 has a loping idle sure to strike fear in stoplight tough guys, it can be as gentle as a pussycat-a 480-horsepower pussycat. Saleen claims a top speed of over 180 mph.
The snug-fit Recaro seats are significantly more bolstered than their stock counterparts. That's good. But with an as-tested sticker of just over $50,000, this Saleen about doubles the price of a Mustang GT.
Convenience items are standard Mustang fare, which means they work without a fuss. White-face Saleen instrumentation is easy to read in daylight (much less so at night). Fuel pressure and supercharger boost gauges live atop the dash.
[Source: Motor Trend Magazine]