By: MATT STONE on April, 1998
Original Article: Motor Trend
Future Trucks
A Street Rod For The Rubicon Trail
Think of it as a V-8 Plymouth Prowler (with a back seat) that can also tackle a challenging trail with the best of the Jeep family. With its new-for-'99 4.7-liter/275-horse SOHC V-8, which will debut in the Grand Cherokee, and its unique, electronic four-wheel, independent adjustable suspension, you really could go anywhere with confidence-street or stream, boulevard or boulder-strewn trail.
The Jeepster's dashboard-adjustable suspension switch allows the rod/ute a 4-inch range of travel, from a ground-hugging 5.75 inches to a rock-climbing 9.75 inches of clearance. The two-plus-two Jeepster, which takes its name from the now rare and collectible '50 Willys Convertible, has a roster of useful features like water-resistant leather seats, a global positioning system, altimeter, grade and roll indicator, and exterior temperature gauge. Its full-time 4WD system is viscous coupled to a four-speed automatic that rotates huge 19-inch "Hot-Wheels"-inspired wheels equipped with "run-flat" Goodyear Extended Mobility Tires, eliminating the need for a spare.
The cool "what if" exercise certainly raises the possibility of eating your Rocky Road ice cream at the drive-in diner or at the top of the nearest mesa. It seems multiple personalities could pay dividends, after all.-Chris Walton
Performance Test
Saleen Explorer: A Performance/Utility Vehicle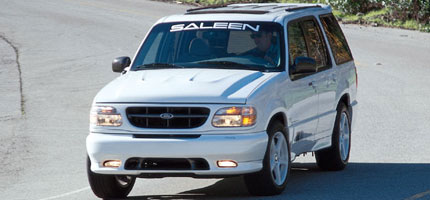 The sport/utility vehicle market continues to subdivide itself. There are now full-size luxury SUVs, convertibles, and others. To this, add the newest trend: the PUV, or Performance Utility Vehicle. Everywhere we look, someone is slamming, supercharging, brake-equipping, and killer-suspending SUVs to perform like-believe it or not-cars.
Saleen Performance has been manufacturing steroid-injected Mustangs for more than a dozen years, and decided the top-selling Ford Explorer was an ideal canvas for its brand of performance redo. Steve Saleen and his band of designers, engineers, and assemblers have taken their customary approach to enhancing the Explorer; upgrading not only the engine, but (if desired) the braking, suspension, appearance, and interior accommodations.
The Saleen Explorer comes in two- or four-wheel-drive four-door configurations, packing either a SOHC 4.0-liter V-6, a 5.0-liter V-8, or a Saleen-developed supercharged 5.0-liter/286-horsepower V-8. Packing a dealer-installed Powerdyne blower, this top-of-the-line model is the subject of our test.
Saleen lowers the Explorer about 2 inches, for both improved handling and appearance. Springs and shocks are swapped for the company's Racecraft components, and rolling stock is upgraded to Saleen's own 18-inch genuine magnesium wheels wrapped by Pirelli 255/55SR18 Scorpion S/T radials.
The exterior appearance package includes special front and rear fascia, side skirts, door cladding, roof-mounted rear wing, and faux carbon fiber trim. The cabin is treated to either a real wood or carbon fiber appearance package, depending upon color choice, as well as Saleen gauge faces and floor mats. A particularly nice, though pricey, option is Saleen/Recaro leather seating ($3950), offering 10-way power adjustment up front and hip-hugging support.
According to Saleen, the goal is to enhance the Explorer's on-road handling and performance with a minimum reduction in its off-road capability. Many SUV users will never leave the asphalt, so max ground clearance is seldom an issue to these folks. On the pavement, the Saleen corners much more confidently than just about any standard sport/ute. There's a bit of a ride penalty, but the reduction in body roll will be worth it to many drivers.
Our test showed a 0-60-mph time of 7.4 seconds (an improvement of 3.3 seconds over a stock V-8 Explorer). Also significant: 60-0 braking distances are reduced by 26 feet. A big portion of the 0.09 g jump in max cornering forces (0.76 for the Saleen, 0.67 for the stocker) goes to the serious wheel and tire package. Though we did not test its towing capability, we suspect the Saleen Explorer will be popular among those sporty, active lifestyle folks who haul a boat or trailer full of personal watercraft. Increasing supercharger boost would add even more horsepower, but punchy midrange power and long-term dependability were judged more important than Top Fueler acceleration. And you've gotta love the tunes issued by the rumbling Saleen/Borla exhaust system.
The MSRP for a V-6 Saleen Explorer is $41,990, and a fully loaded supercharged V-8 model with all available options will run around $56,000. Both Ford's and Saleen's own warranties apply. See your Saleen-qualified Ford Dealer.
What's next, the Swiss Army knife SUV?