VIN: 1FAFP42X4XF144056
Condition: Used
Vehicle Title: Clear
Year: 1999
Model: Mustang
Trim: Saleen
Engine: 4.6L 281Cu. In. V8 GAS SOHC
Number of Cylinders: 8
Fuel Type: Gasoline
Transmission: Manual
Drive Type: RWD
Mileage: 10,636
Sub Model: Saleen S281
Body Type: Coupe
Warranty: Vehicle does NOT have an existing warranty
Options: Leather Seats
Exterior Color: Yellow
Interior Color: Charcoal
For Sale By: Harwood Motors
eBay #: 221949553590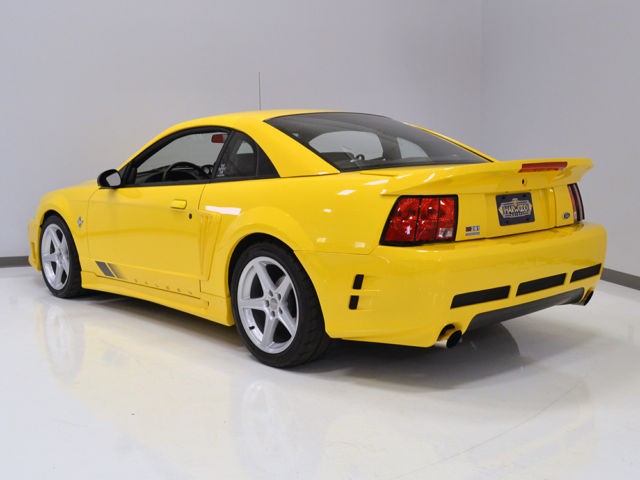 Anyone who is a Mustang fan knows the name Steve Saleen. The Mustangs bearing his name have been special since the reinvention of performance back in the early 1980s and his work has been synonymous with high-quality horsepower since day one. As the Mustang evolved, so did Saleen's performance, always pushing boundaries without sacrificing the other virtues that made Saleen Mustangs competition for BMWs more than Camaros. And perhaps most remarkably, Saleen's expertise has made them the go-to people for Blue Oval performance, starting with the Saleen S7 supercar that now changes hands for nearly $1 million and including the Ford GT, which, shockingly enough, was subcontracted to Saleen for production. It seems that anything bearing the Saleen name is bound to be impressive in every way.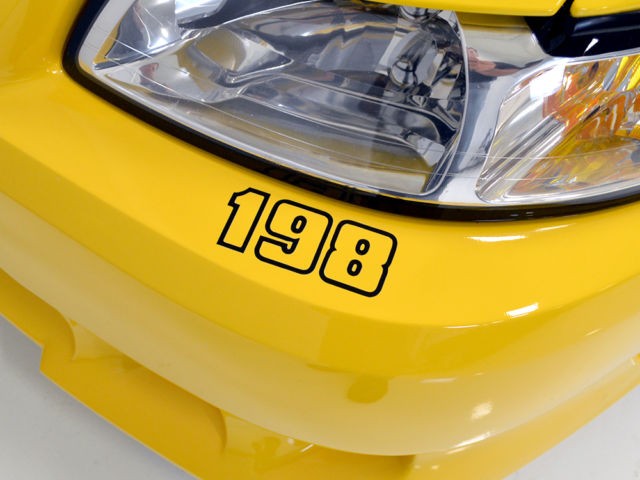 Which brings us to this brilliant Chrome Yellow 1999 Saleen S281 SC. In 1999, Saleen was granted manufacturer status, which means this is not just a Ford Mustang with some aftermarket parts, but rather a fully engineered car that is recognized as a separate brand. Now, of course the Mustang DNA is obvious everywhere you look, but as usual, the Saleen upgrades have transformed it into something special. 1999 was also the Mustang's 35th anniversary and the debut of the "New Edge" styling, all of which combine to make what is arguably the best-looking fourth-generation Mustang of all. Even more interesting, Saleen only built 421 cars in 1999, of which this is #198, and of those, only 64 were S281 SC coupes, so it's hardly the kind of thing you'll see on a regular basis. This particular S281 SC shows just 10,636 original miles and has just one owner from new, making it the very best kind of performance car to find. It has obviously been babied since day one, never used as a daily driver, and I'd wager that the number of times it has seen rain could be counted on one hand. You probably won't find a nicer one.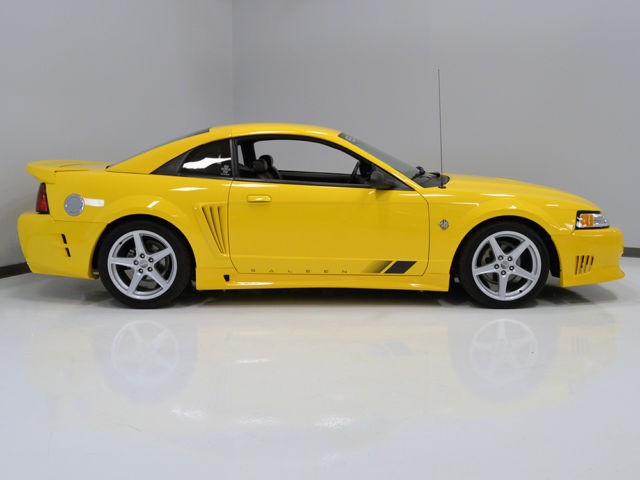 Chrome Yellow was one of the signature colors on the Saleens in 1999, and if you looked in any of the magazines of the day, you'd probably see reviews of a car very much like this coupe. There's no denying that the finish is vivid, a three-stage paint that Ford used on a select few Mustangs that year. Saleen added their usual body kit, which smoothly blends Saleen and Ford parts to create a tasteful but dramatic look that's also very functional. There's a custom chin spoiler up front, complete with Saleen production number under the left headlight, a tradition from the very beginning. The side skirts visually lengthen the musclebound Mustang, and custom "gills" in the quarter panels, a special C-pillar was added, and a SALEEN-emblazoned rear bumper finishes the look. Oh, and there's also a special wing that's aggressive but not ridiculous, something that's hard to avoid in the Mustang aftermarket. Of note, the ground-effects show correct Saleen part numbers and patents, proving that they're the real deal and not fiberglass knock-offs and the subtle black Saleen graphics are about the only part of the car that are low-profile. Of course, it remains in excellent condition with so few miles, showing only one or two scuffs that have been touched up properly. It has never been hit, wrecked, or rusty, and the fit is remarkably good, as you'd expect from a car with an original price tag that was nearly 50% more than a stock Mustang GT.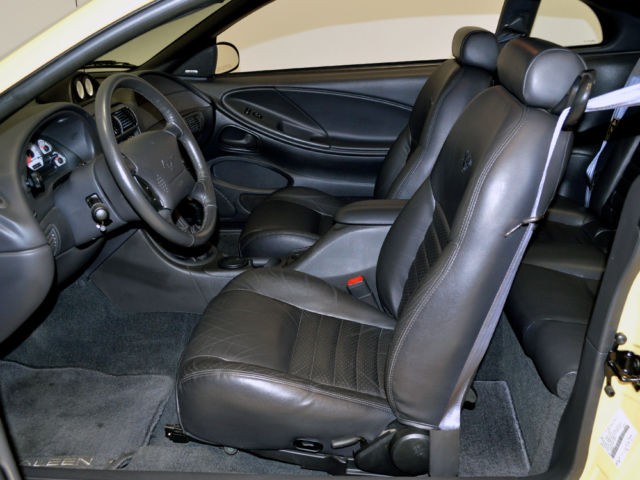 The interior was less dramatically modified but there are still plenty of Saleen-exclusive touches. The original black leather buckets are plenty supportive for the kind of driving this car enjoys and remain in excellent condition with only light comfort marks on the driver's chair. The door panels, dashboard, and headliner are all pretty much as-new, and there are Saleen-logo floor mats protecting the carpets. Saleen added a set of special white-faced instruments to the Ford gauge panel, including a 200 MPH speedometer, which is probably not just hyperbole in this particular car. Custom pedals give it a racy look and the short-throw shifter for the 5-speed manual transmission feels more like a toggle switch with positive engagement and slick throws. Up top, there's a special gauge pod with more white-faced gauges, this time for boost pressure and intercooler temperature, and the installation is so neat that you almost think that's the way Ford did it originally. Of course, just about everything was standard on the Saleen, including power windows, locks, and mirrors, A/C (still ice cold!), and the Mach 460 sound system, which sounds fantastic, even today. The back seat has probably never hosted a visitor and the trunk looks new and includes a space-saver spare that's never been down. If you want fresh, clean, and unabused, this Saleen delivers.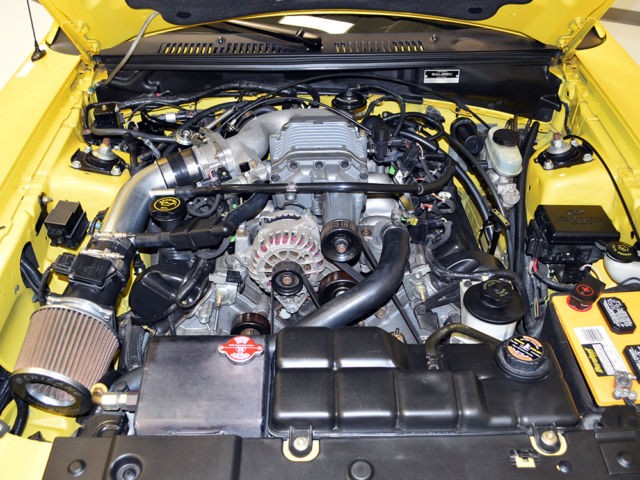 The big upgrades are under the hood, and that's where this particular Saleen gets its name. The 281 stands for 281 cubic inches, the displacement of Ford's 4.6 liter SOHC V8. The SC part stands for SuperCharged, which comes complements of a roots-style blower sitting neatly atop the engine. Known for instant boost and big torque, it transforms the mild-mannered 4.6 into a torque factory capable of incinerating the tires through the first three gears. There's a trick air-to-liquid intercooler with its own pump and cool little radiator with electric fans tucked under the nose, which helps ensure consistent air temperatures and keeps the engine happy with pump gas despite 10 PSI being forced down its throat. The result is 350 horsepower and 410 pounds of torque, which totally transforms the Saleen's demeanor without hurting its user-friendliness. Turn the key and it starts instantly, thanks to custom tuning by Saleen's experts (remember, they were an OEM at this point, so they had to get it right), and if you don't get too aggressive, it's perfectly happy to trundle around town and sit in traffic with the A/C blowing. But get it out on the open road and you'll quickly learn that it makes full boost faster than you can get your foot on the floor and going full throttle in any of the first three gears generates fearsome acceleration and quite a bit of tire smoke, too. The remarkable thing is how docile it feels, yet the performance envelope is huge. Other Saleen upgrades include a custom exhaust with X-pipe and Borla stainless mufflers, oversized throttle body, and a special air filter assembly.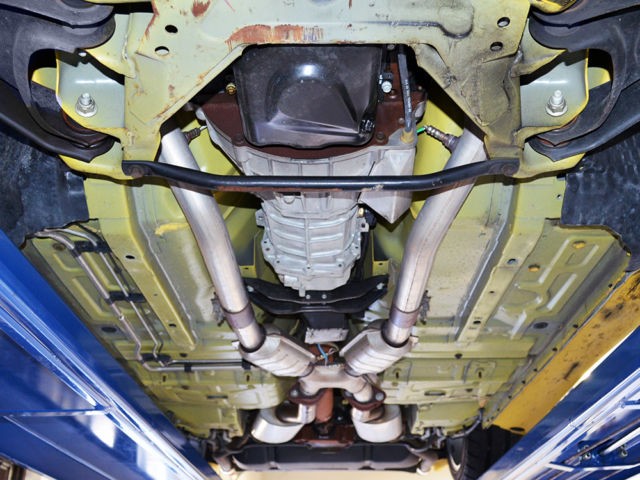 The 5-speed manual gearbox doesn't seem to mind the added torque churning through it and thanks to Saleen's special shifter and upgraded clutch, it's a joy to row it through the gears. 3.27 gears were standard equipment, and that's what's in this car, since with all that torque you don't really need a lot of gear to get things moving. Saleen added select Racecraft suspension components, including springs, sway bars, and shocks, plus a few chassis reinforcements to sharpen steering feel. The Mustang already wore 4-wheel disc brakes with ABS, so no major upgrades were required there, and they look fantastic behind the gorgeous 18-inch Saleen alloy wheels, which are some of the most attractive wheels ever created. The original owner specified a standard gray finish on the wheels rather than chrome, and with this bright yellow car, that was absolutely the right choice. There are no scuffs or curb rash on the wheels and they're fitted with giant 265/35/18 front and 295/35/18 rear Nitto performance radials that look to be only one step removed from the track.
"Power in the hands of a few" has been Saleen's motto from the beginning and this awesome 1999 S281 SC delivers in a big way. Rare, gorgeous, fast, and polished, it's a no-compromises performance car that's also shockingly affordable. Call today!
Click here to participate in the discussion.