MUSTANG BIO
Fox Afire – Saleen's '88 R-Model Racer
By: MARK LAMASKIN & KEVIN ADOLF on March 2014
Photos: KEVIN ADOLF
Original Article: FOX MUSTANG MAGAZINE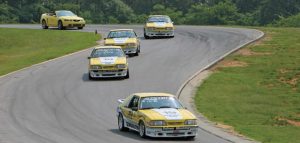 Race on Sunday; sell on Monday. It's an old adage that's been around for decades, and it has worked for car manufactures all over the world, including Saleen.
Most know that Steve Saleen began building custom street cars in the mid-'80s. What many don't know is that by 1986 Steve was building and racing Saleen R-models. Saleen built 16 factory R-models, fewer even than Shelby's 26 R-models. Because as few were built, it's even rarer to see one in person, let alone four under one roof.
The most recognized Saleen race cars are nicknamed the "bumble-bee" cars from 1987 to 1989. Saleen built only eight of these R-models from brand-new cars, and they were destined to be race cars from day one.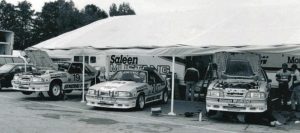 Saleen campaigned these cars from 1986 to 1989 in an endurance race series, constantly testing them at 12- to 24-hour races with multiple drivers. The venue, the SCCA Escort Endurance Race Series, was sponsored by the Escort Radar Detector company. Escort and Saleen had other partnerships throughout the Fox-body ages, since an Escort radar detector was an option when purchasing a Saleen from the dealer. The Escort Endurance Series was intended to showcase the best that all the manufactures had to offer and was better known as Showroom Stock, meaning the cars had to be raced in the same trim as if you purchased the car off the showroom floor. Keeping the cars mostly stock was to deter "ringers" from being custom built by the manufacturers. All cars had to have a production VIN, and only minor modifications were allowed.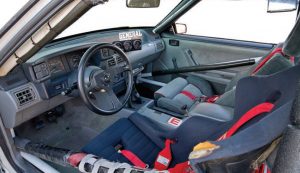 The only allowable engine modification was engine blue-printing and balancing for durability, while for the suspension, shock and spring changes were about it. As for interiors, all cars had to have a SCCA-approved roll cage, fire system, and race seats. Other than those few changes, the cars were stock inside. The passenger seat was a stock Saleen Flofit. The door panels were still stitched with the Saleen logo. The dash was stock. All of the interior panels were truly Showroom Stock. That's about where "stock" ends with these cars, though.
As with any form of racing, Showroom Stock or not, if you want to be out in front you need to push the boundaries a bit. Saleen went one step further by hiring Dave Dixon, a former F1 engine builder, to head up their engine program. A factory-stock Mustang 5.0 would put down about 200 rwhp on a chassis dyno, but a Dixon-built motor put down 265 rwhp, giving the Saleen team a distinct advantage over its competitors.
Dixon had the task of finding a little more horsepower out of the completely stock power plant while keeping the overall appearance as stock so the SCCA officials would be none the wiser. One way he found extra power was to use a set of preproduction GT-40 cylinder heads with a stock E7 casting equipped with a set of factory-appearing, stamped rocker arms with a larger ratio. During a visual inspection, they looked completely stock. Another trick was a then-new process called Extrude Hone, running an abrasive material through the intake runners under pressure to open them up without creating visible porting marks as with grinding. This increased the flow to match the GT-40-style cylinder heads.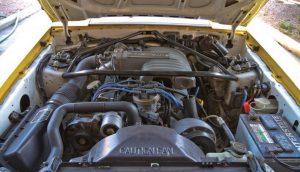 To help hide the unapproved modifications that Dixon had done to the cylinder heads, he had them shot-peened to look like factory castings. Inside the engine, one last mod was a custom camshaft that Dixon spec'd with stock life values, but with custom overlap and duration which was optimized for the high rpm seen during road racing. Another trick Dixon found was a Lincoln LSC speed-density intake tube, which flows more air than the stock Mustang piece. As well, he took the stock Ford headers and slightly ported them to increase exhaust flow. Behind the headers, all R-models used a Ford Motorsport off-road pipe and 2 ¼-inch DynoMax mufflers.
Another thing you may notice is that ALL of the '87-'89 Saleen R-models are Speed Density and not Mass-Air. Dixon found that the stock Speed Density computers worked better with these modifications but needed to be upgraded to 24-pound injectors to compensate for the increased airflow. Dixon would actually have Saleen try dozens of ECUs to find the best one for each motor since they had to be factory sealed and never tampered with. This may sound like a lot of work to go Showroom Stock racing, but… well, welcome to racing.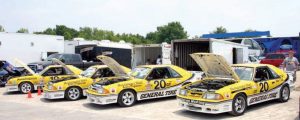 The cars ran stock T-5 transmissions, but they too were blueprinted to ensure reliability under 24-hour abuse. Ratios remained stock, but Saleen would use 3.55:1 and 3.08:1 rear gear ratios, depending on the track. The rear differentials were prototype parts from Auburn. The "Pro" differentials they currently sell was prototyped on the Saleen race cars. This a cone-type differential that gave the Saleen Rs a better launch off the corners.
These completed engine packages also included hidden stamps on all of the parts. Each engine was issued a specific number, so when they were rebuilt none of the parts got mixed up.
The tricks of the bumble-bee cars did not end with just the drivetrain. Saleen also massaged the body to accommodate 8-inch-wide wheels in the front with one inch of added track width. This additional front track kept the cars square with the additional inch of rear track from the Saleen rear disc brakes with 8-inch rear wheels. The '86-'88 cars ran the stock Saleen brakes on all four corners, but the '89 cars ran a set of upgraded JFZ front brakes because Ford offered them in the Motorsports catalog. Saleen's tire sponsor was General Tire, and they provided the team with G-compound race rubber that was much wider than the tire size branded on the side of the tires – another advantage Saleen.
Suspension was also not quite stock. Saleen installed harder bushings in a few of the control arms, and each car had specific springs to account for the driver's weight and to optimize corner balance and cross weights. The '88 cars had 750-pound fronts and 300-pound rears, depending on the track, but the later '89 cars ran 1,000-pount front. With all of these modifications the cars were still close to factory weight due to the addition of the roll cages, but they started lighter than stock due to the lack of A/C and other power options.
The racing history for each car is unique because there could be as many as five drivers at any one race. The list of drivers for these Saleen R-models reads as a "who's who" of late-80s' big name drivers, including Tommy and Bobby Archer, Calvin Fish, Rick Titus, Pete Halsmer, George Follmer, Desire Wilson, Lisa Caceras, and of course, Steve Saleen. The tracks they raced are also renowned: Road Atlanta, Mosport, Mid-Ohio, Sebring, Sears Point, Portand, Road America, and Brainerd.
ABOUT OUR FEATURE CAR
Today, its racing days are over, this rare racer resides at Performance Autosport in Richmond, Virginia, part of a set of four General Tire bumble-bee Saleen R-models. Owner Mark LaMaskin and a Performance Autosport customer have carefully preserved this part of Fox Mustang history. But even as pedigreed R-model racers with obvious collectability, these cars still get exercised at the track now and then – keeps 'em happy.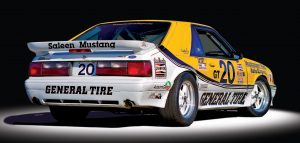 ---
SPECIFICATIONS:

PRODUCTION

Saleen R-Model 1987-89
8

DIMENSIONS

Wheelbase (inches)
100.5
Overall length (inches)
179.6
Overall width (inches)
69.1
Height, hardtop and hatchback (inches)
52.1
Front track (inches)
57.1
Rear track (inches)
57.0
Curb weight (pounds)
2,890
Base price
$21,500 (est) – Street Model
Current est. value depending on race history
$60,000-$90,000

ENGINE

Type
V-8
Bore and stroke (inches)
302
Displacement (CID/liters)
5.0
Compression ratio
9.2:1
Horsepower, factory rating
225 @ 4200 rpm
Torque, factory rating
300 @ 3200 rpm
Horsepower, actual rwhp on chassis dyno
253 @ 5000 rpm
Torque, actual rw torque on chassis dyno
308 @ 3600 rpm
Induction
EFI
Camshaft
single, in block
Valve size, intake/exhaust (inches)
1.78/1.46
Exhaust
dual pipes/mufflers, off-road H-pipe

SUSPENSION

Front suspension
modified MacPherson hydraulic shock struts with coil springs and stabilizer bar
Rear suspension
four-bar link and coil spring system, w/anti-sway bar
Steering
power-assisted rack-and-pinion
Brakes, front
power-assisted 11-inch rotors – single piston calipers
Brakes, rear
SVO rear disc – single piston
Tires
General XP2000Z – 245/50/16

DRIVETRAIN

Transmission, manual (standard)
T-5 five-speed
Axle Ratio
3.55:1

PERFORMANCE

Quarter-mile (seconds)
13.9
0-60 (seconds)
5.8
[Source: Fox Mustang Magazine]