Whitefish, MT / April 7th, 2014 / Ford Motor Company (NYSE: F) has been steadily improving its top-line since the market crash in 2008 and investors have been noticing. Since the beginning of the year, Ford shares have increased 6.88% compared to the S&P 500's 2.75%, Toyota Motors Inc.'s (NYSE: TM) -7.43%, and General Motors Inc.'s (NYSE: GM) -13.36%. At the same time, its valuation multiples remain lower than both of these competitors. In this article, we will take a look at Saleen Automotive Inc. (OTC: SLNN), how it could capitalize on Ford's successful turnaround, and some of its upcoming projects including its work on the Tesla Motors Inc. (NASDAQ: TSLA) Model S.
Successful Turnaround Strategy Ford managed to quickly recover from the market crash in 2008, with revenues rebounding from a low of around $25 billion per quarter in 2009 to nearly $40 billion per quarter today. While these figures are still well off of its highs of around $45 billion per quarter, management has steered the company in the right direction with an innovative turnaround plan involving both restructuring and new vehicles.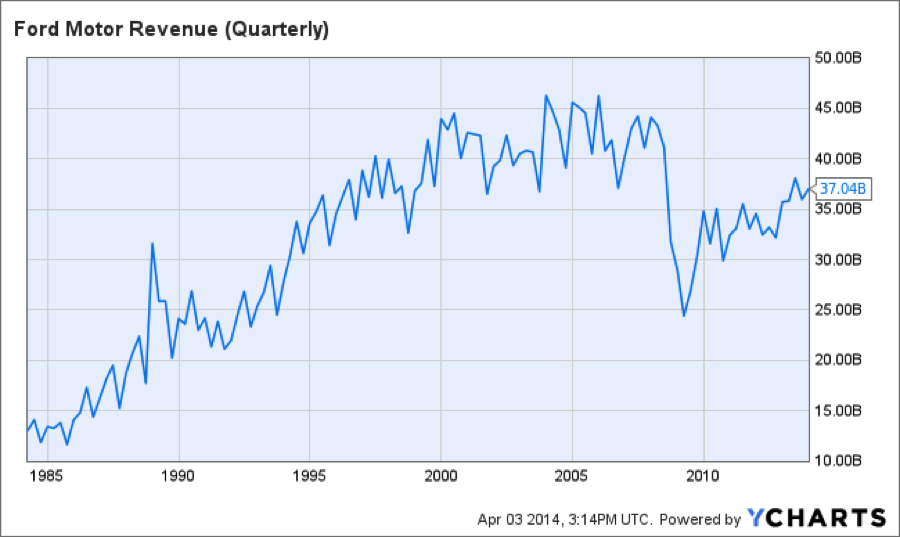 According to its most recent 10-K filing, Ford has been undergoing aggressive restructuring in order to operate profitably and to accelerate the development of their new vehicles. These new vehicles include an all-new Mustang that is set to launch in the United States this fall. The new model will be more customizable with three different engine choices and will feature superior handling that is enabled by a fully independent suspension. Ford's vehicles have also been improving in quality. Global warranty repairs have fallen 66% between 2005 and 2013, suggesting that there are fewer incidents of warranty repairs per 1,000 vehicles in the first three months of service. New features like its SYNC in-car connectivity systems have also made its vehicles more advanced than many of its competitors' in terms of digital capabilities.
Saleen's Opportunity to Benefit Saleen Automotive Inc. (OTC: SLNN) specializes in developing high-performance cars built from base chassis of Ford Mustangs, Chevrolet Camaros, and Dodge Challengers. In addition to these vehicles, the company produces supercars like its S7 that was recently featured in the Need for Speed feature film, as well as electric cars that are currently under development and set to launch soon.
Founded by Steve Saleen, the company has continually set the bar for both automotive design and performance engineering in street and racing applications. With an interest in fast cars from an early age, Steve was able to work his way up through the ranks of club racing to eventually start a professional career. In 1980, he finished third in the Formula Atlantic behind the likes of Jacques Villenueve.
After racing competitively for a number of years, Steve Saleen set out in 1983 to build the first Saleen Mustang. The Saleen Mustang had a fully customized suspension, special aerodynamics, improved handling, and a completely redesigned interior. The custom Mustang went on to compete in the 1986 Mosport 24-hour race, finishing first in its class. By 1996, Mr. Saleen was inducted into the Mustang Hall of Fame along with Carroll Shelby. Saleen has already seen a lot of success after becoming a publicly traded company in mid-2013.
During the 9-months ended December 31, 2013, the company reported vehicles and parts revenue that increased 179.5% year over year to $3,570,722. Consumer demand for high-end muscle cars continues to be robust and growing in the U.S., particularly as the economy continues to improve. Ford, too, has realized that there are many consumers who are looking for a greater choice of customization, have extra disposable income, and yearn for a return to the glory days of American muscle cars. The latest Mustang offerings attest to this trend and help to reiterate Saleen's business model. Saleen's branded products include a complete line of upgraded muscle cars, high-performance cars, automotive aftermarket specialty parts, and lifestyle accessories, while also having several unique projects in development.
In addition to its muscle cars, Saleen is also developing a next-generation American supercar along with zero-emission vehicles for commercial applications and consumer markets. Tesla Motors Inc.'s (NASDAQ: TSLA) Model S represents a key upcoming project that could further drive growth. Management plans to unveil more details relating to that project later this month. Remember to do your own due diligence, and to read all the companies filings and materials that are publicly available before making any investment decisions.
For more information on Saleen Automotive, Inc., see the following resources:
– Company Website: http://www.saleen.com
– Latest SEC Filings Click here to receive free email updates on Saleen Automotive, Inc. – http://www.tdmfinancial.com/emailassets/slnn/slnn_landing.php
Disclaimer: Except for the historical information presented herein, matters discussed in this release contain forward-looking statements that are subject to certain risks and uncertainties that could cause actual results to differ materially from any future results, performance or achievements expressed or implied by such statements. Emerging Growth LLC is not registered with any financial or securities regulatory authority, and does not provide nor claims to provide investment advice or recommendations to readers of this release. For making specific investment decisions, readers should seek their own advice. Emerging Growth LLC may be compensated for its services in the form of cash-based compensation or equity securities in the companies it writes about, or a combination of the two.
For full disclosure please visit: http://secfilings.com/Disclaimer.aspx
Source: Accesswire IA (April 7, 2014 – 5:07 PM EDT)
News by QuoteMedia: www.quotemedia.com