PHOTOS & TEXT: JEFF CANNON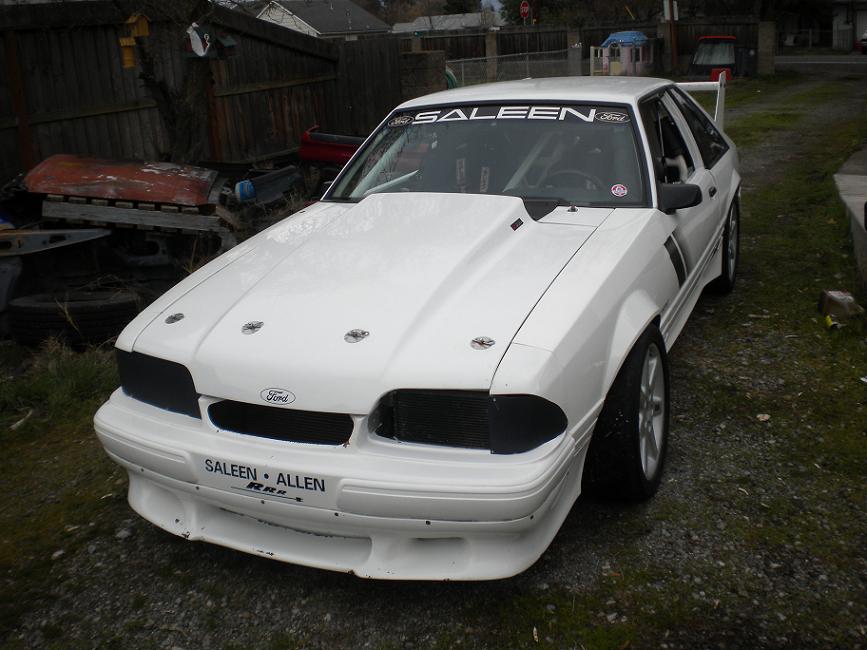 This Mustang was shipped to the Bondurant School of High Performance Driving back in 1987. From everything that I can tell and have found out it was a school car. Sometime in the early 90's Bondurant was going to do a driver search series, that I have been told never got off the ground. I also know that Bondurant's contract with Ford from the start, was that all School cars are to be destroyed, or crushed at the end of their use. This is what got Ford and Bondurant fighting in the late 90's. He saw that there was a market for semi prepped race cars, so if they were not to torn up he sold them. This upset Ford because VIN numbered chassis can be titled, even if they were not titled when new. Ford did not like the idea of ex race cars being titled for the street, seeing as some of these cars have been wrecked and fixed, it makes them more of a liability. 2001 was the last year that Bondurant got cars from Ford, then they switched over to Chevrolet.
So, back to the fox body cars. In 1994 Bob Bondurant, along with Tim Allen became Saleen's celebrity drivers. When Bondurant came to Saleen he brought three fox body Mustang GT's from the defunct race series and school. All three were further race prepped by Saleen, with 351W, and updated to look like Saleens. These three cars were used to teach, or get Allen used to the Mustang platform, they were also used by the other drivers to practice. Saleen also took these cars to different race tracks and used them for testing, so that they were not beating up the new SN-95 chassis. These cars were kept around Saleen from 1994 until 2002 when they were sold through the Saleen Speedlab parts department by Doug Nagy and forgotten.
About four months ago this car came up for sale and of course Allen never raced a fox body, so the owner was just getting waylaid by people thinking that he was nuts. Then at the beginning of January the car came up for sale again, this time on Racing Junk. This was the first time that I called the guy selling and asked the most obvious thing. Do you have any paperwork? Answer nope. So that's where I started digging and pretty quickly the history of this car started to come together. This was the most modified of the three Mustangs, it is the only one with the SR style wing. The cool part is that I have been in contact with Doug Nagy and he has told me that he has pictures of this car, and the others when they were at Saleen being used. This car came out of Indiana, there was one in Texas a couple of years ago, and the other one was in California a couple years ago as well. I also have gotten a few pics of this car and the Texas car when they were still at Saleen in Irvine CA. This car is not numbered Saleen, it was owned by Saleen, and was just another lost part of Saleens history, until a month ago.
The first four pics are of the car I bought, and the last pic is the car from CA a few years back.
Click here to participate in the discussion.