Steve Saleen's #001 SMS-Bondurant Camaro Unveiled:
Auctioned for Charity at B-J Scottsdale Tonight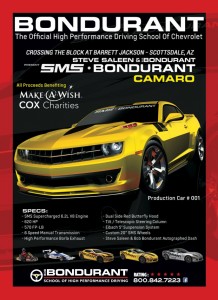 The first SMS 620 Camaro has been completed at Steve Saleen's SMS Supercars in Corona, California, and it is now getting ready to go across the block at the Barrett-Jackson auction in Scottsdale, Arizona. It is a special SMS-Bondurant edition, and the mission for this bright yellow Camaro is a noble one. In a joint effort with Saleen's former racing teammate Bob Bondurant and the Bob Bondurant School of High Performance Driving, it will be auctioned to raise money for Cox Charities and Make-a-Wish Foundation of Arizona.
In a phone interview given to SOEC shortly after the completion of SMS 620 Camaro #001, Steve Saleen proudly stated, "at SMS Supercars, we now design and build performance lifestyle vehicles on all three American Musclecar platforms — the Dodge Challenger, Ford Mustang, and Chevrolet Camaro — not too many others can say that!"
This SMS-Bondurant 620 Camaro features a 6.2 Liter V8 engine with over 620hp and 525ft/lb of torque will be auctioned at Barrett-Jackson Scottsdale. All proceeds to benefit the Make-a-Wish Foundation of Arizona and Cox Charities, and it will be sold at approximately 8pm Thursday January 19, 2012.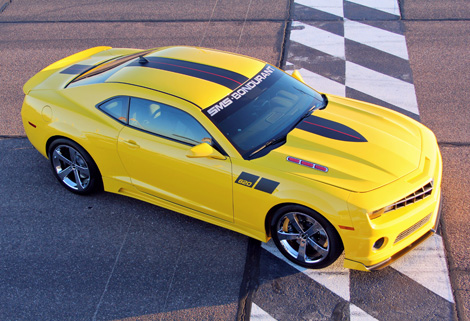 Cox Charities has awarded more than $3.4 million in grants to local non-profits focused on youth, education and technology. Funds are raised through Cox employee contributions, customer donations, and community partnerships with organizations like Barrett-Jackson. Every dollar raised goes directly back into the community.
http://www.barrett-jackson.com/
The Mothers Polish wheel cleaner commercial featuring HRE Wheels, SMS Supercars and Pirelli Tire will be airing during the SPEED Channel broadcast of the auction.
Both the Bondurant School of High Performance Driving and SMS Supercars are marketing partners of Mothers. Each Black Label SMS vehicle gets a Mothers Detail Kit. Mothers is the sponsor of SOEC's Detailing Forum.